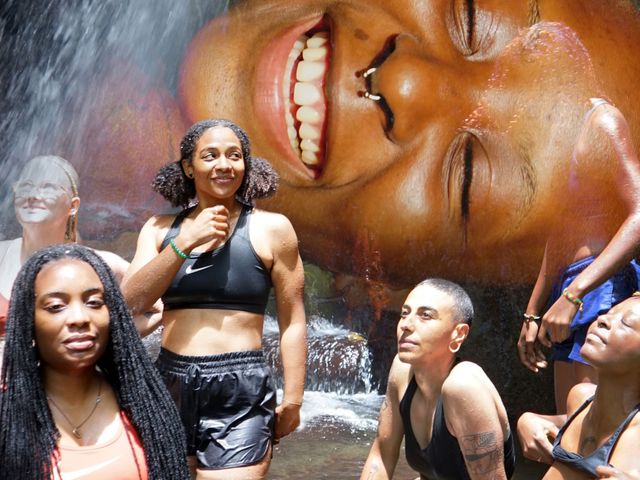 Desire Lines
Queer Love Across Island Imaginaries
Discourse, performance, dancehall party
In English
Aug 19 & 20, 2022
Conference room, Ostgarten, Sweatbox Exhibition hall 2
All events were documented by Shady Lane Productions (Phil Collins and Siniša Mitrović) for future iterations of the project (info@shadylaneproductions.co.uk).
What does it mean to be queer in the Caribbean, Pan-Caribbean and other island imaginaries? Desire Lines challenges the narratives around LGBTQIA+ issues at the intersection between decoloniality and lived queer experience.
Why is the geopolitical and cultural space of the Caribbean region perceived as unequivocally homophobic in the Western-capitalist imagination? What impact do anti-colonial and emancipatory struggles have on LGBTQIA+? And how homophobic are dancehall and reggae?
Desire Lines is a long-term public artwork which foregrounds issues around queer love in the Caribbean, Pan-Caribbean, diasporas and beyond from an anti-hegemonic, decolonial and intersectional perspective. Activating different forms of collectivity and knowledge, this first iteration features contributions from Jamaica, Trinidad, London and Berlin. It combines a discursive space for learning, unlearning and dialogue with a communal space of mutual care, solidarity and celebration. Through talks, discussions, performances, screenings, radio broadcasts, informal interactions and an all-night dance party the contributors will address the coexistence of queerness and homophobia in island imaginaries with a focus on QTBIPOC (Queer, Transgender Black, Indigenous and People of Colour) practices, experiences and attitudes which unravel the conventional interpretations of gender and sexuality.
Part of The New Alphabet