Online program: Lecture and screenings
#Survivance
With Filipa César, Elizabeth Povinelli, Karrabing Film Collective and others
Mon, Jul 5, 2021
Livestream on hkw.de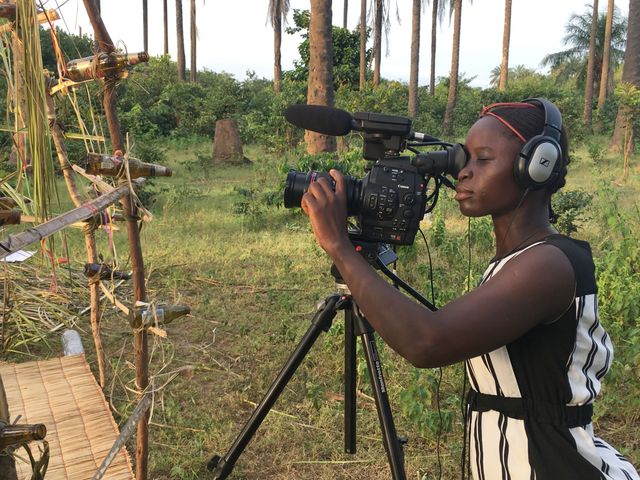 Situated in the semantic intersection of survival, maintenance and resistance of the deliberately imprecise term "Survivance" coined by writer and activist Gerald Vizenor, this edition of the New Alphabet School in Porto will convoke the concept as a "renunciations of dominance, tragedy and victimry".
Contributors from the arts, philosophy and activism will unfold how modes of "Survivance" can produce creative forms for subverting violence in challenging times of severe socio-political and ecological injustice. Moreover, "Survivance" will be discussed from the perspective of the ones often unaccounted for or ignored, both then and now, colonized peoples whose rejection of victimry is articulated with gestures of empowerment through art, politics and collective practices. Workshops, lectures and film screenings will propose ways of operating the various meanings of this concept in our shared present and address the paradigm shift of geopolitics, recognizing the worlds within our world and bringing forward the learning with communities from the Global South.
With contributions by Filipa César, Elizabeth Povinelli and screenings by Karrabing Film Collective and others
With workshops by Chto Delat, Filipa César uand Marinho de Pina, Mila Turajlic and Ekua Yankah, mordo (Aline Baiana, Camila de Caux, Eric Macedo)
Curated by Daniel Ribas, Filipa César and Nuno Crespo
Day 1 | Day 2 | Day 3 | Day 4 | Day 5
Monday, July 5
8pm WEST (Porto) / 9pm CEST (Berlin)
Online
Divergent Survivances – Descending the Alps, Converging into Karrabing.
Keynote by Elizabeth Povinelli
This talk probes the citational and social dynamics of two genealogies of survivance – one through the legacy of Jacques Derrida and the other Gerald Vizenor – through a brief history of two clans in the ongoing ancestral presence of colonial appropriation and emergent American and European nativism. How by tracking the near simultaneous Simonaz Povinelli movement out of their frontier Alpine village to the US and Nunggudi Karrabing confrontation with European invasions of their lands can we come to understand not merely emergent American and European nativism on the left and right, but divergent trajectories and purposes of a concept.
9.15pm WEST (Porto) / 10.15pm CEST (Berlin)
Online
Day in the Life
Film screening
D: Karrabing Film Collective, Australia 2020, 30 min, OV
Day in the Life explores the ordinary obstacles Indigenous families face as they move through an ordinary day. Across five chapters – Breakfast, Playtime, Lunch Break, Cocktail Hour and Dinner Time – and an audioscape directed by its younger members, the film is a visual and sonic landscape that dramatizes and satirizes the settler forms of governance and extractive capitalism that Karrabing members encounter over the course of a day.
9.45pm WEST (Porto) / 10.45pm CEST (Berlin)
Online
The Inheritance
Film screening, preview
D: Karrabing Film Collective, USA 2021, 80 min, OV
In the late 1960s and early 1970s, little Elizabeth Povinelli struggles to understand the meanings of her Alpine inheritance. It is hidden in the rich hued ridges of a framed image hanging in her family's home and expressed in the sudden flashes of anger and deep pockets of melancholia that pool round it. Struggling with it, she discovers the source of her inheritance is not in the in the past but in the present racial and colonial infrastructures that surround her in the US.