#Commonings: Installations and Activations
Wed, Sep 14–Sun, Sep 18, 2022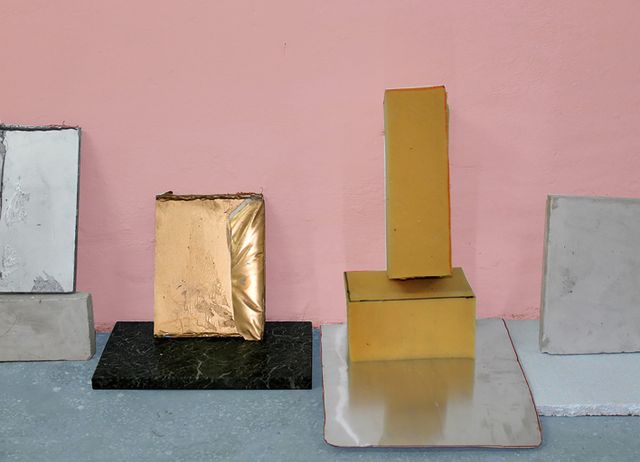 Main lobby
Trans-lation 1 Berlin
/transˈleɪʃ(ə)n,trɑːnsˈleɪʃ(ə)n,tranzˈleɪʃ(ə)n,trɑːnzˈleɪʃ(ə)n/
By Mukhtara Ayọ̀tẹ́jú Adékúnbi Yusuf
1. the process of translating words or text from one language into another.
"the translation of the Bible into English"
2. the process of moving something from one place to another.
Since the Black Summer of 2020, there has been an increased call for conversations about anti-Blackness between Black and non-Black people. However, in all these calls for conversation and commoning, the important and critical role of refusal for Black healing has been ignored and/or under-emphasized. Through this work, Yusuf, an Indigenous Yoruba and Nigerian, explores refusal as a means of heartfelt protection and vulnerability. This practice of refusal seeks to subvert the common narratives of neoliberal representative politics which implore marginalized people, especially Indigenous African bodies, to center the value of their cultures and ontologies through the lens of a white value assessment. This work escapes the binary often presented for marginalized people within the space of contemporary art to either sell one's culture to representative politics or lose the chance to be included in the conversation. Instead, this work explores healing through honest refusal. It investigates the notion of translation as a spatial, geographical and architectural intervention paired with the Black feminist skill and tactic of refusal and through engaging Yoruba technology of ọfọ̀. Sound, text, and a critical museology approach will intersect in this performative piece which seeks to provoke more discomfort and questions than resolution and answers.
The Gaza Valley Path
The Memory, Paths and Shifts/Transformations: Take Us to the Future
By Rana Batrawi and Shareef Sarhan
The Gaza Valley Path is a microcosm of the changes taking place in Palestine on the demographic, geographic, political and environmental level. To come to an understanding of these shifts and transformations, the artists created a questionnaire and held numerous meetings with the people of Gaza Valley. One of the questions posed was "How do you see Palestine in the future?" Many participants could not imagine a future for Palestine given the current political situation. This prompted the artists to continue exploring the Valley via images, maps and interventions. The maps, photographs, videos, literary texts and other forms of multimedia assist in getting to know the valley in all its environmental, social and geographic aspects. A workshop with the artists takes place on Saturday from 12 noon to 2 pm.
True stories of resistance: tales from fugitive lesson
By Cléophée Moser and with the participation of Mour Fall, Ivonne González Núñez, Paulina Marquez, and in collaboration with Maya V. El Zanaty
Through this installation, Cléophée Moser invites participants to walk into a constellation of sonic memories and recreated visual archives, telling (un)told stories of resistance that she has learned through the education process in Senegal. She will open up a participative and circular dynamic with other subversive voices from diasporic geographies. At the center of her piece, she invites Mour Fall to display an installation related to their common research and to the Fugitive Library, but also to echo his performance on Dëpp: a drum that emanates a high-pitched, significant rhythm referring to the articulation between non-verbal communication and the building of resistant cultural and historical transmission. Ivonne Gonzalez and Paulina Marquez will also take part in telling stories of resistance in this installation and use it as the physical context for their performances: Maroon Walkers Ritual and Maroon Un-Archiving. An altar will be present for visitors to deposit objects of memory, images and stories into and add to the polyphonia of the installation.
Whole World
By Pallavi Paul and Hajra Haider Karrar
Through the last two years of the global COVID-19 pandemic, the 'breath' has moved from being a recessed biological function to a palpable collective act. To breathe is to avow the élan vital. The time of the breath then is a sensorial, spiritual, political, scientific and historical time. This short and felt interval also poses a unique challenge to the act of filming. How does one produce an image for something that is present but invisible? The chasm between sensation and representation becomes instantly perceptible. The unrepresentability of breath swells further as it weaves across various bodies, landscapes and stories. The split second of the breath is also a splitting of the osmotic edges of cinema. In a climate when images and the people they encounter are heaving, film frames and edits straddle a delicate boundary between inspiration (breathing in) and expiration (breathing out). To produce a breathable cinematic time is now layered with echoes of life, imagination, disappearance and death.
Ritual
By Kamran Behrouz
In his work, Kamran Behrouz seeks to expand 'queer theory' as a "native" Persian speaker to acknowledge flaws and limitations within language, as well as the (non)participation or location of queer bodies within and in relation to society. Behrouz delves into the personal and at the intersection of being neurodivergent, recognizing the inadequacies of the image and language, as well as locating oneself in Anthropocentric and Eurocentric theoretics inherited by locations in the South like Tehran. Each flaw or moment of untranslatability has the potential to be a site for a commons.
Ritual is part of Behrouz's larger body of research into the cosmopolitics of the body. Extending from Isabelle Stengers use of the term, Behrouz is interested in bringing back the question of thinking with the unknown from an Indigenous situatedness.
Maroon Un-Archiving
Performance with Ivonne González Núñez and Paulina Marquez
Thu–Sat, 4 pm
To contest and to reject the archival practice of kidnapping, accumulation and burial of the maroon memory through a colonialist lens is the base, the backbone of Maroon preservation and survival. It is a way of existing, recreating, re-inventing and re-signifying the language of resistance that was received from our ancestors. There is no set theory when speaking from the "we" and when carrying the evocation of the memories of the Maroons.
These artistic actions happening daily from Thursday to Saturday serve to accompany the processes of repair and healing of Maroon communities, to grow like healthy trees and bear good fruit, even after the most painful storms.
Ivonne Gonzalez and Paulina Marquez propose a collaboration with the Fugitive Library to produce writings and drawings (however ephemeral and changing) of the different Maroon cultures that were transmitted to them. Their intervention will establish a dialogue between the memory of the Maroon communities on the other side of the Atlantic and the fugitive being in Africa, and will be realized in Cléophée Moser's installation with completely vegetal elements and textures.
Hirschfeld Bar
Altars to the Invisible
Activation with Laura Fiorio, Ruth Gonzalez Renovato, Mariel Miranda and Francisca Cortéz Ferrario
Wed–Sat, 4 pm
An altar is a gateway to a dimension in which conventional rules of space and time can be freely interpreted and reimagined. Not following any particular cult, but rather blending rituals and communing protocols, this altar reappropriates and remixes ancestral and collective practices that have been colonized and institutionalized to create dominant beliefs, hierarchical structures and identities.
Which stories, experiences and subjectivities are invisibilized? This installation, departing from common and intersected narratives of invisibility, will function as an opportunity to take the time to listen, give materiality and praise lost or willfully erased collective memories. Anyone is welcome to contribute by bringing stories or offerings to celebrate and share with other participants all those small things that may be necessary in everyday life but are often forgotten.
There will be a daily ritual from Wednesday to Saturday at 4 pm in front of the altar space located next to the Assembly where stories and offering will be shared. The altar can also receive contributions at any other time for those who want to participate at their own rhythm.
Gaping
By Gilly Karjevsky
Gaps in understanding can be found in speech, in writing, in images open to interpretation, in private worlds of references or in official canons shaped around limited narratives. There are many famous gap metaphors: the wage gap, the generation gap and the gap between theory and practice. Those famous examples stand out to be symbols for a context, if not an era. They are the lost terms of the new alphabet the New Alphabet School is searching for. In order to speak in different terms it is necessary to map these gaps out of invigorating frustration, out of agonism, with the intention of generating different spaces, spectrums or continuums. Such is the generative metaphor of the gap – it harbors the intent to become a bridge, an alternative path, a connection rather than an opposition, that points to another possible future, it becomes a call for action and a space for intervention that envisage change on all scales. Is it possible to map such existing gaps in current language and current practice in order to make use of their polemical potential? Mapping such holes in understanding, missing terminologies and practical protocols in current conversations becomes an exercise in spatial production of the knowledge object, as participants pin them down on a note, in a sketch, in a question and hide them in the cracks of the building, behind furniture, in the plants, like little prayers, wishing for a spectral way of thinking.
Old Post Office
In the wake of Arche: The possible(d) utopias
By Vinit Agarwal, Shohreh Shakoory and Özlem Sarıyıldız
Through revisiting archival material and making new archives, these three archival constellations reactivate and recover the stories of migration to Germany, which have often been ignored. By envisioning a decentralized reading of history, where marginalized figures become main protagonists and subaltern agencies take the lead, the installation examines the potentials of storytelling, outside the realm of official knowledge producing institutions such as universities, as an alternative mode of knowledge making. The three collages of footage and archival material navigate various archives and investigate the relations of cinema, politics, friendship under conditions of "international solidarity," migration regimes and feminist strategies of resistance, resilience and survival.
Film Credits
Look, Listen Carefully
D: Özlem Sarıyıldız, Germany 2021, 48 mins, Turkish with English Subtitles
Oyoyo
D: Chetna Vora, German Democratic Republic 1978, 48 min, German with English subtitles
Your struggle is our struggle
D: Edith Marcello & David Wittenberg, Federal Republic of Germany 1974/75, 49 min, German with English subtitles
Indira Gandhi in GDR and Afghanistan
D: S. T. Bapat, India 1976, 19 min, English
Conference Room 1
Archive Inventory, 2021-2022
By Paz Guevara, Chiara Figone and Ezgi Hamzaçebi
How does one inhabit a library collectively? How does a library become a medium for connecting readers' trajectories, struggles and potential alliances? What are the strategies that collective readings set-up to create moments of exchange, solidarity and citizenship? Archive Inventory is a nomadic library committed to an expanded idea of readership and publishing beyond the confines of printed matter. Throughout social displays and library activations, Archive Inventory intends to create communal formats of readership, collective archival practices and multi-sensorial gatherings with and against archives. During the Commonings edition, Archive Inventory will present and activate a series of feminist and collectives' publications and activate two focus texts from Turkish writer Bilge Karasu. It will also activate a special section of Turkish feminist periodicals from the mid-1970s until today. There will be a collective reading on Saturday, September 17, 12 noon–2.30 pm.
Resting Space
By Júlia Ayerbe in collaboration with Daniela Brasil
The Resting Space is an offering to the sick, tired, disabled, lazy, exhausted, insecure, non-normative bodies that will come to the HKW and attend (or not attend) the Commonings event. It is a space for resting, recovering, and attending the program in the position each participant feels most comfortable in, whether seated, horizontal or vertical.
Often art institutions deal with non-normative bodies as a group that must be included in a particular way. When their accessibility is not ignored, it is treated like "para-museums" like the Olympics or Paralympics games. Where is the elevator? The stairs are always the "natural" way to ascend the space, forcing them to look for access or move around the institution through shortcuts, alternative paths, freight elevators, steep ramps, and staff escorts. Often the information is unclear: there are no subtitles, no sign language, and no tactile warning surfaces. There are not enough places to sit or accessible bathrooms.
The Resting Space is an effort to provide a comfortable and safe space while reflecting on ableism in art institutions.
Mapping the museum(object) encounter: feral information
By Simon Fleury
This version of the condition report (3.0) is a digital re-mix of the conservation-based material analysis of the Raphael Tapestry Cartoons made in the 1990s.
The condition report is a curious amalgam of image and over-written text, with a long and fascinating history. It was first invented by the Victoria and Albert Museum's first curator at the time of the arrival of the cartoons to the Museum in the 1860s and has since undergone various iterations to get to today's digital reports. Essential to institutional governance the condition report accompanies the myriad of museum-objects as they circulate, travelling the globe for exhibition and display.
Books from 28 gallery, Rafah
By Mahmoud Al Shaer and Mohamed Al-Zaqzooq
Books have become a rarity in the area of Rafah, Palestine and most people access them as pdfs on their phones. 28 gallery however, a project initiated by Mahmoud Al Shaer, the co-founder of 28 magazine, is in the process of establishing a community library with various Palestinian magazines and classics by Mahmoud Al Darwish and others, as well as with contemporary authors such as Anis Ghanima, Hamed Ashour, Othman Hussein and Nasser Rabah.
A lot of the books in the library have been published with support of the Tamer Foundation and the A.M. Qattan Foundation who also support the printing of 28 magazine, a literary magazine named after the 28 letters of the Arabic alphabet, connecting the area of the Gaza strip to the rest of the Arabic speaking world.
Conference room 2
Let It All Out!
By Jacob Eriksen and Agata Kowalewska
Participants are invited to a shouting room in the HKW building. In the intimate setting of the room, one can shout into a microphone that will record them. The shouts are later played at random from the rooftop terrace of HKW through a loudspeaker aimed at the sky.
Let out the feral emotions that can't be tamed! Whether rage, ecstasy, frustration, boredom, joy or sadness, participants are invited to release their bodily, nonverbal response of a shout from the bottom of one's throat, lungs, belly. The shouts will then be shared with the universe from the rooftop terrace.
Undercommoning in the Remix
Activation with Chara Stergiou
Wed–Sat, 2–4 pm
In English
Collected sounds and interviews with Commonings contributors and participants will be streamed daily from Wednesday to Saturday from the firefly frequencies radio platform. Undercommoning in the Remix presents itself as a radio stream and DJ Lecture that work through sampling, mixing and attentive listening. Thinking of sound as a social agitator and a subtle carrier of affect and knowledge, sampling here is employed as a practice of attuning to the unheard and producing what feels urgent to be uttered. This workshop also aims to mix and bring together whatever has been considered unfit or invalid due to a general demand for containment. Thus, how can one sonically reuse what seems unlikely, uncategorizable or inadequate in structures by inventing an uncommon remix? How can listening to it change one's relationship to the most implicit "undercommons"?
Lower lobby
Non-Disposable Timelines: Zeitgebers against the clock
By MELT
This installation extends from MELT's research on the term Zeitgeber or time-giver. A Zeitgeber is an external cue that influences the timing of an internal clock. Zeitgeber is a term used within climate change research to describe changing patterns of plant life and the feeling that the amount of time on the clock has changed. MELT is working with Zeitgebers within trans* and crip practices to make time as a way of slowing down, circling around or moving against what curator and educator Taraneh Fazeli calls "capitalism's temporal bullying."
Visitors are invited to share moments of their lives so that they enter into each other's timelines, crossing and diverging against the clock. These memories, current happenings or future desires hang on various stretched out ropes and tell stories of/with loved ones, non-human companions and co-conspirators. A collective timeline will slowly unfold.
Chapter 1: The Farm after the Feminist Ecological Revolution
By Field Narratives
Fields as contested territories shape many biographies of how individuals leave their rural associations behind due to ecological destruction, community dispossession or the promise of emancipation. How can stories of rural biographies inspire new perspectives on the present with its colonial continuities and gendered social divisions? The multi-disciplinary and transgenerational project Field Narratives aims to collect and share stories, which originate from or reflect on rural spaces. During Commonings, each member of Field Narratives presents an element of their artistic research: Lene Markusen shows the video, The Farm after the Feminist Ecological Revolution, which – performed in an intermediate world between reality, dream, and utopia – recounts a women's relation to soil marked by bodily work and inherited roles. hn. lyonga's poem, "Memories ... of Trees and Other Universes" addresses gendered labor, belonging and human- and non-human lives and their losses. Andreas Doepke shares archival material, tracing colonial dreams and the normalization of fascism amongst farmers in the 19th and 20th century. Sascia Bailer presents excerpts from her research on the origins of the nuclear family in relation to land ownership and gendered labor, and how artistic practices challenge these societal norms. Members of the collective will be present for conversations in the installation on Friday, Sept. 16 from 5 pm.
Earth/Mars Series
By Catherine Sarah Young
In this art installation, cyanotypes of the deserts of Central Australia are juxtaposed with those of open-source Mars images by the National Aeronautics and Space Administration. These images, normally a deep Prussian blue, are toned with various experimental botanical inks. Side by side, these dry landscapes, both contested lands, may function as a good starting point to think through existing settler-colonial violence and regimes on Earth such as with Palestine, the Philippines and many others. The challenges of getting to space in human history went from an international space race to a more individualized one by billionaires, increasing discourse on inequality and catastrophe on Earth. Thinking of Planet B may help to clarify the intentions and goals with Planet A. Can the collective challenges faced on Mars lead people to find or seek out common ground that has been missing on Earth?
Ostgarten
Social Pedagogies Artwork
With EIGHT
This collective (and incomplete) artwork is part of the Social Pedagogies workshop hosted by EIGHT. It will be enriched, altered and elaborated on by those participating during the Commonings program. Various materials and layouts will be used indicating alternative spatial perspectives. It will take its final – incomplete – form through a workshop on the last day of the program where a discussion will be held on spaces of commoning(s) and the effect of ephemeral spatial structures on ways of doing and being together.