Lectures and performances
#Commonings: Day 3
Fri, Sep 16, 2022
Lecture hall, Westgarten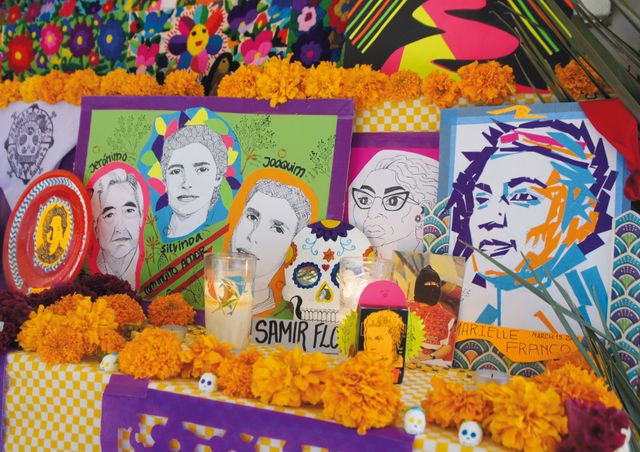 What could a school look like that seeks to make both learning and unlearning a common interrelated practice? How can a space be built around care, refuge, implication and vulnerability, negotiating positions and responsibilities?
How can (un)learners in this space challenge privileges and habits of hierarchy, as well as authorship, productivity and competition?
#Commonings: More information and program overview
2–3 pm
Learning with and from Zapatismo
Conversation in the Assembly, Hirschfeld Bar
With Alessandra Pomarico, in collaboration with Dmitry Vilensky, Tsaplya Olga Egorova (Chto Delat), Chiara Figone and Paz Guevara
In English
A conversation will be held around the book When the Roots Start Moving: Resonating with Zapatismo with its editor Alessandra Pomarico alongside contributors Dmitry Vilensky and Tslapya Olga Egorova (Chto Delat), publisher Chiara Figone (Archive Books) and Paz Guevara.
When the Roots Start Moving is a collection of conversations in three movements, investigating predicaments of rootedness and rootlessness and notions of belonging and of displacement across different geographical and epistemological coordinates. In the first movement —To Navigate Backwords, Resonating with Zapatismo—the insurgent movement of Indigenous peoples from Chiapas emerges as a form of belonging, a home (or a homecoming) for their hopes and political imaginaries. The Zapatistas continue to inspire those who are looking for emancipatory tools through art, language, radical pedagogy and conviviality, as a practice of commoning and collectively reimagining an 'otherwise'.
3–5 pm
Commons of the Dispossessed
Workshop in the Assembly, Hirschfeld Bar
With diffrakt
In English
For the final edition of the New Alphabet School, diffrakt | centre for theoretical periphery brings one of their formats – reading groups as a coming-together in changing constellations – to the Assembly of the HKW. During the first hour, the workshop will engage with excerpts from The Dispossessed, an anarchist utopian science fiction novel first published by Ursula K. Le Guin in 1974. The story is an attempt to envision a different but truly viable society, and it will allow the participants to talk about war, peace, politics, abolition and feminism in an effort to discuss how individuals govern each other and to address the value of failure and weakness in societal organization. Following the reading, the workshop participants will collectively begin to develop a basic toolkit of dispossessed instruments by means of a silent conversation, collaboratively but silently mapping the collective thinking through concepts, feelings and associations of the group.
6–7.30 pm
On Agrarian Futures
Lectures and Conversation in the Assembly, Hirschfeld Bar
With P. Sainath and Habib Ayeb, moderated by Rahul Gudipudi
In English
In this conversation, Habib Ayeb, P. Sainath and Rahul Gudipudi will discuss individual, collective and instituting practices that through varied approaches seek to center agrarian and rural knowledge, experiences and concerns. Delving into their work and experiences, Habib and Sainath allow reflecting collectively on possibilities at the intersection of art, culture, education and policy towards serving a commons that feed and sustain lives and economies.
7.30–9.30 pm
In the wake of Arche: The possible(d) utopias
Film Screening and subsequent conversation in Lecture Hall
with Vinit Agarwal and Shohreh Shakoory
In English
The two films, Oyoyo (1980) and Your struggle is our struggle (1973) unveil and shed light on different moments of German history of migration – a country that has opened its doors to workers and students from the geographies of the global South since the 50s. The international solidarity of the protagonists in these two films leads to moments of students and workers coming together through topics of desire, politics and economics that stem from anti-colonial, post-colonial, anti-capitalistic and international concerns.
Oyoyo
D: Chetna Vora, Camera: Lars Barthel, German Democratic Republic 1978, 48 min, German with English subtitles
Your struggle is our struggle
D: Edith Marcello & David Wittenberg, Federal Republic of Germany, 1974/75, 49 min, German with English subtitles
7.45–9.30 pm
Archive of an Emergency Commune
Conversation in the Assembly, Hirschfeld Bar (realized originally in St. Petersburg)
With Chto Delat collective: Tsaplya Olga Egorova and Dmitry Vilensky
In English
Chto Delat is currently starting an art commune in a village near St. Petersburg and are forming a shelter that implements anti-war resistance practices and rituals, as well as agricultural, educational and artistic activities. The commune consists of a core group of about 10–12 people who organize and share everyday activities and involve others on a temporary basis. The commune embraces general ideas of commoning during moments of war, and economic and ecological states of emergency.
For the Commonings edition, a conversation will be held about the commune as an artistic, resistance project. The commune will produce different types of artistic statements – performances, actions and object-conceptual work –that will be discussed and shown in an effort to archive them.
9.30–10.30 pm
Better Science
Screening and Discussion in the Lecture hall
With Walter Solon (live) and Jorge Loureiro (via Zoom)
D: Jorge Loureiro & Walter Solon, Germany/Brazil, 2021, 29 min, German with English subtitles
How does the Bayer company deal with its Nazi past? Better Science is a short experimental documentary investigating the mysterious disappearance and reappearance of statues from a park just meters away from the global headquarters of the Bayer chemical corporation in Leverkusen, Germany. The sculptures had been commissioned in the 1930s to Fritz Klimsch, a German sculptor included in Goebbels's "Gottbegnadete" list of crucial artists to Nazi culture. Shot over the course of three years with the background of Bayer's 2018 acquisition of Monsanto, the film sheds new light on the relationship between the German agrochemical giant and its Nazi past as part of the chemical conglomerate IG Farben. Featuring dialogues with lawyers, activists, a bomb disposal expert and Bayer's CEO, Better Science is a take on the company's current massive expansion of its global agricultural and pharmaceutical power.