Discourse, performance, dancehall party
Desire Lines: Day 2
Queer Love Across Island Imaginaries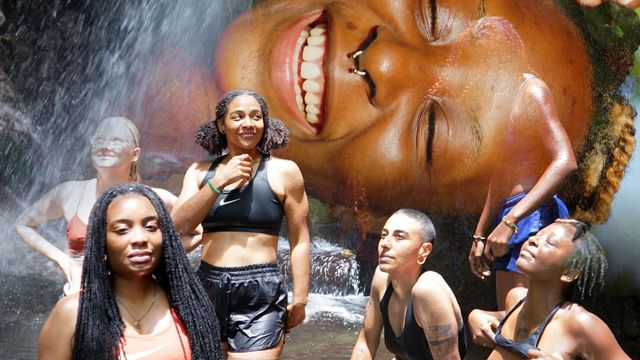 Day 1 | Day 2
12 noon–1 pm Conference room
(re)Presenting "Murder Music": A Jamaican Activist Analysis of Campaigns to End Homophobia
Lecture by Jaevion Nelson
A lot has been said about campaigns to stop "murder music" coming out of Jamaica. These initiatives sparked much debate about the role of Jamaican music and culture in perpetrating antipathy toward lesbian, gay, bisexual, trans and queer persons in Jamaica. But Indigenous Jamaican voices, particularly those from the queer and activist communities, have arguably been non-existent in this debate. There is a need to interrogate what "murder music" is, who decides what it is, the artists that should be targeted, the actions taken and the impact they have had on queer issues and activism in Jamaica. LGBTQIA+ rights activist Jaevion Nelson will shed light on this discourse and explore ideas around power that are crucial to the nuances of Global South-Global North dynamics in queer advocacy and activism.
1–2 pm Conference room
Holding Sound in Place
Presentation by Kiera Coward Deyell and Virginia Wilson (Gin)
What could sound system futures look like? Kiera Coward Deyell and Virginia Wilson (Gin) contextualize the work of Black Obsidian Sound System (B.O.S.S.) in a rich legacy of Black British urban history: from the criminalization of certain frequencies in cities, to the way these same frequencies were subverted and used for celebration, communication and strategy by their ancestors in the Caribbean, Americas and Africa. Coward Deyell and Virginia Wilson (Gin) posit this subversion against a backdrop of queerness present in a sound system culture they grew up being told was everything but. In their presentation, they will consult an in-process archive that B.O.S.S. is composing, contending with the involvement of Black people of marginalized genders and sexualities in the UK's sound system culture.
3–4.30 pm Conference room
Hybrid Identities
Workshop with İpek İpekçioğlu
In her workshop, İpek İpekçioğlu invites the audience to explore the multidimensional aspects of identity. For 25 years, İpekçioğlu has been the resident DJ at the popular Gayhane – House of Halay HomoOriental Dancefloor Party at Berlin's SO36 and has made a crucial contribution to the visibility and awareness of diversity within the LGBTQIA+ community in Germany. In this participatory presentation, İpekçioğlu will frame her political and artistic practice in relation to Berlin's migrant and disaporic QTBIPOC nightlife.
5–6.30 pm Conference room
Reasoning – A Collective Session
Proposed as a summing up of the positions and perspectives presented during the event, Reasoning brings together contributors and audience-participants for a reflection on ideas, themes and conversations from the previous two days. Referencing the Rastafarian practice of self-understanding reached through collective dialogue, this informal session is an invitation to consider the significance, resilience and strategies of queer love across different communities and contexts.
7.30 pm Conference room
Lady Blake Ophelia Stratum: Igniting Embodied Memories Through Queer Ritual
Performance by Simone Harris
In her performance, activist and queer artist Simone Harris explores the embodied memory. Lady Blake Ophelia Stratum is the seventh generation firstborn of the line of the Royal House of Stratum and the last Keeper of Memory of the Empire of MaKroMa. In 1492, the life of ritual, connection and community in the Empire of MaKroMa was disrupted when "the newcomers" wiped the memory of the MaKroMa people and erased their culture. In an effort to save their traditions and memories, her mother, Queen Makila, and the Elders sacrificed the spirit of Lady Blake throwing her through time and space, across the seas and away from the enemy. She landed in 2020 post-colonial Jamaica where instead of being regaled as royalty, she is now "the other" embarking on a mission to find her tribe and remind them of the ancestral truths locked away inside them.
Andil Gosine's contribution consists of Godfather's Return (2022), a quilt work exhibited in the conference room, and a curated playlist of calypso music which will play throughout the day in breaks between the sessions in the conference room.
From 10 pm Sweatbox exhibition hall 2
Sweatbox Dancehall Party
With DJ sets by Faggamuffin Bloc Party b2b B. O. S. S., La Byle (Live), DJ Biggy C, Sippin' T
Get your glad rags on for the finale of two days of learning and unlearning, reasoning and exchange, and party until dawn at Sweatbox, a one-night-only queer nightclub conjured up in the heart of HKW. With DJ sets by Faggamuffin Bloc Party b2b B.O.S.S., La Byle (Live), DJ Biggy C and Sippin T' charting the course from carnival, soca, ragga, Afro-Caribbean and dancehall beats, to the outer reaches of electronic music rooted in Black and Global South perspectives. Sweatbox is an intersectional, diverse and queer space built on mutual respect, love and care for each other.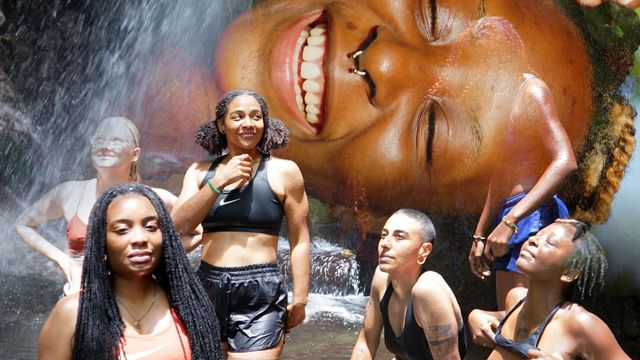 Desire Lines
Desire Lines: Day 1
Queer Love Across Island Imaginaries
Discourse, performance
Aug 19, 2022