Desire Lines: Day 1
Queer Love Across Island Imaginaries
All events will be documented by Shady Lane Productions (Phil Collins and Siniša Mitrović) for future iterations of the project (info@shadylaneproductions.co.uk).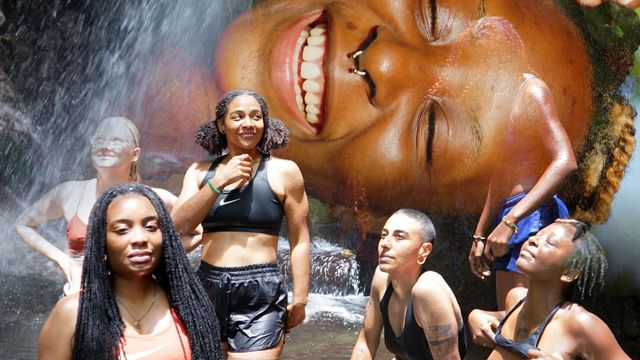 Day 1 | Day 2
12 noon–1 pm Conference room
Beyond Homophobia: An Unapologetically Caribbean LGBTQIA+ Space
Presentation by Moji Anderson and Erin MacLeod
Conventional discourses around homosexuality and homophobia in Jamaica are problematic, obscuring the varied, complex lives of its LGBTQIA+ citizens. While Erin MacLeod was supervising a dissertation on homoerotic photography in mid-20th century Jamaica, and Moji Anderson was writing a paper on queer Jamaican men's navigation of space and identity, this limited and limiting discourse became evident. Thus, they initiated the Beyond Homophobia symposium, followed by two international conferences that expanded to include LGBTQIA+ communities across the Americas. In their presentation, Anderson and MacLeod will describe the growing importance of the conference, as well as challenges, accomplishments and plans for the future.
1.30–2.30 pm Conference room
Black and Gay, Back in the Day
Conversation between Marc Thompson and Phil Collins
Delving into the stories behind a selection of images from Black and Gay, Back in the Day, Marc Thompson and Phil Collins will discuss the photographic archive as a manifestation of queer (counter)histories and a repository of communal solidarity, memory and pride. Purposefully focusing on the second half of the 20th century, before technology changed the ways in which we commune, interact between and represent ourselves, this ever growing collection of images and visual materials traverses the period of epoch-defining events in the UK – from the Windrush Generation, the race relations acts of the 1960s and 1970s, the AIDS/HIV epidemic, Margaret Thatcher's notorious Section 28, the fight for equal age of consent – and the ways in which they intersect with the struggles against racism and homophobia. In their conversation Marc Thompson and Phil Collins will look at how individual stories and the ordinary lives of extraordinary people connect with wider social, political and cultural challenges and changes.
3.30–4.30 pm Conference room
Faggamuffin Bloc Party: Carnival, Community and Legacy
Presentation by Virginia Wilson (Gin) and Lyall Hakaraia
Faggamuffin Bloc Party's mission is to increase the visibility of QTIPOC Pride at carnival and to create a space for growing unity and cultural celebration. In their presentation, founding members Virginia Wilson (Gin) and Lyall Hakaraia will explore the Faggamuffin's achievements since its inception in 2018. Using both archival and recent visuals and film footage, sharing anecdotal and lived experience, as well as collaborative project outputs, they will delineate the experiences of LGBTQIA+ Black and People of Color in the UK in relation to carnival, and specifically London's Notting Hill Carnival. In light of the recent impact of COVID on the community, they look at sustainability within community-centered events and ways forward for the legacy that Faggamuffin is building.
5–6 pm Conference room
Erotic Roots and Rebellion
Presentation by Angelique V. Nixon
This presentation reflects the vibrant LGBTQIA+ activism and creative imagination across the Caribbean region that refuses to be contained or controlled. Much of the work against discrimination lies in transforming consciousness and cultural norms, along with building community and creating space. Thus, creative work should be decolonial and rooted in our ancestral knowledge(s) and local communities. Angelique V. Nixon uses erotic poetry, storytelling, mixed-media art and decolonial healing justice to challenge regimes of representation and dominant narratives of queer Caribbean lives. In this presentation, she activates rebellious praxis and explores these questions: What does it mean for queer Caribbean people to claim space? How do we transform restrictive ideas of sexuality, desire and gender identity? What does our visibility, erotic agency and power feel like? What are our erotic roots? How do we live and love freely and rebelliously?
6.30–7.30 pm Conference room
Perras Apocalípticas
A conversation between Jao Moon and Simon(e) Jaikiriuma Paetau
Two perras apocalípticas is a conversation between Berlin and Cartagena de Indias, between versatile gazes and artistic practices which change over time. The artists Jao Moon and Simon(e) Jaikiriuma Paetau open a window into a body of knowledge in process, the relationship between them, and a crossroad of shifting identities and practices. They will follow the motto "Our bodies, our theory, our knowledge, our process!"
Andil Gosine's contribution consists of Godfather's Return (2022), a quilt work exhibited in the conference room, and a curated playlist of calypso music which will play throughout the day in breaks between the sessions in the conference room.
8–10 pm Ostgarten
JamZuela 100
Cooking performance for hundred people by LaLoVe's Kitchen
20kg yucca, 50 plantains, 8kg harina pan, 4kg ackee, 3kg plantain leaves, 15kg mixed fruits, 12l rum, 2½ papelón – these are but a few ingredients from the JamZuela's elaborate pantry. JamZuela is a term coined by Latinx food performance artist Lalo Gomes to describe a type of cuisine presented in a communal experience. It is a sharing-by-cooking story which combines gastronomic traditions of the Caribbean's communities, from Jamaica to Venezuela, and aims to create an affect-space of shifting identities. Lalo Gomes and the LaLoVe's Kitchen-troupe (Anna Heitger, Chris Herrera Gallardo, Radju Mirski, Jao Moon, Aérea Negrot and Richard Ochoa) will certainly need extra pairs of enthusiastic hands for this open kitchen gathering. They invite the audience to join cooking, serve each other, eat together, and to think about food as a site for nurturing a sense of community in our fraught times. Pay as you wish. Reservation is not necessary.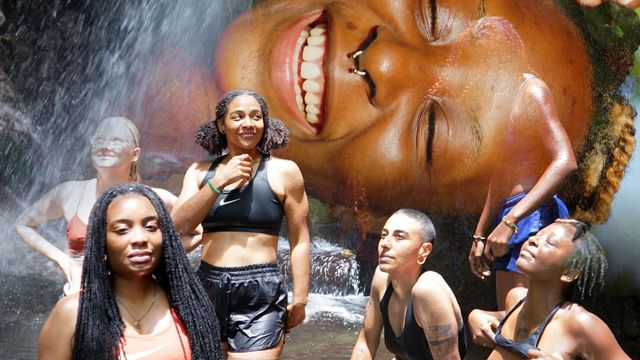 Desire Lines
Desire Lines: Day 2
Queer Love Across Island Imaginaries
Discourse, performance, dancehall party
Aug 20, 2022