Conversations, installations, screenings, listening sessions
#Healing (Faju)
Wed, Feb 9–Wed, Feb 16, 2022
Dakar
In English and French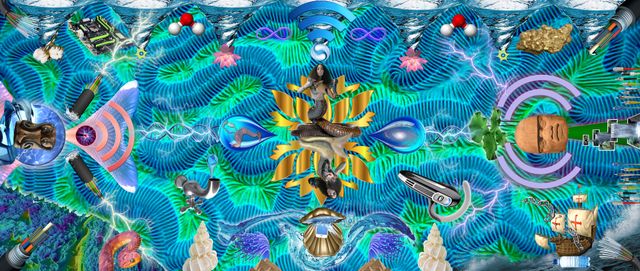 How can resonance pass through the body, the voice, the ancestral soil, the water and create relations? The second part of #Healing (Faju) in Dakar focuses on communal healing gestures of remediation and regeneration.
A mutating, porous and fugitive space for collaborative reflection and sense-making: #Healing (Faju) is continuing in the form of a Living Library. While the first part of #Healing (Faju) took place mainly online in February 2021, the second part is rooted in Dakar, situating the research in the contemporary Senegalese context and its multiple cultures. Artists, scholars, educators and practitioners will hold a creative space around the reactivation of ancestral, spiritual and therapeutic knowledges. Encompassing a series of initiatives including an exhibition, installations, performances, workshops, screenings, conversations and visits to local institutions, the Living Library activates possibilities of "oralitures", a term coined by the philosopher Mamoussé Diagne. His Critique de la Raison Orale invites to pay attention to the specific ways and devices through which knowledge is transmitted beyond writing, and its use in the West. As vernacular tools, these "oralitures" call for opacity, a reverberation, a resonance – a realm not always intelligible across different knowledge systems.
The first part of the program, Mouvement 1 takes place at Bibliothèque Terme Sud with a conversation with Abdourahmane Seck about the reversion of colonial bounds, a sound performance by Ibaaku, a conversation with Laeila Adjovi about the Black Atlantic and cultural resistance, and more. For Mouvement 2, there will be events such as a screening of We are Waves from Lionel Manga, in presence of the filmmaker, as well as the opening of the exhibition with performances and installations. From February 14 to 16 (Mouvement 3 and 4), a selected research group will go on field trips, celebrate and perform rituals together in Unjering (Marlodj Island) and other nearby places.
With contributions by Laeïla Adjovi, Cheikha, Mour Fall, Corinna Fiora, Ibaaku, Karim Yassin Goessinger, Lionel Manga, Cléophée Moser, Tabita Rezaire, Alioune Samb, Abdourahmane Seck, Nathalie Vairac, Wangũi wa Kamonji and others
Curated by Maya V. El Zanaty, Alessandra Pomarico, Esther Poppe and Abdourahmane Seck
Hosted by Bibliothèque Terme Sud, in collaboration with GAEC (Groupe d'Action et d'Étude Critique), Goethe Institute, Espace Medina, and Ecoversities Alliance
Program
Wed, Feb 9–Sun, Feb 13
Mouvement 1
Bibliothèque Therme Sud, Dakar
Conversations, installations, screenings, listening sessions
Fri, Feb 11&Sat, Feb 12
Mouvement 2
Espace Medina, Dakar
Installations, performances
Mon, Feb 14
Mouvement 3
Surroundings of Dakar
Field trips and visits
Tue, Feb 15&Wed, Feb 16
Mouvement 4
Unjering, Marlodj Island
Rituals, celebrations