Lectures, conversations, performances
Queer Ancient Ways / Ceremony of Souls
With Danielle Bainbridge, Anthony Bogues, Judith Farquhar, keyon gaskin, Honor Ford-Smith and others
Sun, Dec 4, 2022
Auditorium, Lobby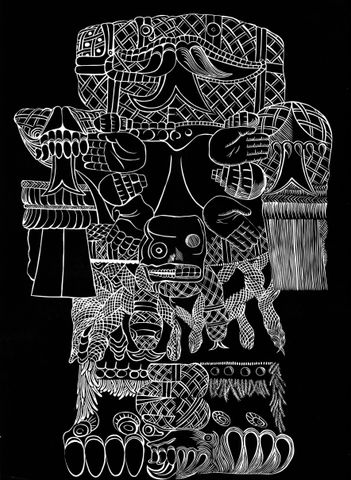 The past and the present are intimately linked through (queer) waters in their decolonial variants and contestations. The program starts with discussions of ritual and ceremony in the Caribbean economic, social and colonial histories, then moves to medicine and healing practices out of the purview of the modern/colonial world. They have often been relegated to the realm of "tradition" as a thing of the past tainted by superstition allegedly overcome by rational and secular biomedicine. However, non-modern "queer ancient ways" have survived the eradicating violence of modernity/coloniality. What can be learned from practitioners of "traditional" or "alternative" medicine, healing practices of black, queer, and trans communities? What role does cosmology play in their negotiation with biomedicine and colonial hetero-modernity?
1 pm
Welcome & Introduction
Denise Ryner
1.15 pm
Lecture
A Search for the New: Naming and Categories in the Thought of George Lamming and Sylvia Wynter
Anthony Bogues
20th Century Caribbean Thought cannot be considered simply as only anti-colonial or nationalist. Whether in the fields of literature, politics or history, the complex radical configurations of these practices of thinking have been characterized by a drive for a new language of naming and categories. Working through George Lamming's novel, Seasons of Adventure and some of Sylvia Wynter's early essays published in the 1960's in Jamaica Journal, this talk will focus on how both writers created new naming practices based upon a gaze that was not just anti-colonial but rather rooted in a specific understanding of Caribbean Blackness and possibilities of epistemological breaks with the colonial in order to create a new order.
Lecture
"A Warning about How to Live": Memory, Mourning and Renewal in Caribbean Performance
Honor Ford-Smith
This talk traces the centrality of ceremony and ritual in Caribbean performance as a pedagogy of memory, mourning and renewal in the midst of enduring violence. It considers the community-based knowledge such ceremonies produce, reveal and amplify, their productive ambivalence, and their warnings about how to live in the midst of devastation. Examples are taken from the work of Jamaican playwright Dennis Scott and from Honor Ford-Smith's own work with collaborative community-based ceremonies.
Lecture
Sylvia Wynter, Maskarade and Performing the State
Danielle Bainbridge
First produced as a teleplay for the Jamaica Broadcasting Corporation (JBC) in 1973, Sylvia Wynter's Maskarade stands at the juncture of art-making and statecraft. The play centers on the Jamaican performance tradition of Jonkonnu, an African-descended carnival practice. Wynter's state-commissioned plays were part of a larger trend in the mid-twentieth century,when governments in the Caribbeansponsored theatrical works in order to teach newly minted citizens how to relate to emerging states. These works also reconfigured the role of Black working-class and poor women in the new national imaginary through characters like Maskarade's Miss Gatha. Danielle Bainbridge analyzes the origins of the teleplay and demonstrates the connection between twentieth-century Caribbean statecraft, media, and post-colonial theory (namely Wynter's theorizations of "Indigenization")
Conversation with Bedour Alagraa, Danielle Bainbridge, Anthony Bogues, and Honor Ford-Smith moderated by Denise Ryner
3.30 pm
Lecture
Queer Ancient Ways
Zairong Xiang
Queer Ancient Ways advocates a profound unlearning of colonial/modern categories as a pathway to the discovery of new forms and theories of queerness in the most ancient of sources. Much more than a queering of the non-Western and non-modern, it constitutes a decolonial and transdisciplinary engagement with ancient cosmologies and ways of thought.
Performance
Tefnut
Ife Day, Vir Andres Hera and Belinda Zhawi
Tefnut is a performance project by poet Belinda Zhawi ; performer Ife Day and filmmaker Vir Andres Hera. Tefnut draws its name from the ancient Egyptian goddess of water. Water politics, mythology and poetics are their departure point in order to address an invitation to reflect about diasporic bodies moving through the liquidity of time and space. Being part of the Haitian, Mexican and Zimbabwean diasporas, the three artists will display a set of poetic and aesthetic horizons that are at the intersection of a larger geopolitical context as well as of queer ancient ways.
5.15 pm
Introduction
Denise Ryner and Zairong Xiang
5.30 pm
Lecture
Futurities and Space-Time Repair
Zoé Samudzi (via video)
The violence of settler imperiality was a physiological and metaphysical wounding of the body and of land, and the inextricable relationship between the two. Beyond nation-state-directed reconciliations that continuously expropriate indigenous lifeworlds are reparative futurities that refuse the strictures of linear time and the insentience of land: they are modes of repair with indigenous sovereignties as nucleus.
6 pm
Lecture
Between Two Bodies: Chinese Medicine and the Postcolonial Encounter with Anatomy
Eric I. Karchmer
How has Chinese medicine survived decades of prejudice and discriminatory policies, brought on by the encounter with Western colonial modernity? Since the early 20th century, doctors of Chinese medicine have become nimble at moving between two different systems of thought and practice. They navigate, often with virtuosity, between the flows of the classical medical body and the structural claims of the anatomical body, using each selectively to achieve efficacious clinical results.
Lecture
Beyond the virtual and real: body in Chinese medicine and cybernetics
Lili Lai (via video)
Starting with the entangled history of Chinese medicine and cybernetics, this talk aims to bring the distinct Chinese medicine conceptions of body back into the world of cybernetics, with renewed reflections on virtual and real, material and abstract (information). The seemingly ancient Chinese medical conceptions of body might be able to help us to explore today's more and more informatic reality and encourage renewed understandings of the nerve-strikingly predominant virtualization of everything.
Lecture
Learning from the Body
Judith Farquhar
In the 1980s and 1990s, Chinese medicine practitioners and thinkers in China engaged in much critical reflection. The field's philosophical and polemical writing pushed beyond the scientific, clinical, and ethical concerns of medical institutions. Cinicians and scholars alike drew from and contributed to the humanistic, cultural and aesthetic currents of thought prominent in China at the time. Judith Farquhar's comments excavate some of these ideas in translation.
Conversation with Judith Farquhar, Eric I. Karchmer and Lai Lili moderated by Zairong Xiang
Performance
this is an artwork
this is for you
you are material
you are a community
this is a plantation / prison
leave when you want
keyon gaskin
8 pm
Lecture
Toward a New Heresy: After the Ceremony
Joshua Chambers-Letson
This talk offers a meditation on Sylvia Wynter's foundational essays The Ceremony Must Be Found and The Ceremony Found, situating the impact and import of these two texts within contemporary discussions in Black studies, queer studies and performance theory.
Lecture
On Black Mourning
Tina Post
This talk considers characters, scenes and theorizations of Black public mourning, such as Okwui Okpokwasili's wail in Ralph Lemon's How Can You Stay in the House All Day and Not Go Anywhere, the professional-mourner son Brazil from Suzan-Lori Parks's The America Play, and Jasmine Johnson's essay Sorrow Swing.
Conversation with Joshua Chambers and Tina Post, moderated by Denise Ryner