Rencontres Internationales Paris/Berlin
Coffee discussion (Audi Foyer) | Focus (Vts) | The Centre of the World (Vts) | Shadows (Vts) | The Host (Audi) | Architecture (Audi)
Screening Sessions in the Auditorium (Audi) and Vortragssaal (Vtr)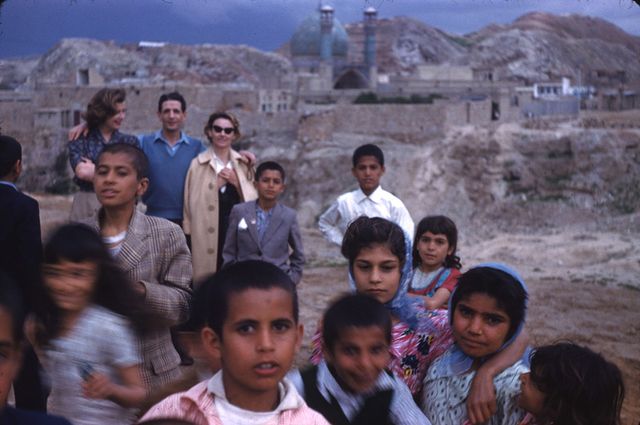 2 pm: Forum | Coffee discussion (Audi Foyer)
We invite you for a coffee and discussions with the invited artists who will talk about their work, their researches and ongoing projects, in dialogue with the curators of Rencontres Internationales. Before the screening programme starts, an informal moment to address the work of the programmed artists.
2.30 pm: Focus(Vortragssaal)
The presentation of the work of an artist in particular or of a curator, to discover her/his work and researches.Detailed programme announced on Rencontres Internationales' web site
3.30 pm: The Centre of the World (Vortragssaal)
Stéphanie Rollin, David Brognon: I Found You on an Empty Page | Video | hdv | colour | 1'38'' | Luxembourg, France | 2014
Eleonore De Montesquiou: Diamonds | Exp. documentary | hdv | b&w | 5' | France, Ghana | 2015
Justin Schmitz: Away from Here | Fiction | hdv | colour | 6'47'' | USA | 2013
Julia Charlotte Richter: You Are the Center of the World | Exp. fiction | 4k | colour | 16'45'' | Germany | 2015
Mike Crane: Bunker Drama | Exp. documentary | hdv | colour | 30' | USA, Lithuania | 2015
Stéphanie Rollin and David Brognon film a young boy lining up glass marbles, providing a literal and applied measure of the passage of time. In Ghana, Eleonore de Montesquiou confronts images of young people with ambiguous discourse about aggression and the accountability of the victim. Justin Schmitz films teenagers in the blurry landscapes of American suburbs, and observes the tentative borderline between adolescence and adulthood. Julia Charlotte Richter follows three boys in the deserted streets of a residential city. They become the protagonists of a fictional scene, following a catastrophe. Mike Crane films a leisure centre located in a former Soviet building in Lithuania. An actor plays the role of a Red Army General, teaches his idle teenage audience about the values of a market economy, and gives them a history lesson about Soviet occupation in the Baltic States.
5 pm: Shadows (Vortragssaal)
Elise Florenty, Marcel Türkowski: Shadow-Machine | Video | hdv | colour | 14'20'' | France, Germany, Japan | 2016
Corin Sworn, Tony Romano: The Coat | Exp. fiction | 4k | colour | 57'58'' | United Kingdom, Canada, Italy | 2016
One summer evening in a rather tropical Japan, Elise Florenty and Marcel Türkowsky film several isolated people, caught in a game of more or less threatening shadows. Operators dressed in black seem to manipulate them as they abandon themselves to the idea of being puppets. Yet here, at most a few tears, or laughter muffled by a cry, tear the silence of the night apart. Corin Sworn and Tony Romano is a losose adaptation of Aristophanes' play, 'The Birds', and transpose 5th century BC Athens to Italy, to contemporary Calabria. An Albanian man and his daughter arrive looking for a swimming instructor who fled communism in the 90s. This instructor is from the Arbëreshë community, Albanians who settled in southern Italy in the 15th century. Whilst looking, they encounter actors who are trying to revive a touring theatre. Each character charts a cartography of their own dreams, their stories intertwine, outlining a reflection on exile and immigration over the centuries.
7 pm: The Host (Auditorium)
Shadi Habib Allah: Dag'aa | Exp. documentary | hdcam | colour | 19' | Palestine, Egypt | 2016
Miranda Pennell: The Host | Exp. documentary | hdv | colour and b&w | 60' | United Kingdom | 2015
Shadi Habib Allah films a drive through the no man's land of the Sinai Peninsula, guarded by armed Bedouins. Everything seems to take place outside political, economic or historic frameworks. The only rule seems to be to remain invisible and intangible. Miranda Pennell pieces together hundreds of photographs, investigating the activities of British Petroleum in Iran, in search of what she believes to be buried history. She becomes involved in a tale of power, catastrophe and British imperial hubris. The tectonic plates of geopolitical conspiracy shift in the background, but the film asks us to look, and look again, at the images produced by the oil company and by its staff in Iran, including the filmmaker's parents, not for what they show, but for what they betray. 'The Host' is a film about the stories we tell, the facts and fictions we live by and their consequences.
9 pm: Architecture (Auditorium)
Aglaia Konrad: La Scala | Experimental film | 16mm | colour | 12'24'' | Austria, Belgium | 2016
Laurence Bonvin: Avant l'envol | Documentary | hdv | colour | 19'46'' | Switzerland | 2016
Arianne Olthaar: Hotel Forum | Video | hdv | colour | 9'30'' | Netherlands | 2016
Jasmina Cibic: Nada: Act I | Video | hdv | colour | 10'09'' | Slovenia, United Kingdom | 2016
Anton Ginzburg: Turo | Exp. fiction | hdv | colour | 35' | USA, Russia | 2016
On the banks of Lake Garda Aglaia Konrad films a modernist villa built in 1958 by Vittoriano Vigano for André Bloc. Laurence Bonvin explores the city of Abidjan through a selection of its state architecture. She focuses on contemporary uses of these buildings, and on the future of this post-colonial heritage. Arianne Olthaar traverses an ancient former hotel in the former Soviet bloc, a symbol of bygone luxury. Jasmina Cibic recreates the Yugoslavian pavilion at the Universal Exhibition in 1958, still at project stage. It appears here in the form of an instrument, on which a violinist plays 'The Miraculous Mandarin', composed by Béla Bartók. Anton Ginzburg explores post-Sovietic geography and constructivist architecture, and recreates timeless virtual landscapes like scenes of former utopias.