Rencontres Internationales Paris/Berlin
Coffee discussion (Audi Foyer) | Circularities (Vts) | Landmark (Vts) | Passing Through (Vts) | In-Between (Vts)
Screening Sessions in the Auditorium (Audi) and Vortragssaal (Vtr)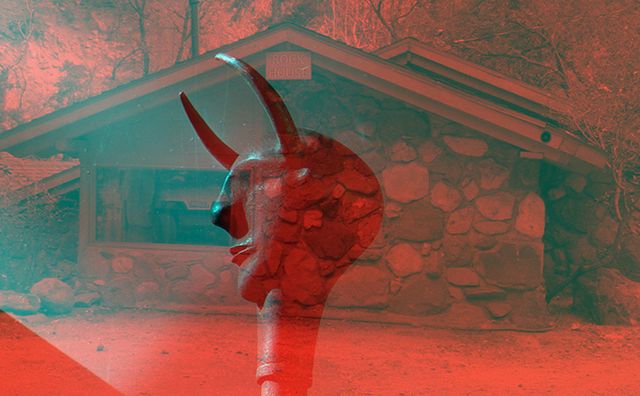 2 pm: Forum | Coffee discussion (Audi Foyer)
We invite you for a coffee and discussions with the invited artists who will talk about their work, their researches and ongoing projects, in dialogue with the curators of Rencontres Internationales. Before the screening programme starts, an informal moment to address the work of the programmed artists.
3 pm: Circularities (Vortragssaal)
Mike Hannon: An Illustrated Guide to Lighthouse Spotting | Exp. documentary | dcp | b&w | 27'47'' | Ireland | 2016
Daniel Kötter: HASHTI Tehran | Exp. documentary | hdv | colour | 59'45'' | Iran | 2016
Mike Hannon films a lighthouse in Ireland. Taking liberty with some of traditional documentary conventions, he introduces mild incoherence to the triumvirate of rhetorical development, drama and realism, by blending imaginary facts with documentary style. Produced from an almost anthropological perspective, the film is formal in composition, and raises the question of the role of the participants in documentary as narrative characters. Daniel Kötter continues his research on the regulation, control and design of social areas. He films the city of Tehran, starting with the notion of the hashti, an octagonal room that leads to the private or public areas of houses. The suburbs of Tehran become transitional places between internal and external, urban and non-urban.
5 pm: Landmark (Vortragssaal)
Esther Polak, Ivar Van Bekkum: A Collision of Sorts | Exp. documentary | hdv | colour | 17' | USA | 2017
David Ross: Théodolitique | Exp. documentary | 35mm | colour | 15'10'' | Canada | 2015
Sirah Foighel Brutmann, Eitan Efrat: Orientation | Exp. documentary | hdv | colour | 12'40'' | Belgium | 2015
Michael Macgarry: Excuse Me, While I Disappear | Fiction | hdv | colour | 19'10'' | South Africa, Angola | 2015
Michelle Deignan: A Glimpse of Common Territory | Exp. fiction | hdv | colour | 8'47'' | United Kingdom | 2015
Louis-Cyprien Rials: Polygon | Video | 4k | colour | 12'39'' | France, Kazakhstan | 2016
On Google Earth, Esther Polak and Ivar Van Bekkum follow the inhabitants of Philadelphia by GPS. They are mobile points on a flat surface but we can hear them: they talk about meetings, visions, economics, politics and social lives, but they never seem to meet. David Ross compares the two practices of film-making and the ancient art of land surveying. He documents student surveyors as they carry out a topographical survey. Sirah Foighel Brutmann and Eitan Efrat film a district of Tel Aviv, in which there is a sculpture commemorating the founders of the city, as well as the vestiges of the sanctuary of an old Palestinian village. They look at the ability of architectural material, sound and image to record the collective experience of forgetting. Michael Macgarry films a young municipal employee of Kilamba Kiaxi, in Angola, a deserted city suburb built by Chinese companies, with capital from Hong Kong. From the top of a strange 127 metre high tower, built in an area with council housing, Michelle Deignan establishes dialogue between two characters out of a science-fiction novel written in 1827. Louis-Cyprien Rials bathes in the Semipalatinsk Test Site in Kazakhstan. A 400 metre wide crater, created by an atomic bomb in 1965: a lake filled with radioactive water, virtually as boiling hot as the fire itself.
7 pm: Passing Through (Auditorium)
Mélissa Epaminondi: La Villa | Video | hdv | colour | 5'34'' | France | 2016
João Vieira Torres: Crianças fantasmas | Exp. documentary | hdv | colour | 16' | Brazil, France | 2016
Teboho Joscha Edkins: Initiation | Documentary | 4k | colour | 10'47'' | South Africa, Germany | 2016
Mike Hoolboom: Spectator | Experimental film | super8 | colour | 6' | Canada | 2017
Lena Bui: Nang Bang Phang | Fiction | hdv | colour | 50'10'' | Vietnam | 2016
Mélissa Epaminondi films her family vault in a Corsican cemetery. João Vieira Torres presents tales of early childhood. The memories related by different voices become confused, leading us to hypothesise about gender, memory and death. On a hill in Lesotho, Teboho Joscha Edkins follows a child awaiting their brother to return from a five-month initiation to become a man. Mike Hoolboom fulfils his oldest dream, giving birth to his father. Lena Nui follows Giong, an adolescent who spends her holidays in her aunt's farm, in the Mekong Delta, in Vietnam, exploring the connection between human beings and nature, as well as between life and death.
9 pm: In-Between (Auditorium)
Daniel Kötter: Repetitionen | Video | hdv | colour | 21'28'' | Germany | 2016
Rob Todd: Phases of Noon | Experimental film | 16mm | b&w | 11'25'' | USA | 2016
Maxime Rossi: Real Estate Astrology | Video | hdv | colour | 21' | France, USA | 2015
Sandro Aguilar: Undisclosed Recipients | Video | hdv | colour | 25' | Portugal | 2015
Daniel Kötter examines the notion of repetition and rhythm. A man walks down a street immersed in a multiplicity of noise. In contrast, from a window, rhythms respond to each another, on a different scale. Rob Todd establishes four acts, four paradises and four moon phases reflecting on the film. Maxime Rossi provides a series of images resembling a mental, visual and sound journey, close to the spirit of surrealism. He portrays a place permeated with the spirit of Max Ernst, by confronting two narrative forms. At night Sandro Aguilar films before and after the second kiss.