Opening: Rencontres Internationales Paris/Berlin
Opening screening (Audi) | Inverso Mundus (Audi) | Expanding illuminance (Audi) | Live Mix Party (Audi)
Screening Sessions in the Auditorium (Audi)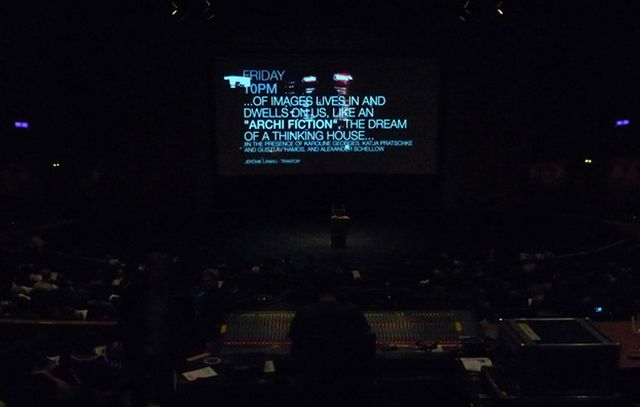 7 pm: Opening Screening (Auditorium)
The opening screening of Rencontres Internationales Paris/Berlin is an invitation to a surprise programme with 3 rare short films.
8.30 pm: Screening (Auditorium)
Aes+F: Inverso Mundus | Video | 4k | colour | 38' | Russia | 2015
Engravings with an upside down world as theme have been around since the 16th century, they depict a pig disembowelling a man, a child punishing his teacher, a man carrying a donkey on its back, a man and a woman swapping roles and clothes, and a beggar in rags magnanimously giving money to a rich man. These engravings depict demons, chimera, flying fish in the sky and death. In 'Inverso Mundus', these absurd medieval carnival scenes appear in the form of chapters in contemporary life. The characters enact absurd utopian social scenes, swap their masks and the tramp becomes a rich man, the policeman a robber. Metrosexual garbage men bombard the streets with rubbish. Inquisitors torture men on Ikea style structures. Children and old men are pitted against one another kickboxing. 'Inverso Mundus' is a world where chimeras are animals and the apocalypse is entertaining.
10 pm: Multimedia concert (Auditorium)
Thomas Köner: Expanding Illuminance | Multimedia concert | 35' | Germany, France | 2017
An hypnotic journey through two visions of the future and two utopias, from footages of the monumental "Metropolis" (Fritz Lang, 1927) and of the film 80`s cult "Tron" (Steven Lisberger, 1982).
Thomas Köner studied at the Music Academy in Dortmund, and at CEM-Studio in Arnhem. His work revolves mainly on the combination of visual and audio experiences, and develops into installations, concerts, videos, photos and multimedia works. In 2000, he received the "New Media Prize" at the Montreal International Festival New Cinema New Media.
In 2004, he received the "Golden Nica" of Prix Ars Electronica, the "Produktionspreis WDR/Deutscher Klangkust – Preis" (German prize for sound art). His media installation "Suburb of the Void" received the Transmediale prize 2005 in Berli and was presented at the Venice Biennale, at the Fenice theatre, as a live performance. Various important museums has acquired his audio-visual works for their collection: mainly the Pompidou Centre, the Museum of contemporary art of Montreal, the Comunidad of Madrid, the FRAC of Limousin. In 2008, he participated at the Media Art Biennale in Seoul. In 2009, he received the MuVi prize at the International short film festival of Oberhausen. Thomas Köner is nominated for the Nam June Paik prize in 2012.
10.30 pm: Party (Auditorium)
Mix live | "Strange Encounters" by Nasri