Post-Apartheid Public Culture
Discussion with Pumla Dineo Gqola, Khalo Matabane and Jihan El-Tahri, moderated by Storm Janse van Rensburg
with simultaneous translation into English and German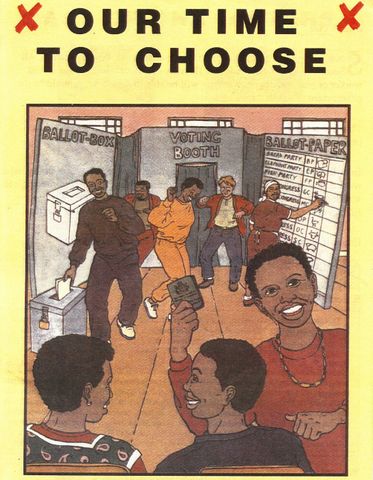 The state of current affairs in South Africa is as complex as its public negotiation. Be it in academia, in arts and culture or in corporate or social media, a vibrant civil society is relentlessly fostering the discussion. As political scientist Achille Mbembe has claimed, the alternatives are to dwell on the failures or to start reinventing. What role do artists and public intellectuals play in visualizing the unsolved problems and in dealing with the pain that is still amidst its society? What spaces shape the discussion? What possibilities can be imagined for the future within the peculiar conditions of democracy as it is practiced now? What needs to be reinvented? How to reengage with the South-African archive of hope?
Pumla Dineo Gqola is associate professor of African literature and gender studies at the University of the Witwatersrand. Her research themes include slavery memory, postcolonialism, gendered Blackness, post-apartheid public culture and African feminisms. She has MA degrees from the Universities of Cape Town and Warwick, UK and a DPhil from the Ludwig Maximilian University of Munich. Her books include "What is slavery to me? Postcolonial/Slave Memory in Post-Apartheid South Africa" (Wits Press, 2010) and "A renegade called Simphiwe" (MFBooks Joburg/Jacana, 2013).
Khalo Matabane is an award winning filmmaker, author, and producer. His docufiction "Conversations on a Sunday Afternoon," which examines the situation of refugees in South Africa, was part of the official program at the Toronto Film Festival and won the Prize of the Ecumenical Jury at the 2006 Berlinale. "State of Violence" (2010), his first feature film, was widely praised by critics at numerous film festivals including the Toronto Film Festival and the Berlinale. His new film, "Nelson Mandela: The Myth and Me," a documentary film about the controversies surrounding Mandela's policy of reconciliation, was released in 2013.
Storm Janse Van Rensburg is an independent contemporary art curator and writer. He was senior curator at the Goodman Gallery Cape Town from 2007 to 2012, and has curated numerous group and solo exhibitions, most recently "A temporary admission" by Bridget Baker for the National Arts Festival, Gahamstown, South Africa (2014). Since relocating to Berlin in 2012 he curated the group exhibition "The Beautyful Ones" at the Galerie Nolan Judin and co-curated the exhibition "GhostBusters II" in SAVVY Contemporary. He is project curator for "Oblique" an ongoing travelling exhibition by Abrie Fourie, which was shown at HKW (2012), Johannesburg Art Gallery (2012), and Savannah College of Art and Design, USA (2013/14) amongst others. Janse van Rensburg has written for numerous publications, including Art South Africa, Canvas Magazine and Metropolis M. He is currently a fellow at the Bayreuth Academy for Advanced African Studies and is a co-curator for the research and exhibition project "Giving Contours to Shadows, "an initiative by Savvy Contemporary in partnership with the Neuer Berlin Kunstverein.