Jury of 2015
The jury was nominated by an independent selection committee consisting of: Adelheid Feilcke (head of the culture department at Deutsche Welle), Klaus-Dieter Lehmann (president of the Goethe-Institut), Joachim Sartorius (poet, translator and former artistic director of the Berliner Festspiele), Christina Weiss (publicist, professor, chair of the Verein der Freunde der Nationalgalerie), Jan Szlovak (chair of the Stiftung Elementarteilchen).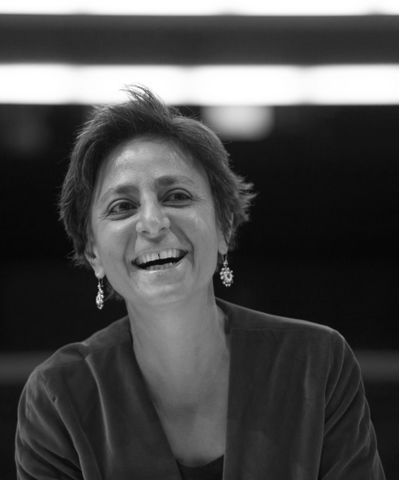 Leila Chammaa
(Translator, Expert in Islamic Studies)
Leila Chammaa, born in 1965, read Islamic studies, Arabic language and literature and political science at the Freie Universität Berlin. Since 1990, she has been translating Arabic prose and poetry into German and has served as an advisor and consultant to publishers and other institutions in the field of Arabic literature. In 2004 she was responsible for the coordination and dramaturgical organization of the literary readings in the Arabic honorary guest program at the Frankfurt Book Fair. In 2002, she founded the agency "Alif", which aims to promote Arabic literature in German-speaking regions. She also lectures Arabic for the German Foreign Office.
Michael Krüger
(Author/Publisher)
Michael Krüger, born in 1943 in the state of Saxony-Anhalt and raised in Berlin, lives in Munich today. For many years, he was the executive publisher at Carl Hanser Verlag in Munich, and for over three decades has been the editor of the journal Akzente, the book series Edition Akzente, and the series Lyrik Kabinett. Since the 1970s, his own published work has included novels, stories, essays, and poetry, for which he has received the Peter-Huchel-Preis, the Mörike-Preis, the Joseph-Breitbach-Preis, and the Prix Médicis étranger, among other awards. He is currently the president of the Bavarian Academy of Fine Arts and in spring 2015 will be a fellow at the Wissenschaftskolleg zu Berlin.
Marko Martin
(Author/Journalist)
Marko Martin, born in 1970, left East Germany in May 1989 for political reasons. He studied German, history, and political science at the Technische Universität and Freie Universität in Berlin. After a long residence in Paris, Martin returned to Berlin, where he lives when not traveling as a reporter. As a journalist, he has contributed most notably to Die Welt, Neue Zürcher Zeitung, Deutschlandradio, Jüdische Allgemeine, and Internationale Politik. His most recent literary work includes the essay collections Kosmos Tel Aviv (2012) and Treffpunkt '89 (2014), as well as the volumes of stories Schlafende Hunde (2009) and Die Nacht von San Salvador (2013), both published by Die Andere Bibliothek.
Sabine Peschel
(Sinologist/Editor)
Sabine Peschel, born in 1955, studied Sinology and German language and literature in Tübingen. She has lived in Taipei, worked as a university lecturer in Niigata, Japan and spent 15 years working as a freelance project organizer and translator in Berlin. During that time, she had articles published on China, began working for radio and presented numerous Chinese writers in Germany for the first time. In 1999, Sabine Peschel went to work for Deutsche Welle in Cologne/Bonn as an editor. She translates novels, essays and poetry from the contemporary Chinese literary scene.
Jörg Plath
(Literary Critic / Arts Journalist)
Jörg Plath, born in 1960, first did an apprenticeship as a book seller and then went on to study recent German literature, history and politics in Freiburg, Vienna and Berlin. In 1993, he received his doctorate for a thesis on Franz Hessel. Since then he has worked as a freelance lector, ghostwriter and literary editor. He now works as a literary critic for supra-regional media such as Deutschlandfunk and Neue Zürcher Zeitung and as a literary editor for Deutschlandradio Kultur.
Iris Radisch
(Literary Critic / Journalist)
Iris Radisch, born in 1959, is a German literary journalist and critic. She studied German language and literature, Romance studies and philosophy in Tübingen and Frankfurt. Since 1990, she has worked as literary editor for die ZEIT, for which she is now features editor. In addition to visiting professorships in St. Louis, USA and Göttingen, she has also presented numerous literature programs, including Bücher,Bücher (HR) and Literaturclub (3sat/ SF1). She became well-known through her participation in the program Das literarische Quartett (2000-2001). From 1995 to 2000 she was a member of the jury for the Ingeborg-Bachmann-Preis; from 2003 to 2007 she was chairwoman of said jury. In 2008, she was awarded the media prize for linguistic culture in the category "press" by the Gesellschaft für deutsche Sprache. In 2009, the French culture minister named Christine Albanel Radisch a "Chevalier des Arts et des Lettres". Her biography Camus – Das Ideal der Einfachheit was published in 2013.
Sabine Scholl
(Author/Essayist)
Sabine Scholl, born in 1959, studied German, history, and drama in Vienna and wrote her doctoral dissertation on Unica Zürn. From 1988 to 1990, she was a lecturer at the University of Aveiro, Portugal. She made her literary debut in 1992 with Fette Rosen. She has taught at universities in Chicago, New York, and Nagoya and conceived the "Sprachkunst" course of study at the University of Applied Arts Vienna, where she held a professorship from 2009 to 2012. She is currently on the faculty at the Literaturinstitut Leipzig and Berlin University of the Arts, and directs the ERAschreibkurse (writing courses) in Berlin. She has published novels, essays, audio dramas, and texts on art, and additionally writes about the cultures of the Portuguese-speaking world, the US and Latin America, Japan, and Eastern Europe. Sabine Scholl served as a juror for the 1996 Ingeborg-Bachmann-Preis. Most recently, she has published the novel Wir sind die Früchte des Zorns (2013) and Nicht ganz dicht: Zu transnationalen Literaturen (2015). She has been honored with numerous awards and grants and is a member of the Grazer Autorenversammlung and the literary advisory committee of Fiktion e.V.