Online program: Workshops
#CommunityBuilding: Workshops
Sat, Dec 11, 2021
Online, HKW and Goethe-Institut Mexiko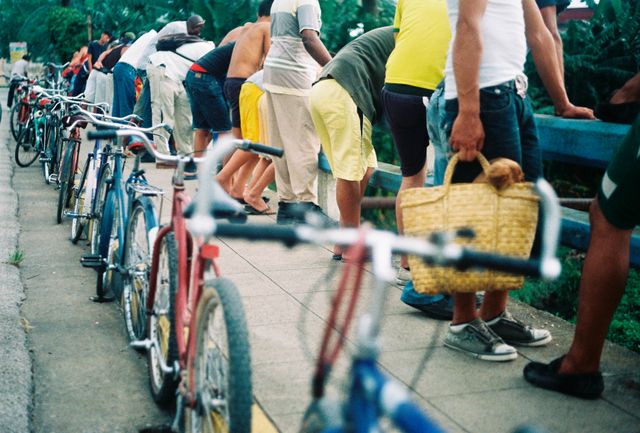 Workshops | Lectures
Thursday, Dec 9–Saturday, Dec 11
4–7 pm CEST (Berlin)
Online workshop, with registration
In English
Deconstructing a Community's Visual Archive
With José Luis Aparicio Ferrera and Fernando Fraguela Fosado
Old photographs, documentary reels, newspapers and textbooks are probably the most established and ostensibly faithful resources to construct a collective memory. Nonetheless, political institutions in power can manipulate historical narratives of specific communities in order to control them. What artistic strategies can be articulated to deconstruct a community's visual archive? In this film workshop, participants will assemble short non-fiction pieces about conflicted or significant periods, characters or events of their community, taking into consideration not only the collective, but their personal images and documents. We believe this collision between the public and the private will make for a more human and personalized account of history. The workshop includes theoretical thinking, film analysis and a practical/production component where the conveners would support the alumni in the creation of their films. The workshop is specifically addressed to people from countries or communities that have endured totalitarian, authoritarian or other repressive regimes, where control, manipulation and destruction of the historical archive is particularly common. The participants should have previous knowledge about filmmaking processes and have in their possession a personal, inherited or acquired visual archive to work with during the classes.
Saturday, Dec 11
12 noon–3 pm CEST (Berlin)
Online workshop, with registration
In English
Community under Pressure
With Frency Fernández Rosales, Christine de la Garenne and Julia Lazarus
Why is community building important? What possibilities exist to get involved in communal projects or network in one's immediate environment? Following up on the harassment and arrests of Cuban artists, intellectuals and citizens, the curator Frency Fernández Rosales and the Berlin-based artists Christine de la Garenne and Julia Lazarus invite the participants to share their personal experiences with oppression and resistance by presenting videos, photographs or short stories that evoke memories of solidarity. Participants will share ideas and knowledge on how to go beyond divisions and have more affective relationships among different communities in order to learn and move forward in their community building endeavors.
4–7 pm CEST (Berlin)
Online workshop, with registration
In Spanish
Image and Possibility
With Juliana Rabelo, Amaury Pacheco del Monte and Tania Bruguera
How can one use the impact of poetry in everyday life or in conflict situations to find common ground? The workshop will move from a reality of positivities to one of possibilities. The resource to find communicating vessels, common and shared territories or to relativize rigidities will be the poetic imagination, which always extends beyond the text and allows one to assemble their reality and transform it. Through myths, dreams, fantasies, poetic traces, images and sayings, the participants will discover the impact of poetry in their lives and will learn to embody it consciously. These resources will in turn lend them strength to make their acts meaningful and sobering. A conversation in a Telegram group will be established a week before the workshop.
4–7.30 pm CEST (Berlin) / 9 am–12.30 pm CST (Mexico City)
Workshop at HKW (Vortragssaal) and at Goethe-Institut Mexiko, with registration
In English and Spanish
Manuals for Dreaming and Inhabiting Ourselves
With Laura Fiorio and Tobias Morawski at HKW and with Argelia Leodegario Calderón, Ruth Gonzalez Renovato and Marco A. Rodríguez at Goethe-Institut Mexiko
Inhabiting can be understood as a practice of appropriation and resignification of space, body and collectivity. Starting with texts on gender and affective, social and literary dissidence, the workshop aims to challenge collective graphic narratives. Through drawing and writing exercises, the time spent together becomes a way to create an ephemeral and transitory community to share strategies of re-appropriating bodies and spaces by re-inhabiting them. The joined reading process aims at opening a dialogue from a perspective of sensibility, intelligence, and desire. The participants will generate collective visual narratives that will be recorded, duplicated and disseminated later in the form of posters, contaminating the different decentralized spaces that the participants re-inhabit with their bodies. Theoretical texts will be provided upfront for participants to read.
Workshops | Lectures