Trans* Opera
With Mavi Veloso feat. Dynno Dada, Sanni Est and Tina Escarlatina
In English, German and Portuguese without translation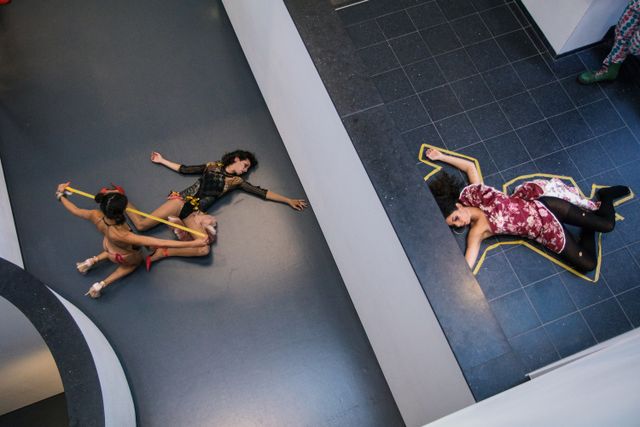 In the architecture of the HKW, the Trans* Opera presents personal experiences of rejection and despair, but also the curiosity and creativity of the performers and their non-binary and trans* bodies. The performance explores colonized bodies as well as vocal and performative practices of people who switch between gender identities.
"My body and voice are all that I have. It's inside my guts as I am to you. If you want it too, if you are to me as I am to you. We'll head up ahead joining forces to move. I look for my peers, all different girls complementing tones, fortifying pitch, multifying voices and colors to queer. I want to build bridges, collections of thoughts, travestis empowered, libidos and more. Reincarnating our goddesses, those ones who've been gone, almost all killed cold blooded by ignorant man kind. We're hybrid and witches, we chanting our songs with our bitches ancestors, travesties empowered. An army of shouts, the guns will be us, all mermaids, all girls, while swaying our tails. Attacking the norms, transitioning words, putting spells to transform, confusing the sound."
- Excerpt of the Trans* Opera
Mavi Veloso feat. Dynno Dada, Sanni Est & Tina Escarlatina
Followed by:
DJ-Set by Educated Body
A Project by Mavi Veloso
Creation & Performance
Dynno Dada, Mavi Veloso, Sanni Est, Tina Escarlatina
Costume
Gustavo Silvestre, Dynno Dada, Tina Escarlatina
Performers in other versions
Grupo MEXA.
Songs in the piece
He Didn't Like My Femme & If I Was A Reach Girl by Dynno Dada
Puro by Mavi Veloso & Glenn Ryszko
Tinder Match by Sanni Est
Prisioneira do Amor by Élcio Decário, performed by Rita Lee, lipsync by Tina Escarlatina