Conversation & Film with Mohamed Abouelouakar & Ali Essafi
Film screening: The Killers, D: Mohamed Abouelouakar, 1971, 20 min, Russian OV with English subtitles
Sun, Jan 21, 2018
Lecture Hall
Day ticket: 6€/4€ Two-day ticket: 10€/7€
Conversation in Arabic with simultaneous translation into German and English, film: Arabic OV with English subtitles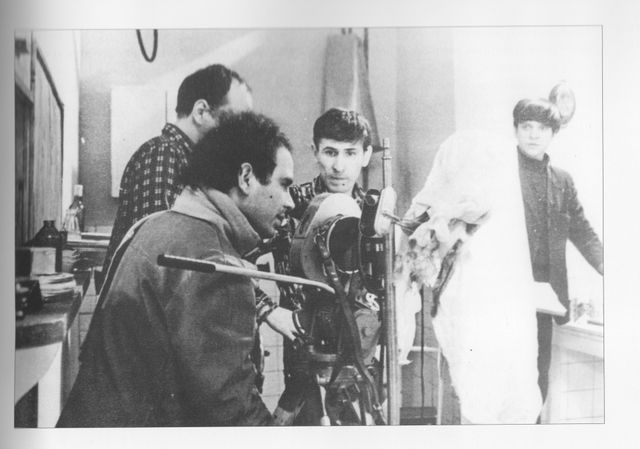 Filmmaker Ali Essafi will conduct a conversation with Mohamed Aboulouakar, a friend and accomplice, to revisit his experience at the VGIK, daily life in Moscow, and learning the craft. Essafi has been interviewing Aboulouakar for a while and has had access to his personal archives, glimpses of which he will share during the conversation.
Mohamed Abouelouakar trained as a filmmaker at VGIK from 1966 until 1971. He graduated with his diploma film The Killers (al-Qatiluun). In 1977 he directed The City of Memory (Madinat al-Thikrah), a documentary about his native city Marrakesh, but as his filmmaking style was not appreciated in Morocco he returned to Moscow between 1978 and 1981. His only narrative feature-length fiction, Hadda (1984), received wide critical acclaim. Since then Abouelouakar has not been able to find financial support in Morocco to direct any other film, and has had a successful career as an artist working in photography and painting. He lives between Casablanca and Elektrostal, an industrial suburb of Moscow.
Ali Essafi works as a filmmaker, film curator, cinematographer, and video artist. He lives in Casablanca. In 1989 he completed a degree in Psychology in France. In 1991 he started working as an assistant on documentary films. In 1997 he directed, General, Here We Are! (Général, nous voilà) and returned to Morocco in 2002. He was the artistic director of Moroccan public television channel SNRT from 2006 until 2009. His filmography includes The Silence of the Beet Fields (Le Silence des champs de betteraves, 1998), Ouarzazate Movie (2001), Al-Jazira, Arabs in 1424 (2002), Sheikhates Blues (2004), Wanted (2011), and Crossing the Seventh Gate (2017).