Conversation & Films with Suliman Mohamed Ibrahim Elnour & Suhaib Gasmelbari
Film screenings: It Still Rotates / Africa, Jungle, Drums and Revolution, D: Suliman Mohamed Ibrahim Elnour, 1978, 20 min, Arabic OV / 1979, 12 min, OV with English subtitles
Sun, Jan 21, 2018
Lecture Hall
Day ticket: 6€/4€ Two-day ticket: 10€/7€
Conversation in Arabic with simultaneous translation into German and English, film: Russian OV with English subtitles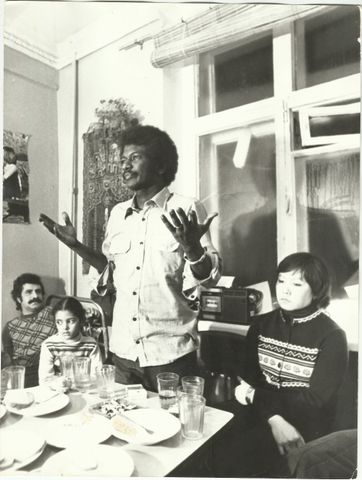 Filmmaker Suhaib Gasmelbari will conduct a conversation with Suleiman Mohamed Ibrahim Elnur, a friend and accomplice, to revisit his experience at the VGIK, daily life in Moscow, and learning the craft. Gasmelbari has been working on a documentary about the Sudan Film Group.
Suliman Mohamed Ibrahim Elnour graduated from VGIK in 1978 with his diploma documentary film, Africa, the Jungle, Drums and Revolution (1979), about representations of Africa in Soviet society, and received a degree in African and Asian folklore from the University of Khartoum. In Sudan, he worked at the Ministry for Culture film department and for the State Cinema Corporation, and served on the editorial board of the journal Cinema. He is the chairman of the Sudan Film Group and a founder of the Sudan Film Club. His documentary films deal with topics such as marginalized communities, ecological threat, climate change, or political crises. Recent films include Al-Muhawala (2013), about the making of the new constitution of Darfur, and Turning Point (2017) about local adaptation to climate change.
Suhaib Gasmelbari is a filmmaker based in Omdurman, Sudan. He earned his degree in film directing from the Université Paris VIII. He is currently putting the final touches on his long documentary film about Sudanese cinema, The waiting bench, in which Suliman Mohamed Ibrahim Elnour is one of the main characters.