Jury of 2018
The jury was nominated by an independent selection committee consisting of: Klaus-Dieter Lehmann (president of the Goethe-Institut), Joachim Sartorius (poet, translator and former director of the Berliner Festspiele), Rainer Traube (director of the arts desk, Deutsche Welle), Christina Weiss (publicist, professor, chair of the Verein der Freunde der Nationalgalerie), Jan Szlovak (chair of the executive board of Stiftung Elementarteilchen).
Verena Auffermann, born in 1944, studied art history after training in the book trade. Since then, she has worked as a literary critic, editor and arts correspondent for example for Die Zeit, Süddeutsche Zeitung, Deutschlandradio Kultur and DeutschlandRadio and as an author. Her books include Nelke und Caruso. Über Hunde. Eine Romanze and Das geöffnete Kleid. Von Giorgione zu Tiepolo. In 2009, Auffermann, Gunhild Kübler, Ursula März and Elke Schmitter published the literary anthology Leidenschaften. 99 Autorinnen der Weltliteratur. In 2016, the series Leben in Bildern included her "Henry James." In addition to hosting and participating in radio and television discussions, Verena Auffermann taught from 1997-2002 as a lecturer in the further education program on book and media practices at Johann Wolfgang Goethe-Universität in Frankfurt am Main. Between 1992 and 1996 she was a member of the jury of the Klagenfurt Ingeborg-Bachmann-Preis competition and from 2010 and 2012 the jury chair for the Preis der Leipziger Buchmesse.
Katy Derbyshire was born in London and has lived in Berlin since 1996. She translates contemporary German writers, including Inka Parei, Heike Geißler and Christa Wolf. Her translation of Clemens Meyer's Bricks and Mortar (Im Stein) was nominated for the MAN Booker International Prize. Katy has taught translation in London, Berlin, New York, New Delhi and Norwich. She co-hosts a monthly translation lab and the bi-monthly Dead Ladies Show in Berlin.
Frank Heibert, born in Essen in 1960, studied Romance and German languages in Berlin, Rome and Paris, earning his doctorate on paronomasia and translation. He has worked since 1983 as a literary and theatre translator from English, French, Italian and Portuguese (works by Don DeLillo, Richard Ford, William Faulkner, George Saunders, Boris Vian, Yasmina Reza and many others). From 1990 until 1995 he and Thomas Brovot managed the zebra literaturverlag. He works as a freelance editor, literary critic, host of literary events and lecturer on translation at home and abroad and is also a novelist (Kombizangen, 2006) and jazz vocalist. He received the Heinrich Maria Ledig-Rowohlt Translator's Prize for his complete works as a translator in 2012, was the Wilhelm August von Schlegel guest professor for poetry translation during the 2015-2016 winter semester at the Freie Universität Berlin and received the 2016 Helmut Braem Translator's Award.
Jens Hillje, born in 1968, grew up in Milan, Munich and Landshut. After studying applied cultural sciences in Perugia, Hildesheim and Berlin, he has worked as an actor, author and director in the independent theatre scene since 1990. In 1996, he and director Thomas Ostermeier founded the Baracke at the Deutsches Theater in Berlin, which received the Theatre of the Year award of the professional journal Theater heute under his direction in 1998. It was during this period that he developed the still-successful Streitraum format. From 1999 until 2009, Jens Hillje was one of the artistic directors and chief dramaturge of the Schaubühne am Lehniner Platz, where he founded the Festival Internationale Neue Dramatik (F.I.N.D). The directors he has collaborated with as dramaturge include Falk Richter, Barbara Frey, Luk Perceval, Rafael Sanchez, Yael Ronen and Sebastian Nübling. In 2010, together with Nurkan Erpulat, he developed the play Verrücktes Blut (Ballhaus Naunynstraße, Ruhrtriennale), which was chosen Play of the Year 2011 by the professional journal Theater heute. That same year, Jens Hillje curated the Intransit Performing Arts Festival at Haus der Kulturen der Welt as artistic director. Since the 2013-2014 season, he has been co-director of the Maxim Gorki Theater and shares the artistic direction of the Gorki with Shermin Langhoff. The two received the 2016 Berlin Theatrical Award from the Stiftung Preußische Seehandlung and were named Theatre of the Year in 2014 and 2016.
Tobias Lehmkuhl, born in 1976, studied Comparative Literature and Hispanic Studies in Bonn, Barcelona and Berlin. Since 2002 he has been working as a literary critic for newspapers and radio stations. In 2017 he received the Berliner Preis für Literaturkritik. He is the author of several books: Coolness. Über Miles Davis (2009), Land ohne Eile. Ein Sommer in Masuren (2012) and Die Odyssee. Ein Abenteuer (2013) among others.
Daniel Medin is an editor and a professor of comparative literature at the American University of Paris, where he teaches classes on contemporary world literature; writing from Central Europe; the history and culture of Berlin and Vienna; and editorial practice. His research is principally concerned with twentieth- and twenty-first century fiction, with an emphasis on the work and global reception of Franz Kafka. He is associate director of AUP's Center for Writers and Translators, and one of the editors of its Cahiers Series (published jointly with Sylph Editions in London). He is also co-editor of Music & Literature magazine, edits The White Review's annual translation issue, and advises several journals and presses on contemporary international fiction. A judge for the Best Translated Book Award in 2014 and 2015, he served on the jury of the 2016 Man Booker International Prize.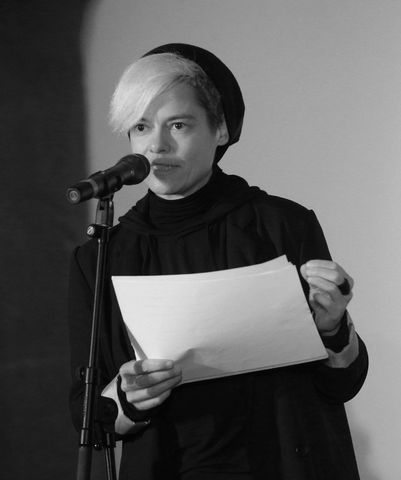 Daniela Seel, born in Frankfurt am Main in 1974, is a poet and publisher of kookbooks living in Berlin and Frankfurt am Main. She also works as a freelance editor, organizes, teaches, sits on juries and translates, most recently works by Lisa Robertson and Rozalie Hirs, and is active in the KOOK association and the Netzwerk freie Literaturszene Berlin. She has appeared and collaborated internationally many times, for example with the illustrator Andreas Töpfer and the dancer David Bloom. Daniela Seel published the poetry books ich kann diese stelle nicht wiederfinden (kookbooks 2011) and was weißt du schon von prärie (kookbooks 2015) as well as the radio feature was weißt du schon von prärie (SWR/DLF 2015) together with Frank Kaspar. She has been the recipient of awards such as the Friedrich-Hölderlin-Förderpreis of the City of Bad Homburg, the Kunstpreis Literatur of the Lotto Brandenburg, the Horst-Bienek-Förderpreis of the Bavarian Academy of the Fine Arts and the Mondsee poetry prize as well as fellowships from the Villa Aurora, Los Angeles, the Goethe-Institut Copenhagen (in Reykjavík), the Berlin Senate and the Stiftung Brandenburger Tor.