A Blind Spot
Presented by Catherine David
Admission: 6 €/4 € | Day tickets: 15 €/12 €
Tickets online: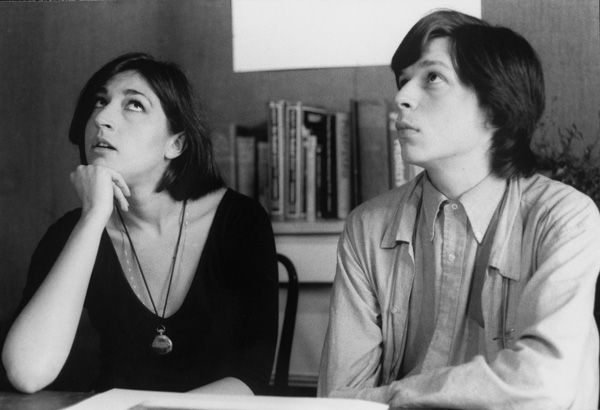 Les mains negatives
Marguerite Duras, France 1978, 35 mm, 18 min
Taking as her motif mysterious prehistoric hand-prints discovered in southern European caves, Duras juxtaposes against this narrative a series of blue-and-black filmed images of Paris boulevards at dawn. "The word is not yet invented".
Le Sphinx
Thierry Knauff, Belgium/ France 1986, 35 mm, 12 min
Using on its soundtrack fragments from a Jean Genet text about massacres committed during the Lebanese civil war in the Palestinian refugee camp Shatila, "Le Sphinx" dwells visually on the figure of the stone sphinx.
Toute révolution est un coup de dés
Danièle Huillet/Jean-Marie Straub, France 1977, 16 mm, 10 min
In the rigid, objective poses of Brechtian epic theater a series of actors recite, under a plaque commemorating the "valiant dead" of the 1871 Commune, Mallarmé's poem "A Throw of the Dice Will Never Abolish Chance". For Straub, the challenge of this film was, he said, to "combat opacity". Dedicated to the dead of the Paris Commune, the film and its voices turn into a rhythmic equivalent of the poem's experimental typography.
Les Photos d'Alix
Jean Eustache, France 1980, 35 mm, 18 min
Alix Cléo Roubaud, a photographer, talks to Jean Eustache's teenage son Boris about her photographic manipulations and the reasoning behind them, confessing cheerfully to many instances of "trucage", although always in the name of some kind of truth. The film's themes of mismatching, manipulation and masking are underlined when it emerges that the photographs described are not the ones seen on screen.
All films with English subtitles