Unter Schnee (World première)
A film by Ulrike Ottinger
103 min, 35 mm, German OV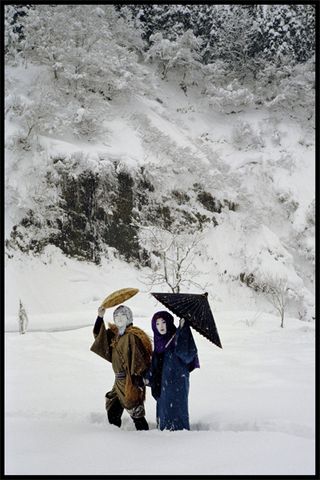 "Watching her films is like traveling through an undiscovered country of marvels." (Leslie Camhi, The Village Voice)
In the Japanese snow country Echigo, snow piles up meters-high and blankets the countryside and villages well into the month of May. In these months under snow, where days are often as dark as night, the people have developed customs for their unusual daily life. Time follows a different rhythm: children build fanciful snow castles in which they cook and sing, the women weave crepe in colorful patterns.
Ulrike Ottinger, winner of the Hannah-Höch-Award in 2011, offers audiences a fresh look at her latest work at the pre-premiere screening of "Under Snow." Her camera moves through subterranean passages. She shows the daily life of the people trapped below along with their temples, theaters and shrines made of snow. Aside from documentary scenes, we see a performance of an 18th century dramatic Kabuki play "Teroya," which reflects the hardships and natural beauty of Echigo. Accompanied by traditional Kabuki music and Carl Orff's early opera "Gisei," "Under Snow" is a visually and musically evocative and moving triad of theater, poetry and reality. A film for all who wish to take a journey to a mysterious and slow world.
A coproduction of Ulrike Ottinger Filmproduktion and ma.ja.de. filmproduktion ; funded by Medienboard Berlin-Brandenburg, Federal Government Commissioner for Culture and the Media, German Film Fund (DFFF), Japan Foundation; supported by Bayerischer Rundfunk / Hörspiel und Medienkunst and Haus der Kulturen der Welt. The world premiere is a contribution to "150 Years of German-Japanese Friendship 2011".
Distributed by Real Fiction .
World distribution Deckert Distribution .
"Floating Food" is part of the Asia-Pacific Weeks 2011.
The Asia-Pacific Weeks are kindly supported by the Stiftung Deutsche Klassenlotterie Berlin.
The world première of "Unter Schnee" ("Under Snow") is funded by