Pakistan
Ticket 13 €, concessions 10 €, Festival ticket: 30 €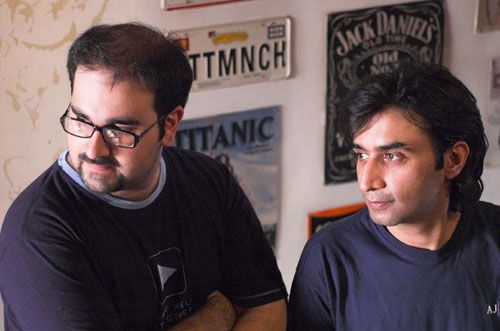 Although the cultural achievements of the Pakistani people have been overshadowed lately by the political contradictions of the country, its musical culture boasts a rich tradition, broad diversity and a strong presence. With regard to electronic music, however, the word "underground" is still to be taken literally. It is significant that the most well-known practitioners of Pakistani pop music as presented for the past two years on MTV Pakistan come from the Pakistani communities of Toronto or London. "Stylistically, everything imaginable happens in Peshawar or Karachi", according to curator Detlef Diederichsen, "but usually behind closed doors or in back rooms. While they're at it, the musicians instinctively combine elements of their own musical tradition with the popular idiom of the anglophone West, from rock through hip-hop to techno.
Faisal Gill and special guests
It's an audacious transcontinental encounter: Faisal Gill from Karachi is a guitarist, mandolin player and general virtuoso with stringed instruments, whose fascination for Nietzsche took him to Germany. On the stage he will act as musical interpreter and tamer of extremely diverse guests including the rhythm section of his band Experience from Karachi, the singers Yousuf Sayyad and Nazr Sayyad from Hyderabad and last but not least the Berlin-based Californian DJ, singer and musician Eric D. Clark.
Sajid and Zeeshan
Peshawar lies to the west of the capital Islamabad, and, through its proximity to Afghanistan, is inextricably involved in the internal divisions of the country. It's the home town of Sajid and Zeeshan, whose day job sees them working successfully as an Anglo-American indie pop style combo on a contract with the Major EMI Pakistan; but Sajid and Zeeshan were only too happy to make themselves available for the festival and its exclusive, experimental-psychedelic program with no clear outcome.
www.sajidandzeeshan.com www.myspace.com/sajidandzeeshan
DJ Vixz
The evening will be rounded off by a pure DJ set from the Karachi-based DJ Vixz, who honed his skills at the London School of Sound. He represents the reception of the British dance music scene by local artists and the internationally applicable desire to dance to happiness to a four-four bass drum beat. He puts his sets together using the popular Berlin DJ software Ableton Live.
Lineup: Detlef Diederichsen