#Healing (Faju): Workshop & Public Program
Sat, Feb 6, 2021
Live stream
Workshops fully booked

In English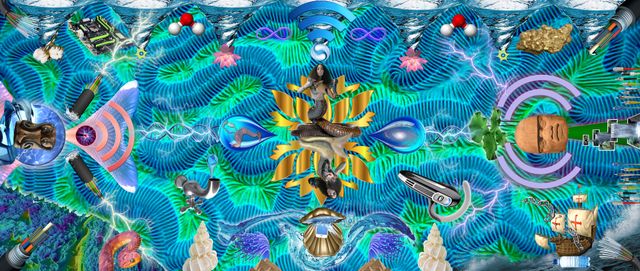 Saturday, Feb 6
2–4pm
Transatlantic Sounds: "What would you say if I told you that our Black history has been denied?"
Performance ritual by Tomás Espinosa, Jorge Gómez, Carina Madsius and Linda-Philomène Tsoungui with Muhammed Lamin Jadama, Abdulah Sow and Co
To recognize oneself as afro-diasporic is to be aware that identities are the result of ruptures and fragmentations. This reveals that a part of history has been silenced and disconnected. These wounds are not yet repaired but might be healed through sounds and the act of listening to each other. In an audio performance ritual streamed into the digital realm, the contributors will be offering improvisations, live sound interventions and jam sessions based on samples from the sound marathon of February 4. Communicated through a communal radio frequency they will open a portal and connect Tumaco with Dakar, Berlin and other points of the partially disconnected African diaspora. The act of listening and the cathartic power of music and its vibrations permeate the body to heal the traumas of the past, to connect and vibrate together.
4.30pm–6pm
Online workshop
The Body Divines
With Wangũi wa Kamonji
Workshop in three parts:
1st part: Mon, Jan 18, 3pm, fully booked
2nd part: Mon, Feb 1, 3pm, fully booked
3rd part: Sat, Feb 6, 4.30pm, fully booked
Colonial State education systems violently implant and enforce the capacity of knowing in the book and teacher alone, thus robbing the Earth and learners' bodies and ancestral connections of their recognition, confidence and power as sites of knowledge. The Body Divines is an intervention to heal the harm of colonially inherited state education systems through reclaiming Indigenous ways of being and knowing. In three consecutive workshops, participants are invited to move through grief to desire to questioning and relate to various Indigenous ways of knowing. The first workshop on January 18 is facilitated in the philosophy of a divination. The participants' wounds are honored as teachers; desires are excavated and questions are uplifted as world opening forces. What follows is a 2-week space of individual co-created experimental interaction; a sacred ceremony of re-awakening relationship with a dimension of life such as wind, water, dreams, plants, animals or movement processes to explore the discerned question. In a second workshop on February 1, the participants will gather online again to share their experiences of reanimated ways of knowing, allowing the possibility of our individual healing becoming communal healing.
The first two workshops especially welcome participants who identify as having been schooled in a colonial state education system. The third part is an online gathering on February 6 open to a wider public. Registration is nevertheless necessary. Participants will witness a presentation of the previously conducted workshops. In the larger round, the group will then share experiences of reanimated knowing, allowing the possibility of our individual healing to become communal healing.
8.30pm
Taalif, Tëgg ak N'guiss (Poetry, Sound and Vision)
Sound performance by Ibaaku
Aquatic forces have long been revered as divine powers for both their destructive ardor, as well as for their striking beauty, eternal vitality and healing virtues. In Dakar, ancestral spiritual traditions were formed around the ocean. Ibaaku's sound performance will draw from the well of Senegalese aquatic rituals in order to attempt a reconnection with the essential element of water by mixing visuals, poetry and music.