bauhaus reloaded – Students Design the Future
Presentation of the school project
Fri, Jun 7, 2019
Hirschfeld Bar
In German

Visitors to the final presentation are granted free admission to the exhibition bauhaus imaginista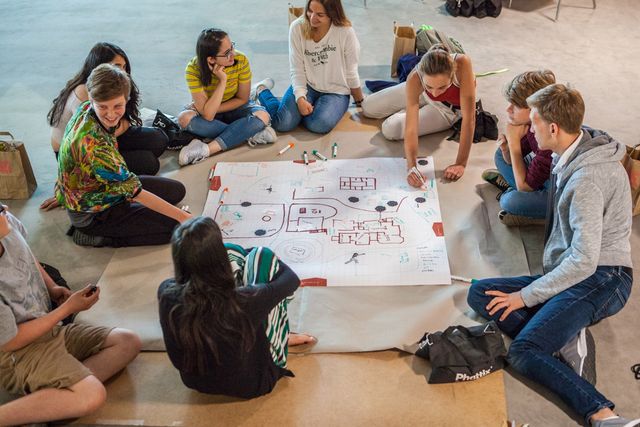 In the school project accompanying the exhibition, students from four Berlin schools, together with representatives from art and architecture, with media educators and educational activists, explore how Bauhaus ideas influence their own present and can contribute to actively shaping the future.
What might a Bauhaus school look like today and what educational approaches of the Bauhaus can be employed to develop schemes for alternative forms of learning in the future? What housing and design questions arise amidst current social changes? And how can a living environment with low resources be actively shaped? Who really learns from whom in cultural and creative processes? And can the Bauhaus be transferred to the digital age?
On this day, the work resulting from the projects will be presented and discussed at HKW.
With Barbara Antal, Bauereignis Sütterlin Wagner Architekten, mediale pfade.org, Thomas Meyer (T(o)uring Schule), Zara Morris, Rike Scheffler
Participating schools: Carl-von-Ossietzky-Schule, Evangelische Schule Berlin Zentrum, Fritz-Karsen-Schule, Mildred-Harnack-Schule