Rencontres Internationales Paris/Berlin
Coffee discussion (Audi Foyer) | Objects (Vts) | Fiction Stratum (Audi) | Revolt Growth (Vts) | History. Part 2 - Confrontations (Audi) | Utopia, every day (Vts) | Carte blanche to Antoni Muntadas (Audi) | Atopos (Audi) | Revisited Cinema (Audi)
Screening Sessions in the Auditorium (Audi) and Vortragssaal (Vtr)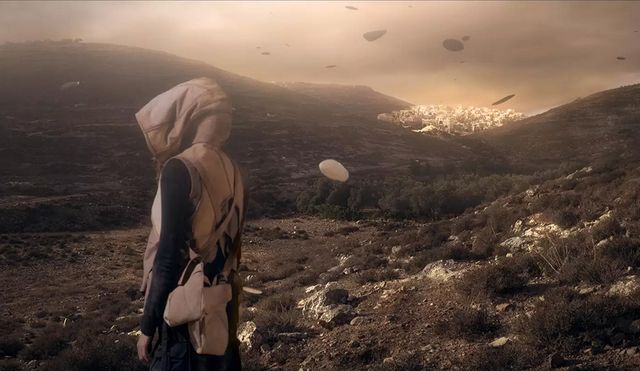 1 pm: Forum | Coffee discussion (Audi Foyer)
2 pm: Objects (Vortragssaal)
J Tobias Anderson: A Work of Art | Animation | hdv | b&w | 1'36'' | Sweden | 2016 Xi Chen: PEW | Animation | hdv | colour | 10'11'' | China | 2016
Dana Berman Duff: Catalogue Vol.6 | Experimental film | hdv | b&w | 11'38'' | USA | 2016
Zachary Epcar: Return to Forms | Experimental film | 16mm | colour | 10'13'' | USA | 2016
Laure Prouvost: Lick in the Past | Video | hdv | colour | 8'25'' | France, United Kingdom | 2016
Institute For New Feeling: This is Presence | Video | hdv | colour | 17'19'' | USA | 2016
A reflection on J. Tobias Anderson's own work as an artist mirrored in a dialogue with three other animated characters: the personal, general and global. Xi Chen tells a story about robots, PEW, flesh eating penis worms. It is the tale of all humans in a creative futuristic hypothesis of the world. Dana Berman Duff reviews her own vision by looking at objects in a catalogue. Staged rooms imitate a suite of genre films. She recreates a house, accompanied by horror film soundtracks. Zachary Epcar scrutinises objects, each emerging into the anonymous pastel decor of an indeterminate condominium space. Laure Prouvost films adolescents in Los Angeles and in France. In a car park or in rural areas, they hold upbeat conversations, expressing a desire for freedom and their fantasies about an easy and comfortable life. Agnes Bolt, Scott Andrew and Nina Sarnelle have created the 'Institute for New Feeling', committed to experimentation and the development of new ways of feeling, undertaking the language of corporate branding, as well as mainstream discussions on beauty. The well-being industry is at the crossroads between capitalism and the body. We are in the position of a web user. Pop ups, image distortion and misappropriation become desirable spaces.
2 pm: Fiction Stratum (Auditorium)
Thomas Mohr: Impact-9.2 | Video | hdv | colour and b&w | 10'44'' | Netherlands | 2016
Mauricio Freyre: Set Out 1 | Fiction | 16mm | colour | 2'14'' | Peru, Spain | 2015
Ivan Salatic: Dvorista | Exp. fiction | 4k | colour | 20'59'' | Montenegro | 2015
Jules Lagrange: Orion Aveugle | Exp. fiction | hdv | colour | 9'10'' | France | 2016
Thomas Taube: Narration | Exp. fiction | 4k | colour | 45'19'' | Germany | 2016
Thomas Mohr explores part of his memory, comprising 59,049 personal photographs, ranging from a totality to individual moments. An expanding time and space creating numerous connections. Mauricio Freyre reflects on cinematic mechanisms as creative and representational processes, and examines the landscape of the mise-en-scène. Ivan Salatic films teenagers in a garden, surrounded by wild plants. They appear to be suspended, just like their surroundings. Suddenly, they become aware of the proximity of the sea. Jules Lagrange reveals the story of a human being who has become a mere witness to his own nostalgia. It is the story of a funeral ritual seen through the blurry eyes of a cyborg. Temporality and the exact context of this past event are unfathomable. They have been replaced by a dense and disparate memory. Thomas Taube reflects upon the elements necessary to develop a story. He associates different narratives and temporalities, related to questions of conscience and perception, simultaneously reflecting upon the creation of fiction and working upon events in our memory so that they become recollections.
3.30 pm: Revolt Growth (Vortragssaal)
Tony Cokes: Evil.66.2 | Video | hdv | colour | 8'04'' | USA | 2016
Marion Inglessi: Catastrophe | Video | hdv | colour | 5' | Greece | 2015
Soufiane Adel: Les Bonnes | Video | hdv | colour | 8' | France | 2015
Frédéric Jaeger, Nino Klingler: Nur der Fortschritt | Exp. fiction | hdv | colour | 18'51'' | Germany | 2016
Lina Selander, Oscar Mangione: The Ceremony | Video | hdv | colour | 16'18'' | Sweden | 2016
Sebastian Wiedemann: Los (De)pendientes | Video | hdv | b&w | 24' | Colombia, Argentina | 2016
Tony Cokes select the quotes of a famous ex-candidate at the last American presidential elections in a tale of seduction and manipulation. Marion Inglessi explores the theme of catastrophe, the invisible and unpredictable suspense after a shock. Soufiane Adel films two young brothers at night who guard a film studio, and weave together references from Jean Genet to proletarian struggles and the construction of identity. The moon and a tiger accompany them, with a backdrop inspired by paintings by Ingres and Botticelli. Frédéric Jaeger and Nino Klingler present a tale about progress. Camels and men are trapped in a fable, longing for but distrusting knowledge. In 'The Ceremony', Lina Selander and Oscar Mangione establish disparate links between different identities, stories and places. Layers of images, texts and sound intertwine, cities appear abandoned or under construction. Sebastian Wiedemann assembles extracts from films produced in Argentina between 1956 and 2006, concerning criticism and revolution. He tries to circumvent our expectations, to make new areas of freedom and representations of people possible.
4 pm: History. Part 2 - Confrontations (Auditorium)
Julia Kater: Breu | Video | hdv | colour | 4' | Brazil | 2016
Ra Di Martino: Authentic News of Invisible Things | Video | hdv | colour and b&w | 5'30'' | Italy | 2014
Bettina Nürnberg, Dirk Peuker: Franzosensand | Documentary | hdv | colour | 8'30'' | Germany | 2016
Maya Schweizer: Texture of Oblivion | Exp. documentary | hdv | colour and b&w | 18' | Poland | 2016
Nanna Rebekka, Pernille Lystlund Matzen: Hestebetvinger | Video | 4k | colour | 15' | Denmark | 2015
Filipa César: Transmisson from the Liberated Zones | Exp. documentary | hdv | colour | 30' | Portugal | 2016
Julia Kater films the outline of a form on the ground. The process seems endless, where any sense of progression and evolution appears to be absent. Ra Di Martino observes the paradoxes of history and war, and reflects upon military camouflage, a tool for both dissimulation and simulation. False tanks are used in real wars, and real tanks are used for fiction. Maya Schweizer films the Umschlagplatz Wall memorial, in Warsaw, from where hundreds of thousands of Jews were deported during the Second World War. In this film, the memorial cannot be entirely seen, showing the paradoxical relationship of remembrance and forgetting. Nanna Rebekka and Pernille Lystlund Matzen film a bronze statue in Copenhagen, and track the hidden story, from ancient myth to Europe's colonial past, to Belgian Congo where copper extraction made King Leopold II rich. In her film, Filipa César takes as a starting point the concept of 'free zones', a term used to describe the territories of Guinea-Bissau liberated from Portuguese domination, and administered, during the 11 years of the War of Liberation (1963-1974), by African Party for the Independence of Guinea and Cape Verde Guerrilla movement militants.
5.30 pm: Utopia, every day (Vortragssaal)
Johan Grimonprez: kiss-o-drome | Video | hdv | colour | 1'16'' | Belgium, USA | 2016
Johan Grimonprez: Every Day Words Disappear | Video | hdv | colour | 15' | Belgium | 2016
Lili Reynaud Dewar: TGMFS | Exp. documentary | 4k | colour | 36' | France, USA | 2016
Johan Grimonprez conveys the demonstration that took place, in Sorocaba, in Brazil under military dictatorship at the time in the 80s. A judge banned any kissing in public, with the penalty of a prison sentence. The town responded with a huge 'kissodrome'. In 'Every Day Words Disappear', he gives the floor to Michael Hardt, an American political philosophy theorist, who raises questions regarding the means of transforming a society defined by a permanent state of war, fuelled by the industry of fear, in a reality which depends on the exploitation of people and the cult of the privatisation of common goods. In contrast to Machiavelli's quote, according to which it is preferable for the Prince to be feared rather than to be loved. Lili Reynaud Dewar reflects upon the appropriation of objects, cultural and social identities. In this film, science fiction, rap and discourse on emancipation intersect in the specific cultural and political context of the city of Memphis, once the historic epicentre of slavery, and centre of the fight for African-American civil rights.
6 pm: Carte blanche to Antoni Muntadas(Auditorium)
Rencontres Internationales invites Antoni Muntadas for a carte blanche screening, including notably the international première of "In Girum Revisited".
Antoni Muntadas: In Girum Revisited | Video | hdv | colour | 14'26'' | Spain, Italy | 2016
Antoni Muntadas was born in 1942 in Barcelona. After studying architecture and engineering in Barcelona, Muntadas dedicated himself to art, and ever since 1971,he has focused specifically on videoproduction. He settled in the U.S., where he was granted a fellowship, then became a professor at the Center of Advanced Visual Studies (MIT) in Cambridge, Massachusetts. He now lives in New York and is aprofessor of the practicein MIT's Department of Architecutre, heading its Program in Art, Culture and Technology (ACT). He is also a professor at the Instituto Universitario de Arquitectura del Veneto in Venice.
Antoni Muntadas was an early pioneer of video and installation art in the mid-seventies, and he has continued to work with photography, video, installation art, audio recording, and urban art. Over four decades, Muntadas has been developing these projects, which critically reflect on key issues in the configuration of contemporary experience. His aim is to detect and decode the control and power mechanisms through which hegemonic ways of seeing are built, and explore the decisive role played by the mass media in this process. In his works, which always reflect a clear creative processand often make a direct appeal to viewer participation, Muntadas uses an array of media, languages and discursive strategies that encompassinterventions in public space, video and photography, the publication of printed material, the use of Internet and new digital tools, multimedia installations, and the organisation of multidisciplinary, collaborative research projects.
Muntadas has taught and directed seminars at diverse institutions throughout Europe and the United States, including the National School of Fine Arts in Paris, the Fine Arts Schools of Bordeaux and Grenoble, the University of California in San Diego, the San Francisco Art Institute, Cooper Union, the University of São Paulo, and the University of Buenos Aires. He has also served as a resident artist and consulting advisor for various research and education centres including the Visual Studies Workshop in Rochester, the Banff Centre in Alberta, Arteleku in San Sebastian, The National Studio for Contemporary Arts Le Fresnoy, and the University of Western Sydney. His work has been exhibited in numerous museums, including the Museum of Modern Art (MoMA) in New York, the Berkeley Art Museum, the Montreal Contemporary Art Museum, the Reina Sofia Museum in Madrid, the Museum of Modern Art in Buenos Aires, the Museum of Modern Art in Rio de Janeiro, and the Museum of Contemporary Art in Barcelona. His work has been included in international events and venues such the 9th and 10th editions of Documenta Kassel (1977, 1997), the Whitney Biennial of American Art (1991), the 51st Venice Biennial (2005), and others in São Paulo, Lyon, Taipei, Gwangju, and Havana. His solo exhibitions have also appeared at the Württembergischer Kunstverein Stuttgart, the Centro de las Artes in Sevilla and the Centre d'art contemporain in Thiers. He presented an installation at the Inter-Society of Electronic Arts in San José, California in 2006, the Telefónica Foundation Space, the Recoleta Cultural Center, and the Spanish Cultural Center in Buenos Airesin in 2007, and the Cervantes Institute in Paris in 2008. In 2009, he carried out an art intervention at the Mies van der Rohe Pavillion. In Montréal,his work was shown at the SBC Gallery of Contemporary Art and at the Cinemathéque Quebécoise. Supported by the program Lives And Works in Istanbul, he exhibited at the Istanbul Modern Museum in 2010. More recently, there was a Muntadas retrospective at the Reine Sofia Museum, showcasing his"Entre/Between", which ran from 2011 to 2012. In 2013, his work was exhibited inside Pinacoteca Station in Sao Paulo.It has also been shown at Galeria Michella Rizzo in Venice and at Galería Moisés Pérez de Albéniz in Madrid. His exhibit"About Academia", previously installed in 2011 at The Carpenter Center for the Visual Arts at Harvard University, traveled to the Audain Gallery in Vancouver in early 2013.
Muntadas is the recipient ofnumerousprizes and grants from institutionssuch as the Solomon R. Guggenheim Foundation, the Rockefeller Foundation, the National Endowment for the Arts, the New York State Council on the Arts, and Arts Electronica in Linz. He received theLaser d'Or prize (considered the "Oscar of Video Art") from the International Association for Video in the Arts and Culture in Locarno, the National Prize of Plastic Arts from the Catalan Government, and the National Prize of Plastic Arts (2005) and the Velázquez Plastic Arts Prize (2009) from the Spanish Ministry of Culture.
7 pm: Atopos (Auditorium)
Guillaume Paris: Bad Anima | Animation | hdv | colour | 2'50'' | France | 2012
Larissa Sansour, Søren LIND: In The Future, They Ate From the Finest Porcelain | Exp. fiction | hdv | colour | 28'30'' | Palestine, Denmark | 2015
Cihad Caner: Abstract Violence | Video | hdv | colour | 11'10'' | Turkey, Netherlands | 2016
Hayoun Kwon: 489 Years | Animation | hdv | colour | 11'18'' | South Korea, France | 2016
Joana Pimenta: Um campo de aviação | Video | hdv | colour | 14' | Portugal | 2016
Romain Kronenberg: Rien que de la terre, et de plus en plus sèche | Exp. fiction | 4k | colour | 18' | France, Turkey | 2016
Guillaume Paris outlines a calm stretch of water from which an enigmatic creature gradually emerges. Taking its title from the Jungian archetype anima, the video features the universal, legendary, mythological and marvellous figure of the mermaid. Blending science fiction, archaeology and politics, Larissa Sansour and Søren Lind explore the roles of myth, history and national identity. A fictional resistance group buries rare china into the ground, aiming to influence history. Cihad Caner films a destroyed village and abandoned objects in Syria that he then reproduced with computer generated images, and reflects on the images of war and migration conveyed by the press and social networks. Hayoun Kwon adapts the testimony of a former soldier in South Korea, therefore providing access to the forbidden zone between the two Koreas. Joana Pimenta films an airfield in the suburb of an unknown city. An underground lake is on fire and burns out the streets, while mountains expel rocks into the gardens. A town disappears as a result of the volcano Fogo. Romain Kronenberg films two men in the desert. They wait for a third man who has gone off to scout. By radio, he describes his path, and the ever-expanding desert expanse before him. The voice eventually subsides. Alone and without news, the young men imagine a paradoxical answer: to believe is as important as the recognition that believing is vain.
9 pm: Revisited Cinema (Auditorium)
M+M: Mittwoch + Donnerstag | Installation vidéo | 16mm | colour | 6'39'' | Germany | 2015
John Skoog: Shadowland | Exp. documentary | 16mm | b&w | 15'05'' | Sweden | 2015
Persijn Broersen, Margit Lukács: Establishing Eden | Video | hdv | colour | 10' | Netherlands | 2016
Julie Murray: Untitled (Earth) | 0 | 0 | colour | 10' | USA | 2015
Christoph Girardet, Matthias Müller: Personne | Experimental film | hdv | colour and b&w | 15'04'' | Germany | 2016
Benjamin RamÍrez Pérez: Body Snatcher | Experimental film | 16mm | colour | 17'18'' | Germany | 2016
The images in the form of a diptych by M+M reinterpret film scenes, with a scene re-enacted faithfully on the one hand, and on the other hand the same scene rewritten or modified. In California John Skoog films places where iconic Hollywood films were shot, used to represent the most diverse places around the world. Persijn Broersen and Margit Lukács reconstruct the scenery of New Zealand used as backdrops for films like Avatar and Lord of the Rings. Nature has been forfeited to depict a fresh fictional Eden. Julie Murray confronts digital video images with traditional film. Hazy outlines and mottled landscapes appear. Around the actor Jean-Louis Trintignant, Christoph Girardet and Matthias Müller question someone, no-one, anyone. Us in the course of time. Benjamin Ramírez Pérez develops an abstract narrative from the film 'Wanda' by Barbara Loden. He takes original elements from it such as surfaces, objects and furniture, isolating them in a parallel narrative, and examining the construction of identity.