Tomorrow's Rivers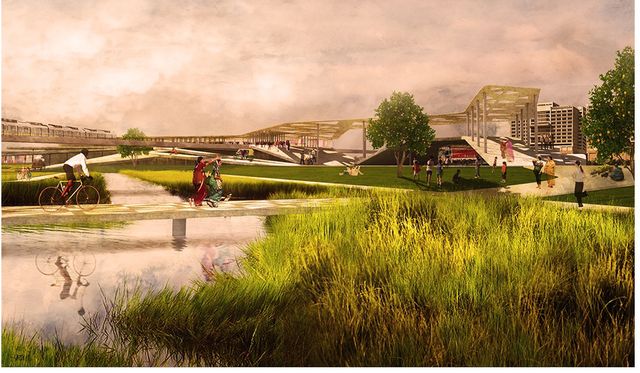 Blue lifelines: How can the inhabitants of the world's metropolises re-experience their rivers? How do other city's manage their rivers and what possible strategies are there for the recovery of these valuable living spaces? Examples from initiatives in Chicago and New Delhi – and their applicability to Berlin – are at the focus of the discussion with Nick Wesley from the Urban Rivers project for the reactivation of the Chicago River, Pankaj Vir Gupta from the Yamuna River Project, which aims to clean the holy river in New Delhi, and Jan Edler, co-author and chairman of the urban development project Flussbad Berlin, and Barbara Schindler, who is responsible for the projects' public relations.
www.urbanriv.org
www.yamunariverproject.org
Curated by Barbara Schindler / Flussbad Berlin e.V.
Flussbad Berlin is an urban development project which aims to transform the 1.8 km long inner city Spree Canal between Fischerinsel and the Bode Museum into a publicly accessible, non-commercial recreational site. It plans to establish new riverside paths within a recultivated park landscape, as well as install a plant filter between Gertrauden Bridge and the Foreign Office to provide naturally cleaned water supplying an 840 meter long river swimming pool extending from Schlossplatz to the western tip of Museum Island. Berlin would profit form an additional ecological attraction and a new, blue connection between Alexanderplatz und Friedrichstraße.