Global Modernisms
Contiguities, Infrastructures and Aesthetic Practices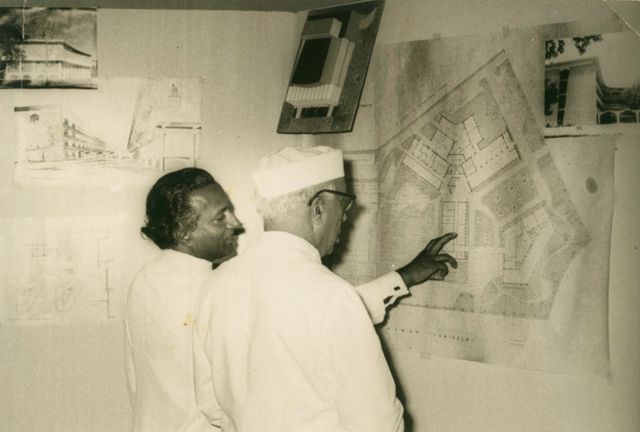 Taking the years between 1905 and 1965 as the temporal frame, this conference seeks to rethink Global Modernisms from a transregional perspective. Current conceptualizations of avantgardism and formal innovation often related to places like Paris, New York, Weimar or Moscow continue to inform Global Modernisms' intellectual field.
Day 1 | Day 2
Global Modernisms are often presented as a symptom for new Westernism that masquerades as the universal. The conference shows that global and local movements and innovations from the arts and from the intellectual, institutional and technological spheres, such as traveling art and design exhibitions, geo-political alliances of colonialized nations of Asia and Africa or the Négritude movement create worldwide networks of modernisms.
With
Nancy Adajania (Mumbai), Hannah Baader (Berlin), Rakhee Balaram (Berlin), Patrick Flores (Manila), Atreyee Gupta (Berlin), Thomas Kirchner (Paris), Combiz Moussavi-Aghdam (Tehran/ Berlin), Dhruv Raina (Delhi), Harsha Ram (Berkeley, C.A.), Nada Shabout (Denton, TX), Elena Shtromberg (Salt Lake City), Romuald Tchibozo (Cotonou), Ming Tiampo (Ottawa), Merel van Tilburg (Paris/Amsterdam) a.o.
6 pm
Project- and Bookpresentation: Curating After Year Zero
With the curators Annett Busch, Anselm Franke, and Heidi Ballet
The exhibition After Year Zero – Geographies of Collaboration since 1945 shown at HKW in 2013 and this year at the Museum of Modern Art in Warsaw told of the realignment of the world after the Second World War. Analyzing this development not as a confrontation between Cold War blocs, the project focuses on the interweaving of European and African history in the process of decolonization and the attempt to transform the conditions of colonial Modernity .
The newly issued companion book compiles essays by Clare Davies, Kodwo Eshun, Stacy Hardy, Fred Moten and many more.
The Project After Year Zero is based on a series of Workshops, which took place in 2012 in Algiers, Dakar, Paris and Johannesburg under the title "Matters of Collaboration", in cooperation with the Goethe-Institute Brussels and supported by the Award of Excellence by the Goethe-Institute.
7 pm
Roundtable: Curating Global Modernisms
With: Catherine David, Clémentine Deliss, Patrick Flores, Anselm Franke, Nicola Müllerschön, Stefan Weber
Global Modernisms is the Annual Conference of the Forum Transregionale Studien and the Max Weber Stiftung – Deutsche Geisteswissenschaftliche Institute im Ausland. Convened by Art Histories and Aesthetic Practices. Funded by the Bundesministerium für Bildung und Forschung (BMBF).