After Year Zero
Geographies of Collaborations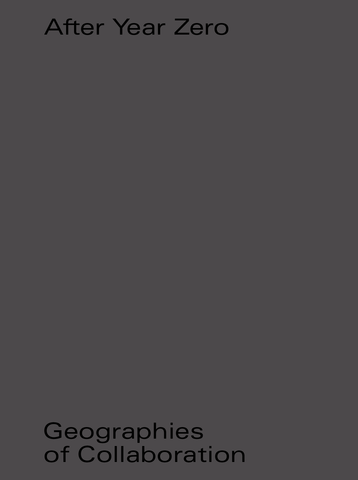 Eds: Annett Busch and Anselm Franke
Publisher: The University of Chicago Press, 2015
English, 248 pages, 50 color plates, 50 halftones
ISBN: 978-83-64177-25-5
Price: € 19.00
Available at the shop of the Haus der Kulturen der Welt and at bookstores, mail order buying/postal shopping via the webshop
Published in conjunction with an exhibition that has traveled to the Museum of Modern Art in Warsaw from Berlin's Haus der Kulturen der Welt, this volume takes as its starting point the realignment of global ties after 1945—Europe's "year zero"—and focuses on the worldwide phenomenon of decolonization.
Investigating magazines, journals, and newspapers, the diverse essays in After Year Zero shine a spotlight on collaboration, not confrontation, in the many publications launched at various times and in different places within the African continent or the African diaspora. As the volume contributors show, the format of these periodicals provided a means for temporary intervention against hegemonic voices and made possible the necessary task of creating a new language to talk about art, life, and politics. In addition to text-based essays, After Year Zero also includes visual essays designed like collages of documents, quotes, and images.
With its unique international and interdisciplinary approach, After Year Zero is an innovative study of postwar narrative possibilities and a powerful reflection on the processes by which the "universal" can be generated.