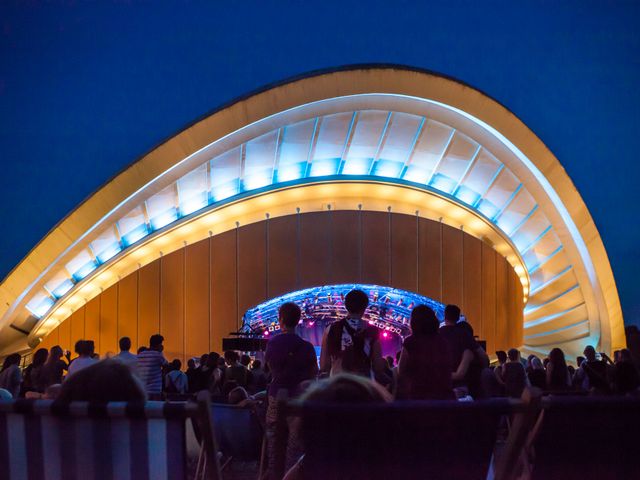 Wassermusik
Goodbye UK – and Thank You for the Music
Festival
Concerts, films, talks
Open air on the roof terrace

Waterproof – in case of rain in Ausstellungshalle 1 (exhibition hall 1)
In 2018, Wassermusik takes the Brexit as an opportunity to pay homage to the extraordinary musical creativity that made the United Kingdom the world's leading pop nation, alongside the US, in terms of music as well as thought, fashion, style and other concepts. Entitled Goodbye UK – and Thank You for the Music, the festival traces the "Britishness" of pop music and investigates its mode of action.
The upcoming disruptions caused by Brexit offer a good opportunity to finally thank the United Kingdom for enriching the last 60 years with an exquisite pop canon. Liverpool beat and lovers rock, glam rock and grime, drum'n'bass and dubstep—British innovations have regularly shaken up the pop world. Not to be overlooked in all of this is the influence of Caribbean and African migrants, who could legally immigrate to the UK after 1948. The breathtaking development made by British jazz and rhythm & blues starting in the 1950s is also heavily marked by this. Additionally, since the first generation of rock bands also recruited from this scene, it can be claimed: Without the Alpha Boys School, where most of the Jamaican jazz players got their music training, there would have been no Rolling Stones, Cream, or Fleetwood Mac. This year Wassermusik celebrates the brilliance and breadth of British music. With a wide variety of artists from the UK, but also from Poland, France, Mexico, India, and Nigeria. Because gratitude to British music-making knows no borders.
With concerts by Matthew Herbert's Brexit Big Band, The Zombies, Jazz Jamaica, Scritti Politti, Little Axe & Adrian Sherwood, Orlando Julius & The Heliocentrics, Kobo Town, Mexrrissey, Shabaka & The Ancestors, Bright Phoebus Revisited, Eva Lazarus, Go-Kart Mozart, Friedrich Sunlight, Aquaserge, Anushka, Zara McFarlane, Mitch & Mitch, Peter Cat Recording Co., The Chap, Bas Jan among many others, with a film program, discussions, the installation Welcome to Saxnot by Scott King, and the Wassermarkt market.
The past ten editions of Wassermusik dealt with themes ranging from Surf and Tiki (2008) and Deserts (2011), The New Pacific (2013) and Mother India (2015) to The Other Caribbean (2016) and in 2017, for its tenth year, celebrated itself. Wassermusik X invited the "best of" and artists the makers of Wassermusik had always wanted to engage but who were unable to take part for various reasons.
In 2018, the festival, curated by Detlef Diederichsen and Martin Hossbach, will again be held on the popular HKW roof terrace unless the weather does not allow, then in the exhibition hall.