Workshop, Reading, Discussion, Performance
Konzentration
With Kenneth Goldsmith, Arthur Jacobs, Sophie Jung, Chus Martínez, Sînziana Păltineanu, and Jenna Sutela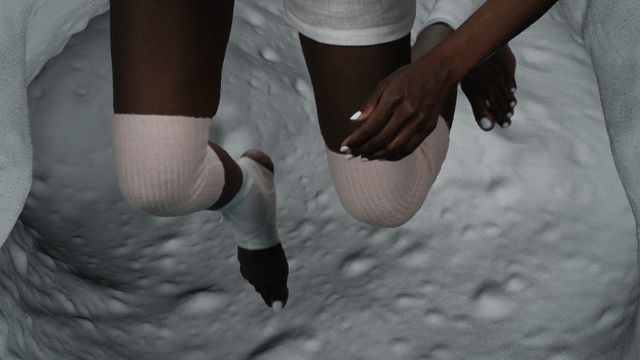 The model literary project Fiktion is dedicated to a fiercely disputed asset of digitalized society: concentration.
For the publication of the anthology "Konzentration" the US literary scholar Kenneth Goldsmith will for the first time hold a compact version of his legendary Ivy League seminar "Wasting Time on the Internet" and discuss the results with Chus Martinez, director of the Institut Kunst in Basel. Arthur Jacobs, neuroscientist at the FU Berlin, will speak about immersion in literature and his reading research with the e-reader developed by Fiktion.
The Romanian writer Sinziana Păltineanu will read from her debut novel "Elephant Chronicles" and the Luxembourg artist Sophie Jung will present her story "X-Examination<3."
Program
2 pm – 6.30 pm
Wasting Time on the Internet
Workshop with Kenneth Goldsmith
Registration: fiktion@hkw.de. The number of seats is limited.
7 pm
Elephant Chronicles
Reading with Sînziana Păltineanu
8 pm
Distraction
Discussion with Kenneth Goldsmith, Arthur Jacobs, and Chus Martínez
10 pm
X-Examination<3
Performance by Sophie Jung
When You Moved, a video piece by writer and artist Jenna Sutela will be shown throughout the event at the conference room 3 (K3).
"Wasting Time on the Internet" and "Distraction" in collaboration with the poesiefestival berlin 2015; more events with Kenneth Goldsmith there on June 21, 1 pm (colloquium) and June 22, 9 pm (lecture performance): poesiefestival.org
Participants
Kenneth Goldsmith (born 1961) is an Amercian poet and founding editor of the online platform for avantgarde art and material, UbuWeb. He teaches Poetics and Poetic Practice at the University of Pennsylvania, and is a Senior Editor of PennSound. He attended the Rhode Island School of Design for sculpture and worked as a visual artist for about ten years before taking up conceptual poetry. Among his poetry publications are most notably The Weather (2005), Traffic (2007), and Sports (2008). He is the author of a book of essays, Uncreative Writing: Managing Language in a Digital Age (Columbia University Press, 2011) and edited with Craig Dworkin in 2011 Against Expression: An Anthology of Conceptual Writing (Northwestern University Press). Kenneth Goldsmith lives in New York.
Arthur Jacobs is a Professor of General and Neurokognitive Psychology at the Freie Universität Berlin and founding director of the Dahlem Institute for Neuroimaging of Emotion. His work focuses, amongst others, on Experimental Psychology, Affective Neuroscience, Neurocognitive Poetics. Amongst his latest publications are: The quartet theory of human emotions: An integrative and neurofunctional model (with S. Kölsch, W. Menninghaus, K. Liebal, G. Klann-Delius, C. von Sheve), Neurocognitive Poetics: methods and models for investigating the neuronal and cognitive- affective bases of literature reception und Gehirn und Gedicht. Wie wir unsere Wirklichkeiten konstruieren (with Raoul Schrott).
Sophie Jung is an artist working with text, performance, sculpture ecc. Recent shows and performances include Pick-Me-Ups & Pick-Ups, ICA, London (2014) Throw Up /On Line, HEK, Basel (2014), read the room / you've got to, SALTS, Basel (2014), Panda Sex, State of Concept, Athens (2014), Dear Luxembourg (Yours, Bucktoothed Grl), Nosbaum Reding Projects, Luxembourg (2015) and New Waiting. Sophie Jung studied at the Folkwang University of the Arts in Essen, the ZHdK in Zürich, The Rietveld Academy in Amsterdam and is just about to graduate with an MFA from Goldsmiths, University of London.
Chus Martínez is Head of the Art Institute the Fachhochschule Nordwestschweiz (FHNW), Basel. She has a background in philosophy and art history. She was dOCUMENTA (13) Head of Curatorial Department and Member of Core Agent Group. Previously she was Chief Curator at MACBA – Museu d'Art Contemporani de Barcelona, Director of Frankfurter Kunstverein, and Artistic Director of Sala Rekalde, Bilbao.
Sînziana Păltineanu is a writer and historian based in Heidelberg. After having studied foreign languages (English and Japanese) at the Babeș-Bolyai University, in Cluj,Romania. She completed a Ph.D. in history in 2013 at the Central European University, in Budapest. More recently, she was awarded a fellowship in literature at Akademie Schloss Solitude, in Stuttgart. Elephant Chronicles is her debut novel and it is based on extensive archival research.
Jenna Sutela's written, directed, installed and performed projects explore the ways in which we interface with technology. Her work has been presented, among other places, at Haus der Kulturen der Welt in Berlin, Museum of Contemporary Art Kiasma, Helsinki and South London Gallery and writing published by, for example, Frieze, Harvard Design Magazine and Sternberg Press. Sutela has a background in media and design research. She currently lives and works between Helsinki and Berlin.