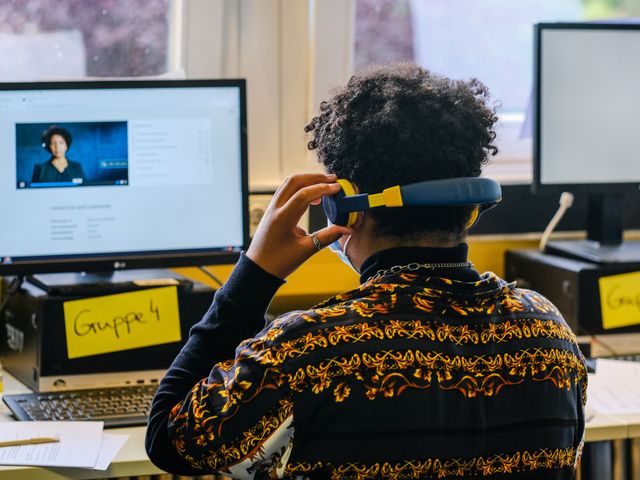 New Arrival
How can schools become good places to arrive? Current refugee movements, especially the war in Ukraine, also have an impact on everyday life at schools in Germany. Three elective courses at the Johanna-Eck-Schule in Berlin-Tempelhof explore how migration changes school realities. The starting point is the analysis of interviews from the oral history project Archive of Refuge. Supported by the media education association mediale pfade, students discuss positive experiences of arrival, belonging and interaction, but also discrimination and exclusion in the school context.
In one of the courses, young people develop 3D spaces and bring their ideas to life with VR glasses. Another course reflects on their own experiences of exclusion and develops strategies for making school an anti-discriminatory place. The students produce a podcast as an advisory tool for teachers and fellow students. Participants in the third course explore experiences of discrimination and belonging on a physical level with theater educator João Albertini, testing specific situations and developing physical empowerment strategies to share with classmates in workshops. The process and the results will be presented at the school in January 2023.
New Arrival is a project by Haus der Kulturen der Welt in cooperation with the Johanna-Eck-Schule (Berlin-Tempelhof) and mediale pfade – Verein für Medienbildung e.V.
New Arrival is supported by Berlin's Projektfonds Kulturelle Bildung (Cultural Education Project Fund)