Cultural Memory
Staged by the House of World Cultures and the Bundeszentrale für politische Bildung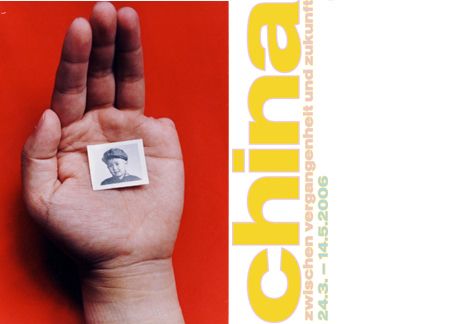 International scientists and artists outline Chinese and European perspectives on burning and complex questions related to the collective and manifest thoughts and ideas of cultures, for such notions are of existential importance not only for the politics of memory, but also - and above all else - for artistic practice too.
10:00 Television as a part of Cultural Memory
Presentation by Michael Lackner (Sinologist, University Erlangen, Germany) and Christoph Müller-Hofstede (Sinologist and Political scientist, Germany)
During the past few decades, Chinese television (reaching, on average, 600 million viewers across the country) has also been appraising Chinese history. Excerpts from the 52-part history soap On the Way to a Republic show how political history is portrayed in the media in the People's Republic of China.
12:00 Cultural Memory as Artistic Practice
Zhang Dali (Performance Artist, Beijing), Xi Chuan (Poet und Translator, Beijing), Wang Qingsong (Artist, Beijing)
Mod.: Anne-Marie Bonnet (Art Historian, University Bonn, Germany)
In that field of tension between state authority and the ostensible freedoms of capitalism, the arts are faced with the task of liberating the motifs of cultural memory from their instrumentalisation by politics and commerce, and (should liberation of this nature prove absolutely impossible) of drawing people's attention to the underlying problems. Three artists from Beijing, whose work has to survive in the gap – often ironic and possibly utopian – between an analysis of their lived realities on the one hand and of their personal practice on the other, discuss the importance and potential of contemporary Chinese art.
15:00 Relating to Memory I: Curatorial Practice in China
Hou Hanru, (Curator and art critic, Paris), Carol Lu (Curator, Beijing), Pi Li (Curator, Beijing)
Mod.: Ute Meta Bauer (Curator, Cambridge, USA)
The West's great economic interest in China has also awoken an interest in Chinese culture. Countless exhibitions in Europe and the United States satisfy this demand, although it does raise the question as to how much the selection of works by the Chinese, and the intentions pursued, are geared to the reception of these works by the western viewer, whether the current influx of Chinese art has itself contributed to this state of affairs and, last but not least, whether this influx is itself helping to influence globally both the art system and the way it is perceived. Do the promotion and spread of contemporary art signify its integration, political involvement or the conservation of culture? Chinese curators from three generations discuss their experiences in China and other countries.
17:00 Relating to Memory II: Music, Dance and Theatre
Liu Sola (Composer, Beijing), Elizabeth Wichmann-Walczak (Theatre und Dance Science, Hawaii), Cao Kefei (Stage Director, Beijing), Heiner Goebbels (Composer, Gießen, Germany)
Mod.: Erika Fischer-Lichte (Berlin)
Outside the country, China's performing arts are renowned, above all, as a testimony to an old tradition. As a result, they are in danger of being categorised as a "tourist attraction" and of becoming an export product of policies pursued with national interests in mind. The academic tradition of the different forms of performance, however, already contains enough conflict potential for it to be considered political in a number of ways: not unlike similar models on the European stage, which are currently being adopted in China and discussed in relation to people's political and aesthetic experiences there.
Speakers
Michael Lackner, professor of Sinology at the University of Erlangen. His main areas of study include the past and present relationship between China and the occident, recent Chinese intellectual history and the history of political thought in China.
Zhang Dali lives and works as an artist in Beijing. With his graffiti campaigns, he opposes the demolition of historic city districts and recently attracted international attention with his work on the exploitation of migrant workers.
Xi Chuan studied English at Peking University and co-founded the lyrical poetry magazine Qingxiang (Engl.: Tendency) in 1988. However, it was banned after only three issues. Since 1995, he has been editor of Modern Han Poetry and was voted onto the board of the Chinese Poetry Association in 1996.
Wang Qingsong completed his studies in painting at the Academy of Fine Arts in Sichuan in 1991. Since 1993, he has been living in Beijing, where he mainly works with the media of photography and installations, which he combines to create huge pictures rich in imagery.
Website: www.wangqingsong.com
Anne-Marie Bonnet, professor of art history at the Rheinischen Friedrich-Wilhelms University, Bonn
Hou Hanru has been living and working in Paris as an independent curator and art critic since 1990. One of his best-known exhibitions is the Zone of Urgency, which was shown at the Venice Biennale in 2003.
Carol Lu belongs to the latest generation on the Chinese art scene, which she helped to shape in her capacity as curator and art critic. She writes for a number of Chinese and international art magazines and is also a co-worker at the Asia Art Archive. She returned to Beijing after successfully completing a course in critical studies at Malmö Art Academy, Sweden.
Pi Li completed his studies in art history at the Beijing Art Academy in 2001. He has published works in countless art magazines, and was a curator for the travelling exhibition Under Construction, among other things, which toured various countries in Asia from 2001 to 2003. In 2005, he and Waling Boers (Büro Friedrich / Berlin) founded the independent "Universal Studios" gallery in Beijing.
Ute Meta Bauer studied visual communication, stage setting and art theory at the Academy of Fine Arts, Hamburg and has been working as a freelance curator since 1986. In 2002, she jointly curated the Documenta11 exhibition in Kassel. She has been director of the MIT's Visual Arts Programme since 2005.
Alongside her activities as an author, Liu Sola has also made a name for herself as a singer and composer. Between 1987 and 1989, she stayed in the USA for several months, where she intensively studied blues and jazz. In the mid-1980s, she founded a women's rock band, and later (in September 2001) the first Chinese improvisation ensemble. Liu Sola lives in Beijing and New York.
Elizabeth Wichmann-Walczak is Professor of Theatre and Director of the Asian Theatre Program in the University of Hawaii at the Manoa Department of Theatre and Dance. She has translated and directed various Jingju plays. Dr. Wichmann-Walczak, and is the first honorary (and first non-Chinese) member of the National Xiqu Institute.
Cao Kefei studied German language and literature, as well as drama, at Shanghai Technical University and the University von Bern. In China, she works as theatre director. In 2001, she was one of the very first directors to perform a piece by Thomas Bernhard before a Chinese audience.
Heiner Goebbels studied sociology and music. He has played in a variety of formations, written orchestral and chamber music, was well as pieces for music theatre, radio plays, not to mention theatre, film and ballet music. Heiner Goebbels is a member of the Akademie der Künste in Berlin and of the Akademie der Darstellenden Künste in Frankfurt. Since 1999, he has held the chair of professor at the Institut für Angewandte Theaterwissenschaft in Giessen.
Erika Fischer-Lichte studied in Hamburg and at the Free University, Berlin, where she graduated in Slavonic studies in 1972. Since 1996, she has held the chair of professor at the Institut für Theaterwissenschaft at the Free University. Her publications include Ästhetik des Performativen (2004) and countless books on the history of the theatre.
Christoph Müller-Hofstede, Sinologist and political scientist, academic advisor at the Federal Agency for Civic Education. He is responsible for questions of migration and intercultural themes, among other things.