Photographic Installation
Manhattan Skyline
Sat, May 28–Mon, Jun 13, 2011
daily from 11:00 h | free admission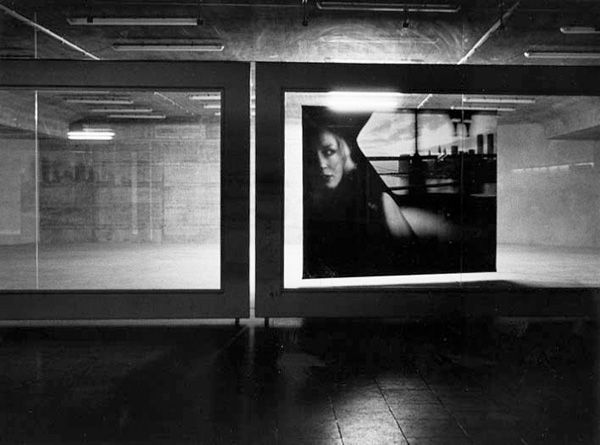 "Manhattan Skyline" showcases two oversized photographs (275 x 350 cm) by Regina Schmeken, who lived in New York in 1981 and 1982. In the late 1970s and early 1980s, the artist spent much of her time in France, Italy and the US.
The two photographs, which she took in 1981, were shown last November/December 2001 in Munich's Maximiliansforum and in 2002 and 2006 in the Goethe-Institut New York on Fifth Avenue, to commemorate the tragic events of 11 September 2001.
"To a greater extent than in her later works, she deals extensively with reflections, refractions and reflexes of light as well as image details apparently chosen at random. It is here that the artist's foreboding and visionary perspective expresses itself in its most convincing form." (Michael Meuer, Munich 2001)
"One cannot forget the women's beautiful shoulders and the mysterious portraits, like visions against the backdrop of New York perspectives, exaggerated and remorseless: human vulnerability in the face of mechanical modernity, technological and cold. A critical and sensitive eye captures the dream without ever paralyzing it, so that the faces appear unreal, like fantasies." (François Aubral, Paris 1985 )
The New York skyline with the young woman's face in the forefront won the 1982 "International Photo Design Award", awarded by the periodical "art". How will this photograph be regarded in the post 9/11 world?
Regina Schmeken has been working with photography as an artistic medium since the mid-1970s. In 1978, she was awarded the critics' prize of the Rencontres Internationales de la Photographie in Arles. In 1996, she received the Dr.-Erich-Salomon-Preis der Deutschen Gesellschaft für Photographie. She has also been working for the Süddeutsche Zeitung since 1996. Regina Schmeken, whose pictures are to be found in numerous collections, currently lives in Berlin.