Rencontres Internationales Paris / Madrid / Berlin - Opening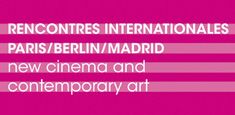 Following stations in Paris and Madrid, the new edition of the experimental film and video art festival Rencontres Internationales Paris/Berlin/Madrid is journeying to Berlin. It in turn invites visitors on fascinating trips of discovery with film premieres, cartes blanches for the old masters of cinema, programmatic screenings, installations and discussions.
Rencontres Internationales focuses on the interface between contemporary art and cinema. Experimental video works, avant-garde documentary and fiction films offer an insight into current trends of audiovisual works. 150 entries were selected from more than 6,500 submitted films, which for the most part are having their premiere in Berlin. Over 80 artists and filmmakers will present their works, representatives from museums, art centers and biennials will discuss their working practices.
Special Screenings center on the work of Pedro Costa, Jean-Luc Godard, Harun Farocki, Jonas Mekas and Werner Schroeter.
Information: www.art-action.org
With the support of the Senatskanzlei Berlin, Ville de Paris, Culturesfrance