Cumbia Digital
Tremor, Toy Selectah, BombaEstéreo, DJ El G (ZZK Records)
Admission: 10€/8€, Festival ticket 30€
7 pm Panel: Cumbia and its consequences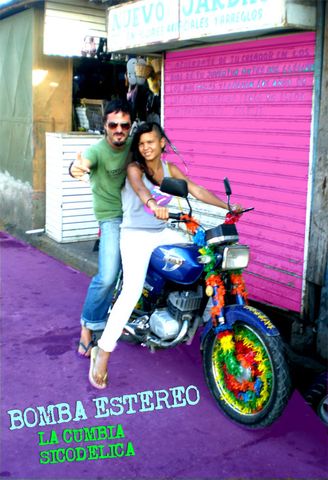 Day 1 I Day 2 I Day 3 I Worldtronics09 Day 4 Electronic trade fair
A summit meeting of Latin American club musicians: Cumbia, the Afro-Hispanic dance rhythm from Colombia played by drum computer or sampler. Since the early 90s, the emerging techno cumbia e-instruments and guitars have come to the fore. Monterrey, Mexico, has been at the vanguard of a new scene in Latin America. Today Argentina, Panama and Colombia are producing the most exciting trends for the future: various facets of the dance-mad Cumbia Digital.
Tremor
Tremor combines state of the art sound manipulation, cut-ups and digital sound synthesis with traditional cumbia instrumentation and Indian percussion as if it were the most normal thing in the world. The heart and soul of cumbia remains intact. But with their digital capriccios, Tremor adds a sly spirit of experimentation, adding a most entertaining touch: free-thinking and bold unpredictability.
Tremor on Soundcloud
Toy Selectah
Toy Selectah also comes from Monterrey, the home base of the technophile cumbia scene. He made his name as a DJ in the Hip-Hop-Crew Control Machete in Mexico and for years has been booked worldwide. In Berlin, he will present a wild mix of cumbia drums and other sound snippets on his turntables.
BombaEstéreo
The Colombian group Bomba Estéreo, which plays psychedelic cumbia, has received rave reviews from the press and public. The New York Times wrote enthusiastically: "Kaleidoscopic and danceable, mingling the clip-clop bounce of cumbia and another Colombian rhythm, champeta, with echoey guitar, reggae backbeats and the singing and rapping of Liliana Saumet." With tracks like "Juana" and "Fuego" BombaEstéreo guarantees an energy-laden performance with a kick.
DJ El G (ZZK Records)
In 2006, the mashup-DJ Villa Diamante founded Zizek, a series of events in Buenos Aires that offered cumbia-electrónica musicians a forum, and quickly developed into a public attraction. The musicians who appeared under the banner adventurously mixed cumbia with styles like minimal techno, funk, hip-hop and dubstep. Meanwhile, Zizek and ZZK has become a successful label. Grant C. Dull, head of ZZK, will perform as DJ El G at WORLDTRONICS.
To ZZK Records' website
Day 1 I Day 2 I Day 3 I Worldtronics09 Day 4 Electronic trade fair
Tremor: "Viajante" (Video Clip)
Carmensita (Toy Selectah Raverton Refix) - Devendra Banhart