The Communist Revolution was Caused by the Sun | L. Cohen
D: Anton Vidokle, Kazakhstan / USA 2015, 33 min | D: James Benning, USA 2017, 45 min
Open-air in HKW's Westgarten
The event will be cancelled if poor weather is forecasted. The decision will be announced on Twitter and Facebook on the day of the event at approx. 5pm.

Important:
At this time, the GGG rule (tested-vaccinated-recovered) applies for this event. Before the event, please check this website for the daily updated regulations.
More about Covid-19 admission regulations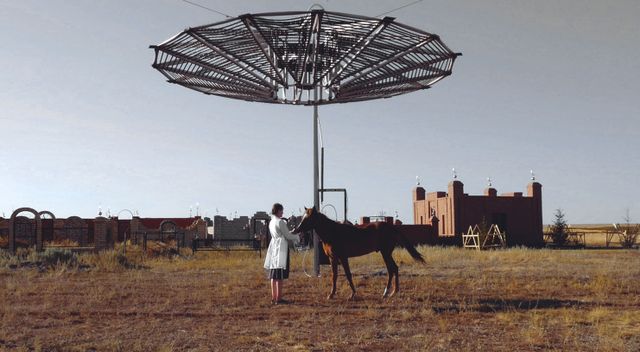 The Communist Revolution was Caused by the Sun
D: Anton Vidokle, Kazakhstan, USA 2015, 33 min, OV with English subtitles
The second installment of Anton Vidokle's trilogy on Russian cosmism looks at the poetic dimension of the solar cosmology of Soviet biophysicist Alexander Chizhevsky. Shot in Kazakhstan, where Chizhevsky was imprisoned and later exiled, the film introduces Сhizhevsky's research into the impact of solar emissions on human sociology, psychology, politics and economics in the form of wars, revolutions, epidemics and other upheavals.
L. Cohen
D: James Benning, USA 2017, 45 min, no dialogue
A farm field in Oregon on a very special day.