Adi Gelbart and Kammerensemble Neue Musik "Poems by Alpha", Jane in Ether
Open-air on the roof terrace

The event will be cancelled if poor weather is forecasted. The decision will be announced on Twitter and Facebook on the day of the event at approx. 5pm.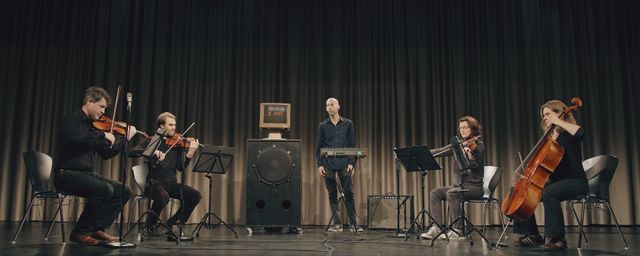 7pm Doors open
8pm Jane in Ether
9pm Adi Gelbart and Kammerensemble Neue Musik "Poems by Alpha"
Adi Gelbart and Kammerensemble Neue Musik "Poems by Alpha"
The multimedia artist and programmer Adi Gelbart intermingles jazz, library music, musique concrète, weird rock music and even weirder synthesizer sounds to humorously pursue essential questions: How can creativity be defined when man and machine are inextricably united? What if computers take over? For this purpose the human musician Gelbart works with a poetry writing machine called Alpha. Rather than trying to pass for human, Alpha is designed to do as poorly as possible on a Turing test. Together with the string quartet of the KNM, Gelbart will interpret Alpha's poems in a concert for strings, speech synthesis and electronics. The soulful and multi-layered music is meant to build a bridge between the computerized artist and the human audience. The piece takes up Gelbart's novel Egglike, which has a soundtrack with lyrics written by Alpha. This world premiere of Poems by Alpha was originally planned for the festival The Disappearance of Music in November 2020 and had to be postponed because of the Covid-19 pandemic.
Poems by Alpha (2020)
Composition: Adi Gelbart, poems: Alpha
String quartet of the Kammerensemble Neue Musik:
Theodor Flindell, violin
Josa Gerhard, violin
Kirstin Maria Pientka, viola
Cosima Gerhardt, cello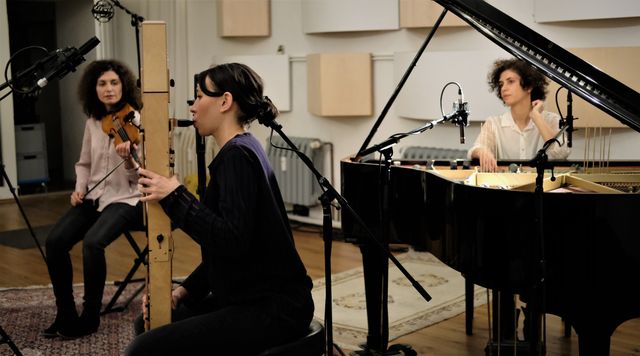 Jane in Ether
Jane In Ether are Magda Mayas (piano), Miako Klein (recorder) and Biliana Voutchkova (violin). If you associate the instruments with chamber music, you are wonderfully mistaken! Using unconventional means, the trio writes exhausting real-time compositions. The piano is prepared, the bow bounces over the fingerboard and the recorder slurps. Jane In Ether put their musical backgrounds and the idiosyncrasies of their instruments into a high-friction conversation at this release show for their album Spoken / Unspoken.