Online program: Desktop performance
Mistaking Glass for Skin
­ Magazine Issue Launch
Wed, Jun 16, 2021
Live stream on hkw.de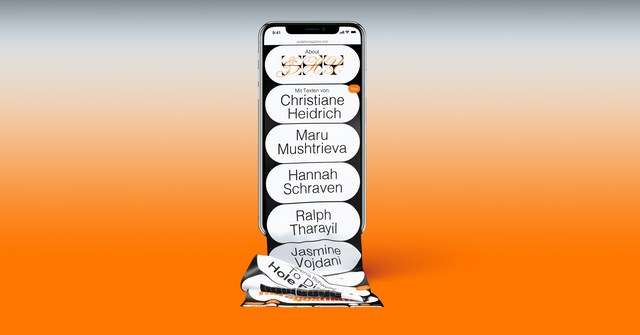 Is there such a thing as tactile reading in digital space? How can literature touch or be touched digitally? Starting from the assumption that the contact with digital surfaces produces new modes of touching and being touched, Mistaking Glass for Skin explores the tactilities of reading online. Touching a digital text and being touched by it makes the materiality of reading tangible and shows how, in embodied interaction with digital media, the boundaries between touching subject and touched surface, between skin and glass, blur.
The event will be inaugurated by the desktop performance Repertoire by the dancer, choreographer and writer Bryana Fritz. Afterwards, the audience will move on to the website of digital literature magazine ­ for the online release of the new issue. The issue brings together five texts that explore the ways in which digital literature touches and can be touched. Within some of the texts, there will be the possibility to get in contact with the authors and meet them digitally.
­ is a digital magazine for contemporary literature. Each text is designed interactively – with care and in close collaboration with the authors. ­ explores new ways of digital writing, reading and publishing, reflects on the relationship to the screen and brings together texts by writers of the digital present.
With Bryana Fritz, Maru Mushtrieva, Hannah Schraven and Ralph Tharayil