Saving Bruce Lee - Opening with "Introduction to Life"
D: Igor Talankin, USSR 1962, 101 min, Russian OV with English subtitles, with Ossama Mohammed and the curators Koyo Kouoh and Rasha Salti
Fri, Jan 19, 2018
Lecture Hall
In English

With simultaneous translation into German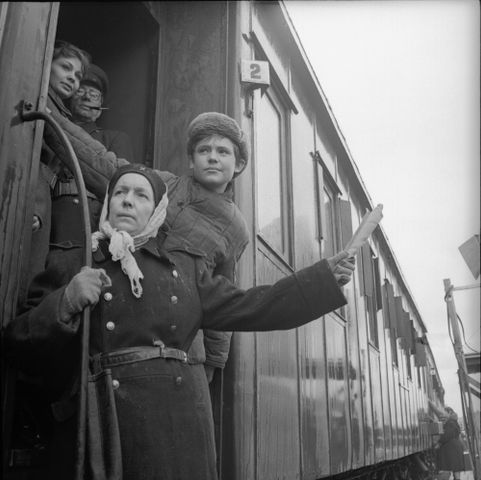 Adapted from a story by Vera Panova, Introduction to Life (Vstuplijenije) is a drama set during WWII, as seen in the eyes of a young boy, and told in a flashback form. The film begins as the war is nearing its end, two youths returning to Leningrad by train cross paths very briefly. They had met before, in 1941, at a crowded refugee station, when they were adolescents, their "introduction to life" takes place during the difficult years of the war. The boy's world was turned upside down when his parents separated. He leaves Leningrad amidst the fighting, but returns to forge a friendship with his half-brother. Talankin's first feature shared the Venice Film Festival's Special Jury Prize with Louis Malle's Le feu follet. It also inaugurated an important collaboration, with composer Alfred Schnittke.
Koyo Kouoh is an independent curator and cultural producer, working and living in Dakar, Senegal. She is the founding artistic director of Raw Material Company—a center for art, knowledge, and society in Dakar. Kouoh is also curator of the education program at 1:54 Contemporary African Art Fair in London. She has served as curatorial advisor for documenta 12 (2007) and documenta 13 (2012); she co-curated Les Rencontres de la Photographie Africaine in Bamako in 2001 and 2003, and over the years, she has collaborated in different capacities with the Dakar Biennial. Some of her more recent projects include Body Talk: Feminism, Sexuality and the Body in the Work of Six African Women Artists (2015); Condition Report on Building Art Institutions in Africa (2013), a collection of essays resulting from the eponymous symposium held in Dakar in January 2012; and Word!Word?Word! Issa Samb and the Undecipherable Form (2013), the first monograph dedicated to the work of seminal Senegalese process-oriented artist Issa Samb. In 2016, she launched the Raw Academy, a pioneering international pedagogical laboratory for artists based in Dakar.
Ossama Mohammed graduated from VGIK in 1979, where he studied at the Laboratory of Igor Talankin. His diploma film was the short documentary Step by Step (Khutwa Khutwa). He completed his first fiction feature Stars in Broad Daylight (Nujum al-Nahar) in 1988. The title refers to Igor Talankin's film with the same title. Deemed to be the most scathing critique of contemporary Syrian society trapped in the iron grip of the Ba'th regime, the film has never been allowed a public screening in Syria. Internationally it earned the filmmaker great critical praise. His films, Sacrifices (Sunduq al-Dunya, 2002) and Silvered Water (Ma' al-Fadda, 2014) were shown at Cannes Film Festival. After a compelling speech in support of the pacifist insurrection in Syria in 2011, he was forced into political exile in France, where he lives presently.
To the biography of Rasha Salti