Ornament & Verbrechen, Harry Partch, Patrick Frank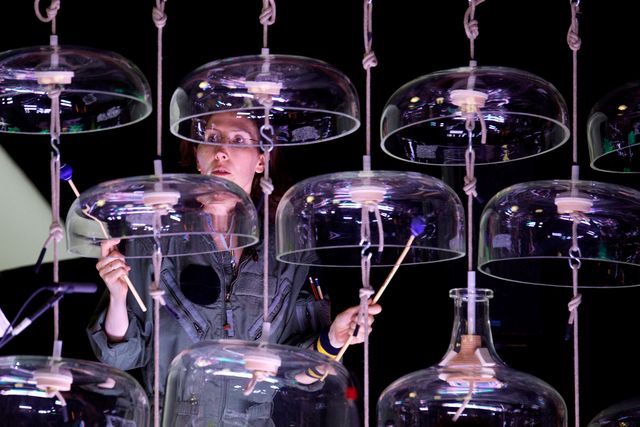 6 pm: Ensemble KNM plays Patrick Frank's Freiheit – Die eutopische Gesellschaft, Version IV | Hirschfeld Bar
8 pm: Ensemble Musikfabrik plays Harry Partch | Auditorium
10 pm: Ornament & Verbrechen | Vortragssaal
Ensemble KNM plays Patrick Frank's Freiheit – Die eutopische Gesellschaft, Version IV
From utopia to eutopia; against tonal systems and the system: Premiered at the Donaueschingen Music Festival in 2015, Patrick Frank's Freiheit questions Western notions of freedom in an audio drama, performance, and composition.
Ensemble Musikfabrik plays Harry Partch
Beginning in 1923 Harry Partch developed a system with 43 tonal intervals per octave instead of the conventional 12. In order to perform his compositions he designed microtonal instruments. The Ensemble Musikfabrik has a reconstructed set it uses to bring Partch's just intonation into the present.
The program by Ensemble Musikfabrik was supported by Kunststiftung NRW as part of Campus Musikfabrik.
Ornament & Verbrechen
In 1983, inspired by Western New Wave, the brothers Lippok founded Ornament & Verbrechen in East Berlin. In cellars and at private parties they illegally experimented with Noise, Electro, Industrial, and even Free Jazz. At HKW they will be giving one of their rare live performances in this formation.