Martinique — Créolité and Imagination
With Patrick Chamoiseau, Guy Deslauriers and Christian Filips
Reading and discussion: free admission Film only: 6€/4€ (available at the evening box office from 7pm)
Open air on the roof terrace

In French and German with simultaneous translation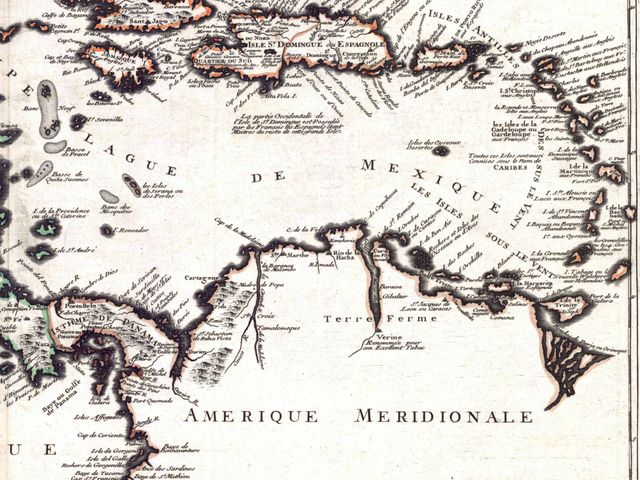 Martinique was at the start of the creolization of the world. Taking the island as a point of departure, Edouard Glissant described processes of cultural globalization; using the term créolité, he developed a poetics of polyphony. Patrick Chamoiseau is one of its most important writers. Recent publications include L'empreinte à Crusoé, which in 2015 was nominated for the Internationaler Literaturpreis; he is also the author of all screenplays for director Guy Deslauriers' films. Their film Passage du milieu imagines the journey of a slave ship across the Atlantic from the point of view ofone of those abducted. For Deslauriers and Chamoiseau, this is where the origin of Creole identity lies: "It is about a counter-history, about filling in the gaps of official historiography. We have to go to the belly of the ship. This is where imagination begins." One of the voices heard this evening is that of Lafcadio Hearn (1850 — 1904), who is currently being rediscovered and newly translated around the world, for example in Germany. His reports on everyday life and folklore on Martinique decidedly influenced Eloge de la Créolité, cowritten by Chamoiseau. Christian Filips' reading performance brings his powerful language to life.
Curated by Aurélie Maurin and Eric Sarner, moderated by Barbara Wahlster
Patrick Chamoiseau, born in Martinique in 1953, studied law and social economics in France and initially worked as a social worker. Following his return to the Caribbean, his numerous writings were devoted to exploring Creole culture. The manifesto Éloge de la créolité (1989), written with Raphaël Confiant and Jean Bernabé, is a theoretical foundation of Creole identity. He has published plays, novels, short stories and literary essays, for which he has been awarded several times. He received the 1992 Prix Goncourt for his novel Texaco. His 2012 novel L'empreinte à Crusoé, translated into German as Die Spur des Anderen, was shortlisted in 2015 for the 2016 Internationaler Literaturpreis – Haus der Kulturen der Welt.
Guy Deslauriers is a French filmmaker. In his award-winning films and documentaries he often deals with Martinique, his island of origin. In his films on the history of the enslavement and deportation of its inhabitants he gives voice to those whose individual stories have practically disappeared. Patrick Chamoiseau wrote the screenplays for all of his films, including Quiproquo (1987), Les Oubliés de la liberté (1994), Raphaël Elizé (1995), Le Passage du Milieu (1999), Biguine (2003), Aliker (2007) and Edouard Glissant – Un siècle d'écrivain (2013).
Christian Filips is a freelance writer and translator. In recent years he has worked increasingly as a director and performer. He studied philosophy and German at the University of Vienna and at the Freie Universität Berlin. He has been program director and dramaturge at the Sing-Akademie zu Berlin since 2006. He has received many awards for his literary work such as the Rimbaud Prize of the ORF. His productions, actions, concerts and theater works have been performed at places like the Berliner Ensemble, the Haus der Berliner Festspiele and the Staatstheater Darmstadt.
Aurélie Maurin, born 1975 in Paris, studied Literature and Linguistics in Paris. Since 2000 she lives and works in Berlin as curator for various instittutions and author's initiatives, since 2002 also as project head at the Literaturwerkstatt Berlin. She is co-editor of the book series VERSschmuggel (Verlag das Wunderhorn) and of La mer gelée, a German-French journal for arts and literature and also translates poetry; among her latest translations:
Christian Prigent: Die Seele (with Christian Filips); roughbooks 2014;
Thomas Brasch: Belles sont les rimes Les rimes te mentent (with Bernard Banoun); hochroth paris 2015.
Since 2016 she is a member of the board of the Netzwerk freie Literaturszene Berlin (NFLB) e.V.
Eric Sarner is a poet, journalist and filmmaker. He now lives in Berlin, Montevideo and Paris. In 2014 he received the prestigious Prix Max Jacob for his book of poems Coeur chronique. In 1990 Sarner went to Haiti in search of the writer and activist Jacques Stephen Alexis, who in 1961 wanted to liberate the island from the dictatorship under François Duvalier and disappeared. His 1994 book La Passe du Vent: une histoire haïtienne (published in German by Klett-Cotta as Windpassage. Eine Reise nach Haiti in 1998) interweaves the futile search for the missing person into a chronicle of the bloody circumstances of an unsolved murder with colonial ghost stories and a young revolutionary's hopes for a miracle.