Intimatta (Film)
D: Ramuntcho Matta, Chile 2011, 119 min
Fee: 3€ plus exhibition ticket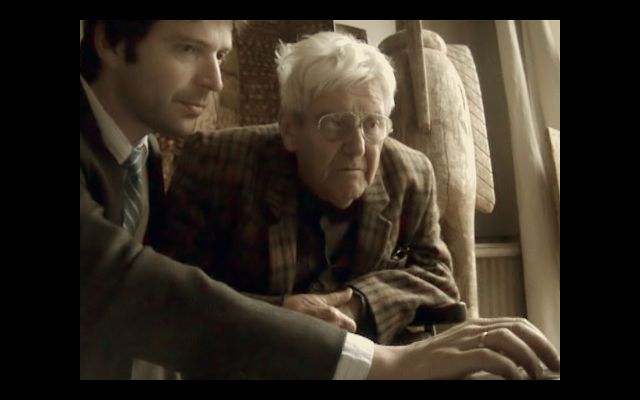 Followed by a talk with the curator Rasha Salti and the director Ramuntcho Matta
Intimatta is not a documentary but more an artist film about Roberto Matta, based on video recordings made by his son Ramuntcho Matta, director of this project and artist himself, and about interviews to contemporaries who knew Matta very well.
Transmission was always the centre of Matta's philosophy. This is what allowed him to develop very privileged relationships with, among others, Garcia Lorca, Le Corbusier, Victor Brauner, Salvador Dali, André Breton, Marcel Duchamp... in order to be able to transmit later on these knowledge, a real principle of life and responsability to Matta: instead of hiding the secrets of creation, he opens his studio to other artists, creating a real "inspiring" breeze to Jackson Pollock, Willem de Kooning, Öyvind Fahlström, Asger Jorn…
Thanks to dozens of tapes with Roberto Matta painting, talking, walking and even sleeping, recorded between 1986 and 2000, through his working notebooks, his letters, his postcards and the gifts he sent to family and friends, Intimatta shows us a way of thinking.
With this unpublished material as a starting point, Intimatta immerses us into the artist's creative and intimate world, stating some universal questions about transmission, fatherhood and how to share intimacy.
Ramuntcho Matta, born in Paris in 1960, is an interdisciplinary artist living in France. He is the son of the Chilean painter Roberto Matta and the brother of Gordon Matta-Clark, Federica Matta and Pablo Echaurren. After taking initial steps towards a career in music in the late 1970s, he made use of the visual arts beyond his work as a composer to lend the issues and topics of his works a more specific and complex form, occasionally also in combinations of sound, drawing, video, space and language.