Les Rencontres Internationales
Technicolor (Ths) | Discontinous (Ths) | Possible Worlds (Ths) | Distant Spaces (Ths) | Super-Positions (Audi) | Spectographies (Audi)
Screening Sessions in the Auditorium (Audi) and Theatersaal (Ths)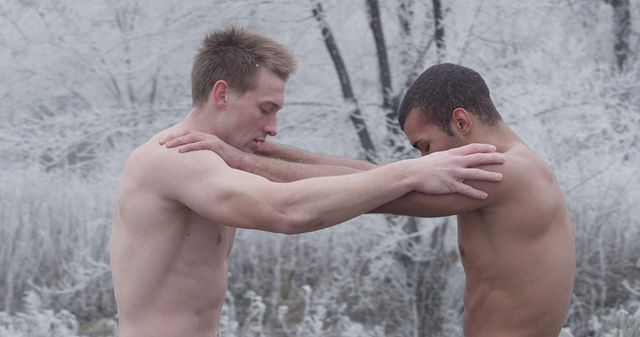 3 pm: Technicolor (Theatersaal)
Andrew Lampert: El Adios Largos | Exp. film | hdv | colour | 0:11:13 | USA | 2013
Eske Schlüters: Title (Life goes on) | Video | hdv | colour | 0:12:00 | Germany | 2015
Blake Williams: Red Capriccio | Video | hdv | colour | 0:06:59 | USA, Canada | 2014
Les Leveque: Nine Hamlet RGB | Video | hdv | colour | 0:05:55 | USA | 2015
In 2002 Andrew Lampert acquired a 16 mm black and white film, in Spanish, called 'El Adios Largos,' that proved to be the only existing trace of the film 'The Long Goodbye,' directed by Robert Altman in 1973. After ten years of restoration, the film has a new lease of life with new colours. Eske Schlüters plays with illusions, and produces a docufiction about the incomplete production of a film by UFA in the 40s. Blake Williams films machines and landscapes in 3D where movement and immobility, as well as red and blue colours collide. Les Leveque recycles images from nine films inspired by Hamlet. An algorithm separates the red, green and blue, causing an unconscious disconnection mechanism to occur.
4 pm: Discontinuous (Theatersaal)
Volker Schreiner: Sites | Exp. film | hdv | colour and b&w | 0:08:20 | Germany | 2015
Sophie Roger: C'est donc un amoureux qui parle et qui dit | Exp. film | hdv | colour | 0:06:15 | France | 2015
Thomas Mohr: Zu Hanne Darboven | Video | hdv | colour | 0:08:27 | Netherlands | 2014
Damir Ocko: TK | Exp. film | 4k | colour | 0:19:46 | Croatia | 2015
Volker Schreiner crosses three landscapes through fragments of films. Sophie Roger observes and draws the landscape seen through the slatted boards in a loft, and pages torn from 'A Lover's Discourse: Fragments' by Roland Barthes. Thomas Mohr pays tribute to artist Hanne Darboven's musical compositions, known for her monumental installations, made up of thousands of drawings and notes. An infinite visual and audible composition appears through the breaks and duplications between motifs. Damir Ocko constructs a complex polyphonic work in which poetry meets sounds and silences, a stifled word, bodies confronting and requiring endurance.
5 pm: Possible Worlds (Theatersaal)
Nova Paul: Still Light | Video | 16mm | colour | 0:06:35 | New-Zealand | 2015
Juliane Jaschnow, Stefanie Schroeder: [ˈdʊŋkl̩ˌdɔɪ̯ʧlant] | Exp. documentary | 4k | colour | 0:13:13 | Germany | 2015
Halida Boughriet: Des intégrations | Video | hdv | colour and b&w | 0:16:07 | France | 2015
Julien Dubuisson: Pavillon nocturne | Video | hdv | b&w | 0:05:45 | France | 2015
Louis-cyprien Rials: Mene, Mene, Tekel, Upharsin | Video | hdv | colour | 0:05:45 | France, Iraq | 2015
Alex Monteith: Cascade Cove in the Shadow of 150,000 Bones | Exp. documentary | hdv | colour and b&w | 0:13:00 | New-Zealand | 2015
Salomé Lamas: The Tower | Video | hdv | b&w | 0:08:45 | Portugal | 2015
Nova Paul examines an interior where light filters through the space and time stands still. Juliane Jaschnow and Stefanie Schroeder undertake a journey in the industrial regions of former East Germany. Factories are closing and well-being centres are appearing, but the past is not far below this new surface. Halida Boughriet films young adolescents, confronting us with a collective memory and a political memory that immobilise. Julien Dubuisson conceives 'Pavillon nocturne' like a small theatre inspired by Giacometti's piece 'The Palace at 4 am' (1932), in which the characters have been been replaced by forms, creating a complex and enclosed structure. In Kirkuk, Iraq, Louis-Cyprien Rials films flames emerging from the ground of an oil field. Alex Monteith goes to Cascade Cove in New Zealand, a bay close to the sites where the first archaeological digs of New Zealand fjords were carried out, looking for remains of the first colonists and Maori culture. Salomé Lamas films a young woman who attempts to blend in with a treetop, at the point where the earth and sky meet.
7 pm: Distant Spaces (Theatersaal)
Juan Manuel Echavarría: Silencio Invisible, Darwin and Una Lección | Video | hdv | colour | 0:08:00 | Colombia | 2015
Jussie Nsana Banimba: Bimbambukila | Video | hdv | colour | 0:06:01 | Congo-Brazzaville | 2012
Dominik Ritszel: Pogłos | Video | hdv | colour | 0:14:30 | Poland | 2015
Hans Op De Beeck: Night Time (extended) | Animation | hdv | b&w | 0:19:18 | Belgium | 2015
Mike Hoolboom: Scrapbook | Exp. documentary | 16mm | b&w | 0:18:00 | Canada | 2015
Juan Manuel Echavarría refers to the war in remote regions of Colombia that has escaped public scrutiny. These places void of any human presence evoke the country's violent history and the need for new possibilities. Jussie Nsana Banimba questions the memory of the walls in Brazzaville, their observation of the past and present. Sound is the main protagonist in Dominik Ritszel's film, in a town that is a laboratory of perception where civilisation is unsettled. Hans Op de Beeck creates an animated film from his watercolours, introducing an additional degree of fiction to what is never the reproduction of a reality. Mike Hoolboom features images filmed in a psychiatric hospital by Jeffrey Paull in 1967. Fifty years later, he questions Donna Washington, an autistic resident of this hospital at the time, who tells her own story based on footage from the film.
7 pm: Super-Positions (Auditorium)
J Tobias Anderson: All Becomes Obvious, Transparent | Animation | hdv | colour | 0:02:30 | Sweden | 2015
Scott Fitzpatrick: Immortal Cats #1 | Exp. film | 35mm | colour | 0:00:55 | Canada | 2015
Naïmé Perrette: Forebear Forward | Video | hdv | colour | 0:01:08 | France, Netherlands | 2014
Alex Anikina: Ostrannenie | Exp. film | hdv | colour | 0:08:13 | Russia, United Kingdom | 2015
Matthias Fitz: [commercial wallpaper] silence | Video | hdv | colour | 0:01:11 | Germany | 2010
Laure Prouvost: How To Make Money Religiously | Video | hdv | colour | 0:08:44 | United Kingdom | 2014
Isiah Medina: 88:88 | Exp. documentary | 4k | colour and b&w | 1:05:05 | Canada | 2015
J Tobias Anderson presents three lively characters discussing their innermost thoughts, pushing communication to the point of absurdity. Scott Fitzpatrick raises the question of ambition in life. A cat responds. Naïmé Perrette blends the tale of a family with images taken from the Internet, playing on the discrepancy between the actual events and their corresponding accounts. A grandfather recounts his ancestors' experiences, accompanied by his wife commenting off camera. Alex Anikina explores a land and its inherent language, from the first maps of imaginary countries to contemporary image databases. Matthias Fitz uses flows of advertising images, stretching pixels and thus creating an alternative system of interpretation. Laure Prouvost creates a feeling of déjà vu, in the face and possession of power, and summons various interpretations of the same image. Isiah Medina questions a generation's concerns, and films his friends from Winnipeg along with their questions about philosophy, love and poverty. This is an attempt to give meaning to chaos through fleeting shots, superimpositions and voiceovers that suddenly come to a halt.
9 pm: Spectographies (Auditorium)
Benjamin Ramírez Pérez: A Fire in My Brain That Separates Us | Exp. film | hdv | colour | 0:17:10 | Germany | 2015
Dorothée Smith: Spectrographies | Exp. fiction | 4k | colour | 0:59:00 | France | 2015
In an empty house Benjamin Ramírez Pérez produces a spectral choreography of objects disappearing then reappearing, operated by a technician who remains off-camera. In 'Spectrographies' Dorothée Smith follows a troubled man seeking what others aim to avoid, a ghost. He tries to fill the emptiness left by the absence of a lost love. The film transposes Derrida's idea, according to which cinema is the science of ghosts.