Guided tour
In English
Fee: 3€ plus exhibition ticket
Guided exhibition tours in German and English for groups and institutions of higher education, as well as free guided tours for secondary schools, on request: education@hkw.de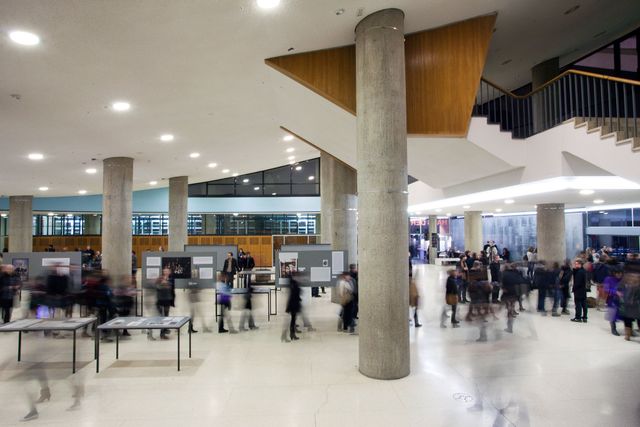 Guided tours offer insights into art historical issues of the exhibition and delve into personal impressions.
Following the guided tour, we will show a video that supplements Klaus Weber's installation "Kouros (walking man)." Kouros presents both halves of a negative mold: the body of a tall thin man, adopting the pose of the ancient Greek kouros, replete with erect penis. On the night of a new moon, the original cast was created in an experimental process in a Berlin nightclub, in the midst of an erotic play party. A video of the experiment with the sound of Webers' Large Dark Wind Chime accompanies the work and will be publicly presented during the Artist Talk for the first time.
Klaus Weber, born in 1967, studied Fine Arts in the Freie Klasse of the Berlin University of the Arts. His works, which use multiple media and spaces, are frequently based on complex technological correlations and elaborately organized production processes. They circumvent the metaphorical and actual power of functionalistic rationality through pointed manipulation of everyday structures, tracing of deviations and exploration of impossibilities. Klaus Weber received the 2012 HAP Grieshaber Prize for his life's work.
Solo exhibitions (selection): AGEMO, Fondazione Morra Greco, Naples (2013); Alle Körper fallen gleich schnell, Deutscher Künstlerbund, Berlin (2012); If you leave me I'm not coming, & Already There!, Nottingham Contemporary (2011); Klaus Weber, Secession, Vienna (2008); Shape of the Ape, Andrew Kreps Gallery, New York (2007).
Group exhibitions (selection): Lyon Biennale (2015); Painting Forever! Keilrahmen, KW Institute for Contemporary Art, Berlin (2013); Painting without Paint, David Risley Gallery, Copenhagen (2012); The Kaleidoscopic Eye, Mori Art Museum, Tokyo (2009); The Art of Narration, Sprüth Magers, Berlin (2011).