Experimental music theater
Bestiarium
An experimental stroll through sounds for visitors ages 6 and up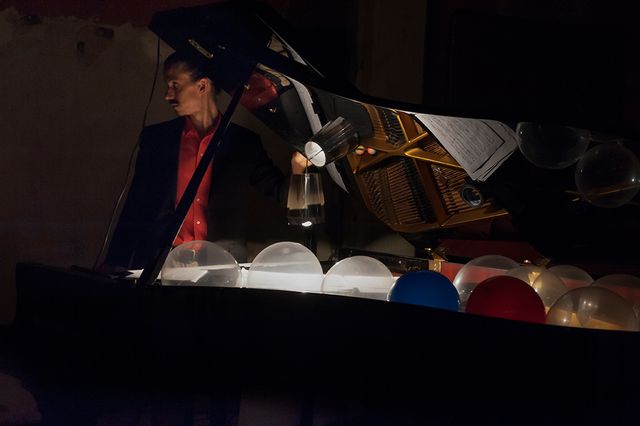 An experimental stroll through sounds leads Bestiarium's audience of all ages to a labyrinthine library where a diabolical book is hidden.
Marie discovered it accidentally and now humanity is in great danger. To keep it safe, Marie needs the help of the audience and the strange beings that reside in the library to find a secret place for it.
Bestiarium is a theatrical project with a plot that develops like a walk through sounds. While the protagonists and the audience share the stage, fantastical beings from mythology and from different cultures and ages interact. These creatures are represented by small "instrumental constellations." The sound defines them and provides the key to the secret of the book.
Musical theater, sound installations and an interactive sound workshop combine for about one hour to an experience for people ages 6 and older and let them take a look at the border area of art, science and philosophy.
A project by Nuria Nuñez Hierro in cooperation with Iñigo Giner Miranda (director), Àngela Ribera (stage design/costumes) and the performers Vera Kardos, Cathrin Romeis, Meriel Price (DieOrdnungDerDinge), Alba Gentili-Tedeschi and Manuel Rodríguez Valenzuela.
The Salon of Aesthetic Experiments is a collaborative project by the Haus der Kulturen der Welt and the Graduate School at the Forum for Post Graduate Studies at Berlin University of the Arts and is supported by the Einstein Stiftung Berlin.