Screening, talk, and live concert
Buried Alive
Admission: single ticket: 8€/6€, day ticket: 18€/16€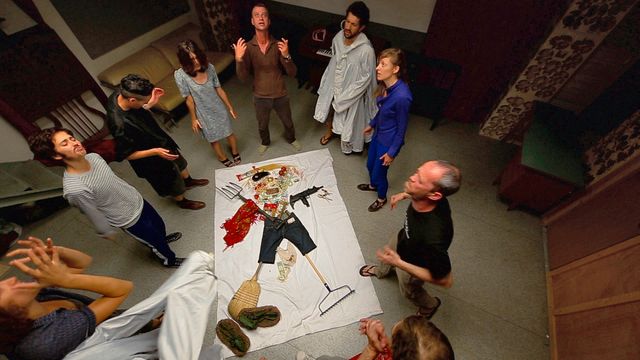 In the early 2000s, a Russian artist and poet using the pseudonym Maxim Komar-Myshkin immigrated to Tel Aviv, where he formed the "Buried Alive Group"—a collective of ex-Soviet artists. The group purposefully isolated themselves from the Israeli artistic scene, concerned instead with the political situation in their home country.
Their 2004 manifesto states: "We are living Russian corpses, a pack of spiritual zombies. We intently buried ourselves in the Middle-East, but we are still living our Russian past. We are the Buried Alive." At the time of his suicide in 2011, Komar-Myshkin, invented artist, left behind a series of collectively produced videos and a magnum opus unseen by the public during his lifetime: Vladimir's Night, an illustrated album featuring a childlike avatar of Vladimir Putin. It is at once a gruesome fable, a political allegory, and an artifact of paranoia. With Buried Alive, artist and writer Roee Rosen continues his investigation into fictive diasporic artists living in Israel, at odds with the culture that surrounds them and the cultures they left behind. Whereas a former project documents the solo pursuit of the Jewish Belgian painter Justine Frank (1900–43), this undertaking imagines a group dynamic. The Buried Alive Group is presented for Berlin Documentary Forum 3 through a screening and live concert conceived by Rosen; an elaborate multimedia fabrication that enlists fiction to obliquely approach the relationships between identity, the archive, fabulation, and truth.
The presentation will be followed by a talk with curator and writer David Riff.
With: Inbar Livne Bar-On (Singer), Udi Bonen (Pianist), Roee Rosen
Composer: Igor Krutogolov
Editor: Max Lomberg