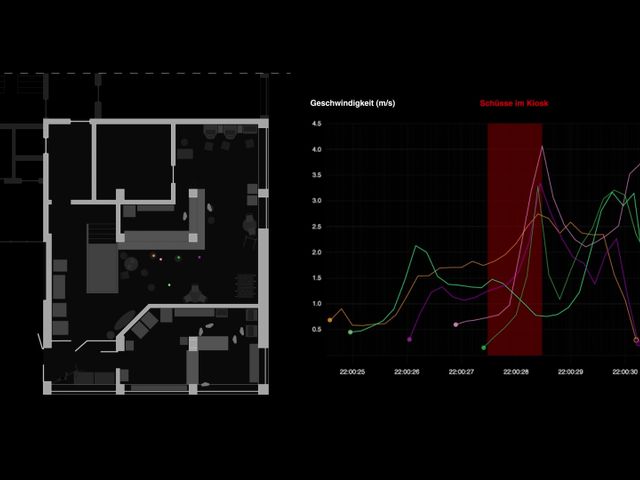 Three Doors
Forensic Architecture/Forensis, Initiative 19. Februar Hanau, Initiative in Gedenken an Oury Jalloh
Sat, Nov 5–Fri, Dec 30, 2022
Mon, Wed–Fri 4–9 pm
Sat 12 noon–9 pm
Sun 12 noon–7 pm
Closed Tue
Closed Dec 24–26
Please note: The material in this exhibition deals with subject matter of a racist and violent nature. Viewer discretion is advised.
It is nearly three years since nine people were murdered in a racist terror attack in Hanau. It is nearly eighteen years since Oury Jalloh was burnt to death in a police cell in Dessau. The victims' families, friends and the survivors are still struggling for accountability.
Separating and connecting different domains – state, public and private – doors are physical objects but also social contracts. The exhibition presents three investigations, each concerned with a door, unraveling different aspects of racist violence in Germany: In Hanau, it is the locked emergency exit door of the Arena Bar and the front door of the perpetrator's house through which the police failed to pursue him. In Dessau, it is the door of the police cell in which Oury burnt to death. Closed when they needed to be broken through, open when they needed to be shut and locked when they needed to be unlocked, these doors embody a failure of the social order; to understand how, these investigations reconstruct the larger context around them, illuminating long-lasting and troubling relationships between racist perpetrators and state agencies in Germany.
Since its first presentation at the Frankfurter Kunstverein, Three Doors has directly influenced the ongoing responses to the Hanau terror attack in politics, society and the media. Now, the exhibition, along with guided tours and a public program, draws upon the experiences of relatives, survivors and supporters to give visibility to their continuing struggle – and to shed light on deeply entrenched racist structures within Germany – just a stone's throw from the German federal parliament.
The exhibition Three Doors by Forensic Architecture/Forensis, Initiative 19. Februar Hanau and Initiative in Gedenken an Oury Jalloh was co-produced with Frankfurter Kunstverein.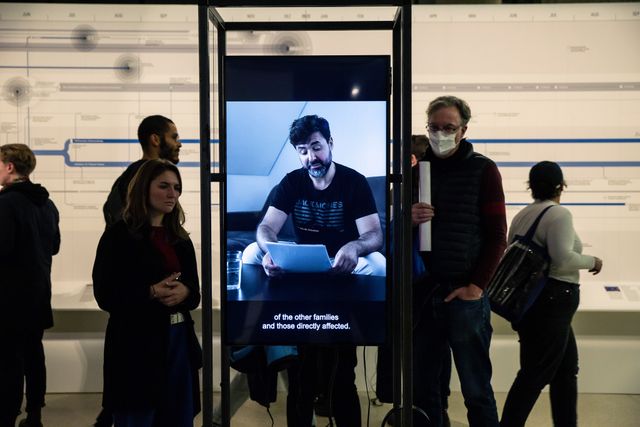 Investigative Commons
Guided exhibition tour through Three Doors
With Initiative 19. Februar Hanau, Forensic Architecture, family members, survivors