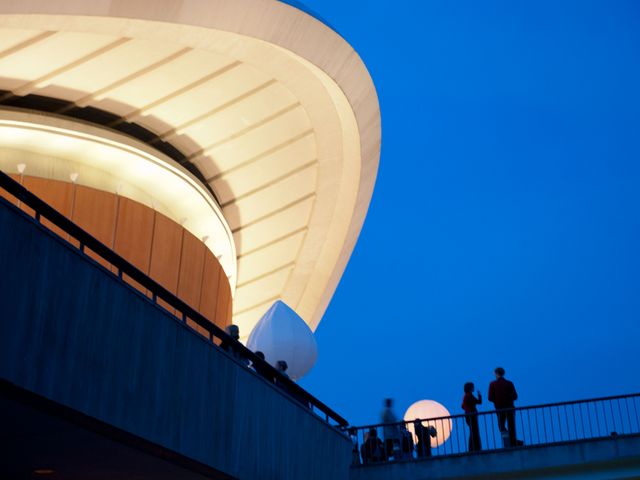 20 Sunsets
Concerts, films, readings
Open air on the roof terrace
Summer will be different in Berlin this year. Community and gathering are being reorganized during the pandemic. The outdoors is taking on new importance. In this exceptional time, the arts are also leaving interior spaces and rediscovering the outdoors.
For the 20 Sunsets festival, HKW invites the city to its rooftop terrace at dusk. On six weekends there will be concert sets, films, readings, and talks by and with Berlin's international artists and cultural professionals.
Come together – outdoors and with a little distancing!
Concerts by Lisa Bassenge, Monica Besser, Stella Chiweshe, Tara Nome Doyle, Marla Hansen, Rolf Hansen, Bernadette La Hengst, Robert Lippok, Mira Mann, Mary Ocher, Nansea, Masha Qrella, Tonia Reeh, Christiane Rösinger, Kitty Solaris, Stella Sommer, Derya Yıldırım and many more
Films by James Benning, Filipa César, Denis Coté, Thomas Heise, Armin Linke, Maha Maamoun, Hila Peleg, Philip Scheffner, Kidlat Tahimik, Akram Zaatari and many others. arsenal 5 film program in collaboration with Arsenal – Institut für Film und Videokunst e. V.
Readings with Lucrecia Dalt, Ricardo Domeneck, Hanne Lippard, Senthuran Varatharajah, Olivia Wenzel, Banafshe Hourmazdi, Minh Duc Pham, Malu Peeters, Sharon Dodua Otoo, Mirjam Nuenning, Hanna Engelmeier, Enis Maci, Wolfram Lotz, Kabeljau & Dorsch, Flaneur Magazine, and others