Der Kadaverräumer
Zoltán Danyi | Terézia Mora
"Wir haben es getan, weil wir es konnten, und wenn es so geschah, dann musste es auch so geschehen, und wenn es so geschehen musste, dann kann keiner von uns etwas dafür, dass wir es getan haben."
Jury's comments
As both a survivor and a perpetrator, Danyi's narrator lets loose a powerful torrent of words on the atrocities he suffered, observed and committed during the Yugoslav War – atrocities so monstrous that his very language seems soaked in their violence. Terézia Mora's accomplished translation never loses the thread that runs through this manic tirade, even as it simultaneously forces the German language into unexpected extremities. Danyi shows us that the war, far from being over, both continues to live on in the bodies of those who fought it and haunts later generations. His novel confronts this inheritance, and his language makes it palpable.
— Verena Lueken
Author: Zoltán Danyi
Born in Senta in the former Yugoslavia in 1972, Zoltán Danyi studied philosophy and literature in Novi Sad and Szeged. His first poems and short stories were published in 2003. He wrote his doctoral dissertation on Béla Hamvas and has worked as an editor and secondary school teacher. Der Kadaverräumer (The Corpse Gatherer), his first novel, was awarded the Miklós Mészöly Prize. A member of Serbia's Hungarian minority, Danyi lives in Senta, where he also cultivates roses.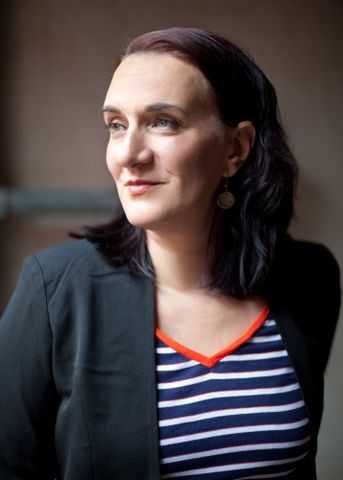 Translator: Terézia Mora
Terézia Mora was born in Sopron, Hungary, in 1971 to a German-speaking family and grew up bilingual. She studied theater and Hungarian and is considered one of the most prominent translators of Hungarian literature, having published works by Péter Esterházy, Péter Zilahy and Zsófia Bán, among others. Her first collection of short stories, Seltsame Materie (Strange Matter), appeared in 1999 with Furore. Her novel Alle Tage (Day In Day Out) followed in 2004, Der einzige Mann auf dem Kontinent (The Only Man on the Continent) in 2009, and Das Ungeheuer (The Monster) in 2013. Mora has been awarded numerous prizes, including the Ingeborg-Bachmann-Preis, the Adelbert-von-Chamisso-Förderpreis, the Preis der Leipziger Buchmesse, the Deutscher Buchpreis and the Georg-Büchner-Preis.