Death on the Nile! - The Original!
Peter-Ustinov-Schule with Cana Bilir-Meier and Ana Hoffner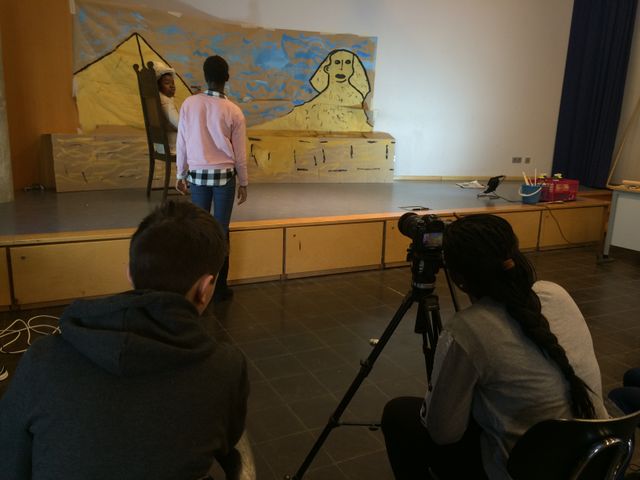 The students dealt with the 1978 film adaptation of Agatha Christie's novel Death on the Nile, in which their school's namesake played a leading role. They slipped into the roles of the actors and documented the reenactment with photographs. The aim of this visual and narrative discussion was to expose and to alter Orientalist images of Egypt against the background of their influence to the present-day.
Peter-Ustinov-Schule is an integrated secondary school and German/English Staatliche Europa-Schule in Berlin Charlottenburg.
Cana Bilir-Meier studied art and digital media at the Academy of Fine Arts Vienna. At present, she is a scholarship holder of kültür gemma!, a project promoting urban culture in Vienna and immigrant art and cultural production. In 2016, she received the Birgit Jürgenssen Prize. She works with video, text, installation and performance. Bilir-Meier's artistic and political approaches describe the relationship between the critical representation of migration and history, decolonial knowledge, archive politics and remembrance.
In her artistic practice, Ana Hoffner devotes herself to the exploration of conflict-laden moments in history and politics and looks for queer aspects in their visual representations. In performances, video and photo installations, Hoffner creates temporalities, relationships and spaces between established perspectives, iconic memories and high-performance events. Hoffner uses various modes of appropriation, such as the re-enactment of photographs, interviews and reports, or the decoupling of body and voice, sound and image.