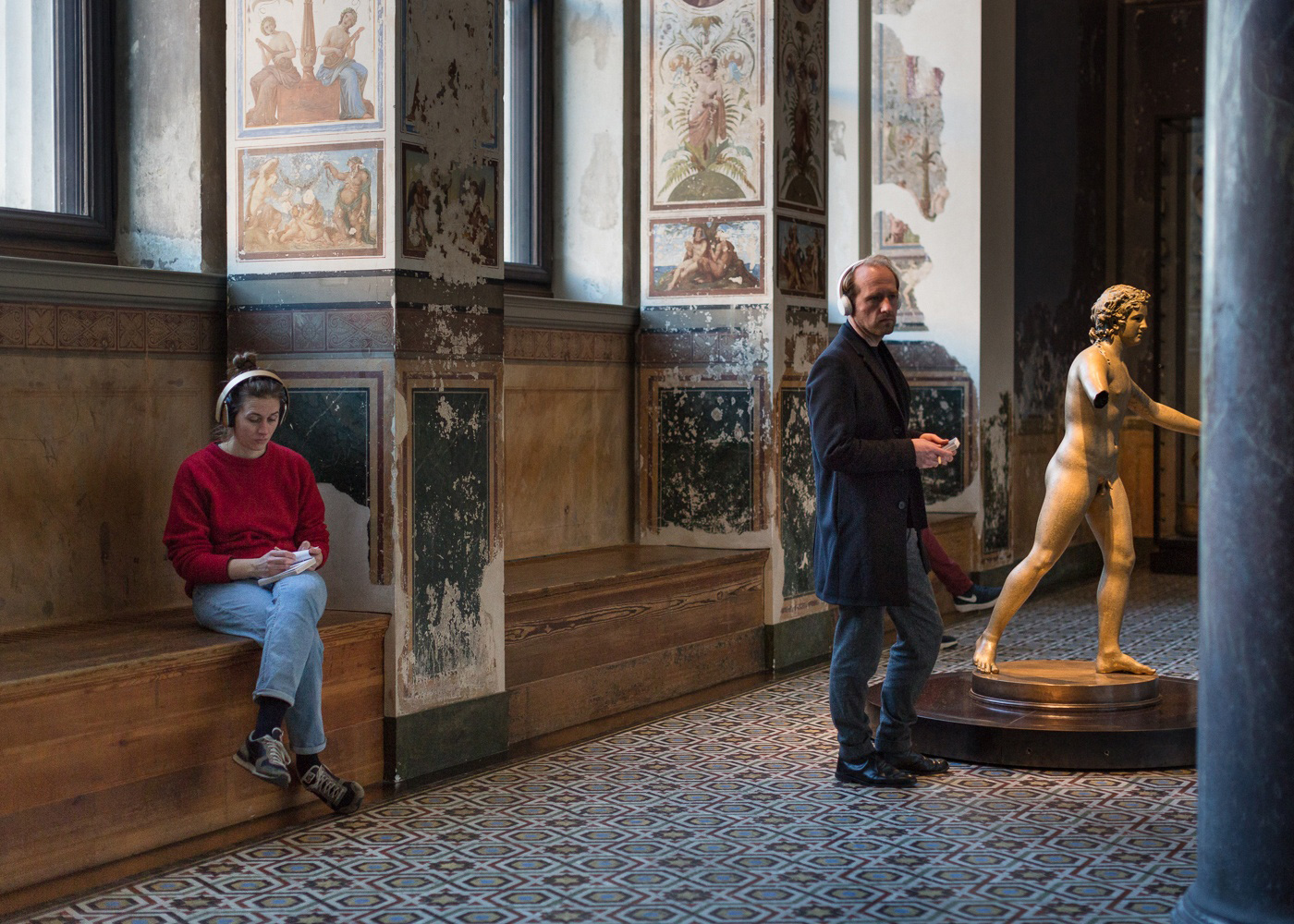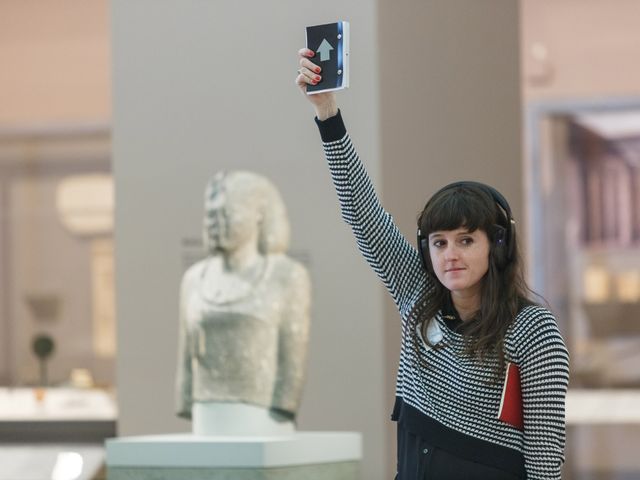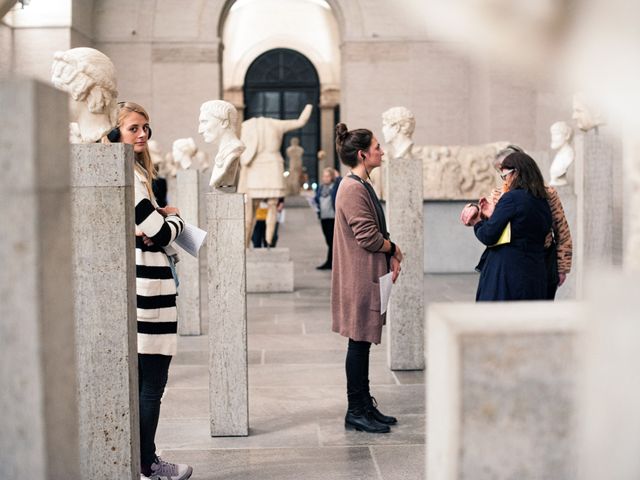 Top Secret International (Staat 1)
By Helgard Kim Haug / Stefan Kaegi / Daniel Wetzel (Rimini Protokoll)
Thu, Mar 1–Sun, Mar 25, 2018
What do states keep secret? What secrets do other states attempt to uncover with their intelligence services? How is this information passed on, compiled, evaluated? When can state secrets become valuable currency? The value of every piece of information changes at the very moment it is shared with someone else: when does it become worthless? And is it predictable?
Why do states keep secrets from each other and their citizens? What information is the state trying to protect? And how do intelligence agencies become power apparatus with their own agendas? Between the bust of Nefertiti, Ancient Egyptian cult chambers, and Priam's Treasure, an algorithm leads the audience into the stories of intelligence officers and whistleblowers, a human rights lawyer and a Chinese dissident. A visit to the museum becomes an investigation into the global network of state secrets and intelligence services. Information is located, collected, and exchanged. Visitors become actors who each decide which trace of "intelligence" they wish to follow.
A production by Rimini Protokoll and the Münchner Kammerspiele, co-produced by the Goethe-Institut with support from Melbourne Festival. As part of 100 Years of Now.
With the voices of Jacob Appelbaum (journalist and computer security specialist), Marcus Aurelius (Roman emperor), Kai Biermann (investigative journalist, Zeit Online), William Binney (former NSA technical director), Jonathan Bloch (lawyer, author), John Brennan (former CIA director), Kate Doyle (human rights lawyer, USA), Amir F. (unofficial collaborator of the Iranian secret service), Michael George (Cyber-Allianz Zentrum Bayern, Bavarian Office for the Protection of the Constitution), member of the Bundestag Dr. André Hahn (deputy chairman of the Parliamentary Control Panel of the Bundestag, member of the Bundestag Die Linke), John Kiriakaou (former CIA employee), Max M. (freelance collaborator, BND), Thomas de Maizière (Federal Minister of the Interior), Bill Marczak (University of Toronto's Citizen Lab), Plato (Greek philosopher), Avi Primor (former Israeli ambassador to Germany), Eric Rabe (hacking team), Anne Roth (political scientist, advisor for the Die Linke party in the NSA investigative committee), Andor Sandor (former Czech intelligence official), Gerhard Schindler (former BND president), James Shortt (ex-KGB), Gwenyth Todd (former White House security advisor), Kosta Tsetsos (conflict researcher, Bundeswehruniversität), Ben Wizner (lawyer, American Civil Liberties Union), Jannis X. (member of the secret police, Greece), a lawyer, a surveillance expert, a dissident from China and a cadre member of the Communist Party of Cuba.
Thanks to
Bertchen/ Kohrs (environmental activist), Kathryn Bolkovac (UN Peacekeeping Force in Bosnia), Magnus Braten (journalist, Oslo), Chicago Review Press, Citizen Lab, University of Toronto, B.C. Civil Liberties Association, Gergana Chervenkova, Marsha Coleman-Adebeyo (Board of Directors of the National Whistleblower Center), Wilhelm Dietl (author, ex-BND agent), Feodor Elutinev (Moscow), Hans Jörg Geiger ( former BND president), Michael German (ex-FBI employee), John Goetz (documentary filmmaker), Amitesh Grover (New Delhi), Simon H. (software designer, hacker, whistleblower), Ben Hayes (statewatch, London), Jochen Hollmann (director of the Saxony-Anhalt Office for the Protection of the Constitution), Homegrown Company (London), Diana Ivanovna (Sofia), Kostis Kallivretakis, Martin Lukas Kim (photographer), Xenia Kounalaki, Gundega Laivina (Riga), Vee Leong (Hong Kong), Monia Mazigh (human rights activist, Ottawa), Sigrid Merx (Utrecht University), Hakem Naeem (Alexandria), Anna Nemtsova (journalist), Jason Q Ng (University of Toronto's Citizen Lab), Elma Noor (journalist, Tehran), Jean Peters (Peng!Kollektiv), Ivan Pavlov (lawyer, Russia), Gerganga Pirozowa (theatre critic, Sofia), Daniel Popov (environmental activist, Sofia), Mariola Przewlocka, Navin Rai (World Bank's advisor on indigenous issues, Nepal), Rimantas Ribaciauskas (Vilnius), Angela Richter (Berlin), Jörg Schindler (Der Spiegel), Laila Soliman, Diaa Hamed (Cairo), Morton Storm (ex-CIA agent), Emmanuel Thaunay (Paris), Benno Tobler (photographer), Ioanna Valsamidou (Athens), Vilnius Ministry of Defense, Tim Weiner, Markus Wessendorf (Hawaii), Assen Yordanov (journalist, Sofia), Ksenia Yurkova, Christina Zintl (Stückemarkt Berlin).
And: Johanna Höhmann, Tarun Kade (Münchner Kammerspiele), Florian Knauß, Christian Gliywitzky and all of the staff at the Glyptothek (Staatliche Antikensammlungen und Glyptothek), Daniela Bellm, Anna Florin and Heidrun Schlegel (Rimini Protokoll).